Wheels Releases New Bus Schedule
As October is nearing a close and work is slowing to a grind, the final bus services on Wheels (our local public transit provider) have finally settled into their new schedule. This new 2022-2023 bus schedule saw the implementation of two important changes: much-needed service increases and the return of valued rapid-bus services.
The most visible change felt by riders can be seen on the highly-trafficked '30R' Dublin to Livermore rapid route, which saw an increase in frequency from one bus every thirty minutes to one every fifteen. To commuters who use the service to transfer onto BART, the new schedule now means that a bus will leave three to four minutes after the arrival of any BART train into either the East Dublin or Dublin/Pleasanton stations. Such a return of frequency marks Wheels's restoration of rapid transit after being forced to reduce service in September of 2021 due to plummeting ridership and a short-supply of drivers caused by the pandemic. 
Service on the 10R, which runs from Dublin to Livermore via Pleasanton, will not be affected as buses will maintain the same 30-minute headway as the September 2021 schedule. However, westbound service now begins at 4:47 AM (instead of 4:24 AM) and eastbound service now begins at 5:02 AM (instead of 5:08 AM). Saturday service frequency has been improved from 40-minute headways to 30-minute headways. To those who find themselves not wanting to wait for the hourly-weekend 30R bus back to the Dublin BART station, the 30- to 40-minute 10R bus is certainly a lifesaver!
The revised schedule of having the first bus of the day arrive earlier than normal is repeated throughout the system, causing buses to arrive at BART stations earlier and giving commuters a better chance at catching the train. For San Ramon and upper-valley residents, routes on the County Connection remain unchanged. For planning your transit-based journeys, it is recommended to check the Wheels and County Connection websites for further information. Additionally, more information can be found regarding the Bay Area's combined routes on the Transitland website!
About the Contributor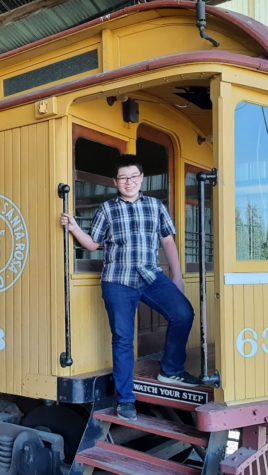 Alex Dion, Staff Writer
Alex Dion is a freshman at Dublin High School, who enjoys hidden history, cooking, biking, and writing. Being an avid railfan and passionate transit geek,...