#Bethemovement: Black Student Union condemns use of the n-word among Dublin youth
Among heightened racial tensions following numerous acts of police brutality and retaliatory Black Lives Matter protests throughout the nation, Dublin students are speaking out louder than ever. Last Wednesday, a video produced by the Black Student Union condemning the use of the n-word among DHS students was shown to the entire student body during advisory.
The seventy-second clip produced by Jon Thalblum pulled no punches, with DHS seniors and BSU officers Denel McMahan, Alexis Williams, and Malina Lee using the n-word seven times throughout. 
"Being at Dublin High School for four years, I've experienced the word being desensitized," explained Denel, the current BSU president. "It's in everyone's daily vocabulary, no matter what race they are."
Denel pointed to specific instances, including an incident during the 2017-18 school year when a Black female student was assaulted by male students after she told them to stop using the slur; this instance, after making it to local news outlets, resulted in a bomb threat being called into the school. Denel also mentioned an incident from this past July, when one DHS graduate made a social media thread posting screenshots of many non-Black DHS students using the word in either social media posts or videos. 
"I hope that the segment really opens people's eyes to the controversy of the word," Denel explained. "I want people to be shocked and uncomfortable. That reflects my feelings when I hear the word being dropped. That represents my friends and their feelings when they hear the word being dropped."
The video segment went beyond simple shock, however. By relaying the horrific connotations that this particular slur has held for Black Americans throughout centuries, these students implored their peers to reconsider the belief that it is simply slang, referring to a disappointingly common phenomenon of youth—including, at times, Dublin students—failing to recognize the severity of the slur and its implications. 
"We actually talked with an African-American Studies teacher from Bishop O'Dowd," Denel pointed out. "He taught us about the evolution and etymology of the word. It definitely doesn't mean homie or friend." As Alexis Williams stated, staring point blank at the camera in this minimalistic black-and-white video: it is "the last word Black people heard before getting lynched by white supremacists."
The intention behind the video was simple: to encourage people to make a conscious decision to stop saying the n-word. "I'm spreading the information and it's up to anyone who sees it to make their next steps," Denel stated. "Of course, I'm expecting some opposition since it may make others uncomfortable or it may seem too mature for high school. However, I believe that the only way to make our segment effective is through shock value."
While some visual aspects of the students' initial concept didn't make it into the end product due to concerns that staff had due to the graphic nature of the subject matter, Denel expressed that he was immensely grateful for the platform BSU was granted to educate the student body. "As long as you have a purpose and are self-driven to work with the staff," Denel assured, "they will work with you and even go further to help enhance your plan." 
Denel particularly gave thanks to Mr. Warren Parker, a DHS counselor and BSU advisor; Mrs. Byrne; and Mr. D'Ambrosio for their tireless support and flexibility throughout the process of creating and distributing this message.
"DHS provides the most important thing that they can," Mr. Parker concurred, referring to "a multitude of staff and administrators that have open ears and open hearts and a desire to support all of our students. Please note that any student, of any race, ethnicity, or culture can talk with any counselor or administrator and let us know about anything in which they feel that themselves or someone else has been unjustly treated. We will listen and assess an action plan."
Mr. Parker expressed appreciation for the BSU officers as well. "[They] have done an amazing job of creating a club that has a balanced focus on community service, fun and camaraderie, and cultural pride in everything that they try to do, from the meetings to the events."
While BSU's latest endeavor has certainly made their voice heard on campus, they are adamant that this will not be the last time the student body hears from them this year. In the meantime, the full video and more information on club updates can be found on their Instagram @dublinhsbsu.
About the Contributor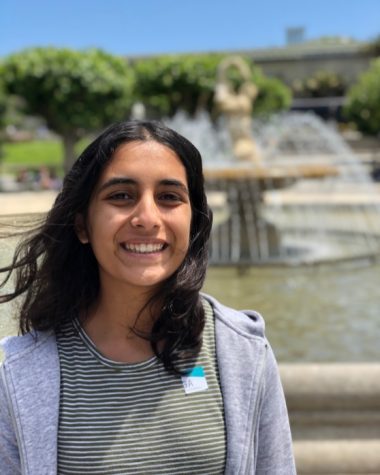 Riya Chopra, Editor-in-Chief
Riya Chopra is a senior at Dublin High and one of this year's Editors-in-Chief. She enjoys writing about everything from school board meetings to the opinions...