Teachers continue to adapt to as distance learning enters sixth week
According to a survey conducted by the Shield in late August, student responses to distance learning have been almost uniformly negative. Tired of staring at Zoom all day, unable to interact with their peers nearly as much as usual, and generally bogged down by the usual challenges of high school without many of the benefits, Dublin High's students are exhausted. 
Teachers are facing many of those same challenges, confronted with the monumental task of keeping their students engaged and productive without being able to see them in-person or even full-time. 
The switch from in-person learning to distance learning in itself posed the most issues. Mr. Kendon Matkins, who teaches Forensic Science and Biology, discussed the obvious consequences of an online setting in science classes. "We have a couple of virtual labs that we will do but overall, the impact on our labs is monstrous," he acknowledged. "For forensics, which is a heavily lab-based class, it is especially challenging to connect students to the material without the hands-on labs and exploration process."
Meanwhile, English and history teachers are having issues incorporating the discussions and groupwork that usually constitute so much of their class time. "So much of English is seminar-based," said Mrs. Hillary Espinoza, who teaches both English 2 and AP English Language. "When we do ask questions to prompt students and get them to where we want to be, WiFi goes down a lot. And in general, students aren't as forthcoming virtually as they are in a classroom." 
Like many other teachers, Mrs. Espinoza has experimented with different online platforms to hold whole-class discussions; however, even the best platforms cannot accurately assess the listening skills that are integral to real Socratic seminars.
Format-related issues are just the tip of the iceberg. Traditionally, DHS students have had 51 minute classes, five days a week. Our current distance learning schedule, with classes meeting for 75 minutes twice a week and 35 minutes of mandated asynchronous work on Wednesdays, reflects a temporary change in Californian education guidelines announced by the governor. High schoolers must only receive 240 minutes of instruction per day, a sharp reduction from the 360 minutes required prior to the pandemic. 
For many classes, the response to this was swift: cutting down the curriculum to only its most essential parts. "The biology team cut out around a third of our usual curriculum," Mr. Matkins explained. "We moved segment by segment through each unit and made adjustments; it was an arduous task, to say the least, but we made it happen and I think that the streamlined version of biology that we created really focuses on connecting biological concepts to society and the students' personal interaction with the world."
English teachers, too, have found ways to cover the essentials of their curriculum. "We're trying to pull things that are going on in the real world to make it more relevant," said Mrs. Espinoza, discussing how she is teaching the same skills to her AP Language students while using different content to do so. Since the class is centered around the analysis of rhetoric, "we examine why it's important to look at not only the information, but how it's being covered. We haven't cut anything, we've just changed what we're focusing on to meet the same skills."
In addition, many teachers in the English department have altered their curriculum, pushing more complex texts to second semester in hopes that we will have returned to classrooms. "If we don't go back," Mrs. Espinoza explained, "we'll still have much more experience on how to adjust that curriculum to make it work online."
However, as many students are painfully aware, there are many classes on campus which can't handle many creative changes to their curriculum. From AP Chemistry to AP United States History to AP Calculus BC, some rigorous and content-based classes must be taught in their entirety if students have any hope of passing the nationally standardized exams next spring.
While many anticipate that the College Board will shorten AP curriculums to account for the disruption caused by the pandemic, no such announcement has yet been made; as such, teachers have been forced to plow through with the intention of covering everything that typically shows up on the AP exams. 
"I'm still covering all of the curriculum for the AP test," stated Ms. Anna Kim, a longtime AP Statistics teacher at DHS. "Still, it's been tough. I definitely don't feel like we're able to go as deep because I only have two days a week with my students." 
One of the most frequent issues brought up by teachers was a lack of student communication. Without being able to walk around her classroom and check in with students on their progress and comprehension, Mrs. Espinoza explained that "I'm having a really hard time understanding what my students don't know. Even if I pause and ask if there are any questions, a lot of students will just continue staring instead of telling me whether they have any questions or need more time."
Ms. Kim, too, has found this to be a problem. "I'm used to interacting frequently with my students during lectures, but now it takes much more of a conscious effort to get them to participate and stay engaged."
Many teachers stressed the need for greater communication and engagement from their students. Even beyond class time, the continued presence of Hub tutoring and the implementation of office hours and intervention periods have been deliberately constructed to ensure that students can access extra support; all they need to do is ask.
Ultimately, Mr. Matkins made it clear that the cuts to curriculum haven't necessarily been a negative. "The time that we lose in the classroom is made up for by the amount of time focused on student support, growth, and intervention," he noted. "I support the shift from academic bombardment to a more balanced approach that considers academic rigor, personal development, and real-world connections." 
Principal Maureen Byrne, for one, has made her opinion of distance learning clear: "I think our staff and students have done an amazing job supporting distance learning," she said. "I know it's not the same, but I have loved to see learning continue." 
In the midst of all of this uncertainty, one thing is unequivocally true: regardless of the circumstances, DHS teachers are striving to provide their students with an education that is both effective and tailored to the unique needs of our current atmosphere.
About the Contributor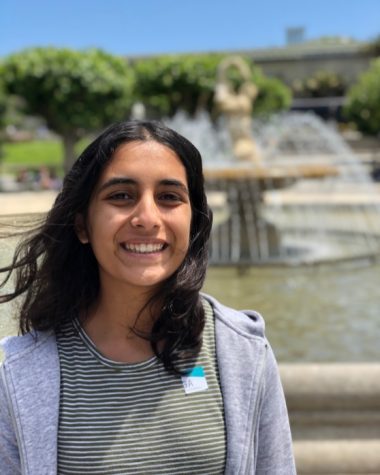 Riya Chopra, Editor-in-Chief
Riya Chopra is a senior at Dublin High and one of this year's Editors-in-Chief. She enjoys writing about everything from school board meetings to the opinions...