The Alameda County Fair Gears Up For Another Summer
Summer means many things for Dublin High students: part-time jobs, vacations, lengthy periods of time spent watching TV, and more. It also means that it's time for the Alameda County Fair, an annual event held at the Pleasanton Fairgrounds that has become a cherished tradition for families all around the East Bay. Open from June 15 to July 8, the fair includes everything that one would expect from a county fair, from rickety carnival rides and quintessentially American fried food on sticks to community competitions and galleries.

There's plenty to do at the county fair for people of all ages. The rides vary from small roller coasters and Ferris wheels to spinning "zero-gravity" machines designed to force you against the wall as the floor drops from beneath your feet. All of the rides generally cost $4 or $5 unless various discounts including unlimited wristbands and "discount days" are taken advantage of. Games, too, are aplenty. The fair is practically a minefield of flashy booths and unattainable stuffed animals ready to take your money. A quick walk through the game areas will have vendors calling you from left and right for your participation.
While the games and rides are ultimately enjoyable, due to their significant prices, they may be the least enjoyable part of the fair for relatively broke students. Fortunately, there is definitely more to the fair than the carnival. In the amphitheater, different bands are scheduled to play nearly every night at 8:00 pm. The featured musicians range from popular bands like Smash Mouth to those impersonating legends like Queen and Journey. Aside from music, the fairgrounds are also home to the oldest one-mile horse racing track in the nation. Multiple times every day, horse races are held there. Since the price is included in the fair ticket, anyone can sit in the stands and bet on the horses. Perhaps more entertaining for some are the pig races, held in a tiny area in the corner of the fair four times a day. The pig races are more of a performance than anything else, complete with hurdles, a crowd-pleasing commentator, and very small, speedy pigs with names like Elon Tusk and Natalie Porkman. In case any animal-rights enthusiasts need convincing, the East Bay Times recently ran a front-page article on the pig races at the fair speculating on whether or not exploiting "All-Alaskan Racing Pigs" for entertainment is ethical. The article reveals that the pigs are treated surprisingly well and that there is no cause for concern.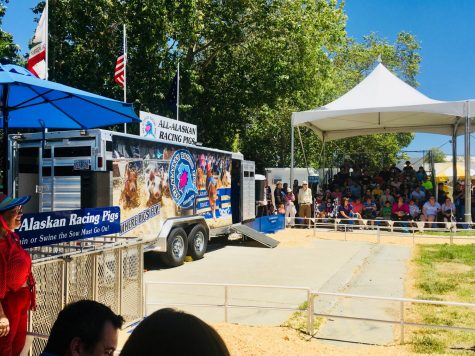 The Alameda County Fair also serves as a showcase for the county's residents. This includes a gallery of paintings, photography, and poetry submitted by residents of Alameda County, many of which are extremely impressive and up for sale. The fair is home to dozens of other competitions for county residents as well, ranging from folding the best origami to baking the best cheesecake. In fact, the Dublin High Fashion and Interior Design class sewed pillows during the second semester which they then entered into the fair's competition. Entering these competitions allows both youth and adults to earn prizes and, for submitting work, a free admission to the fair. Inside fair buildings, you can find flea markets and fundraisers for various community organizations.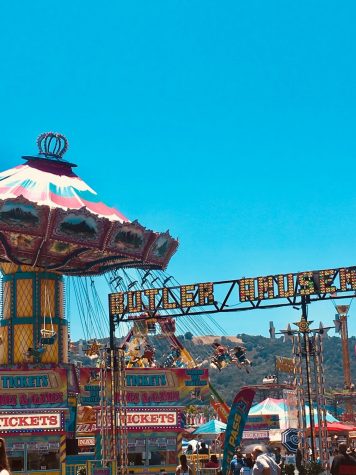 Tickets to the fair cost $15 for general admission, but be prepared to spend inordinate amounts of money on everything from cotton candy and popcorn to fried cheesecake and garlic fries. The fair website offers maps, schedules, and even blog posts with tips and tricks for when to visit and what to do. Visit with family or friends, take advantage of the concerts and races, and enter the competitions! The fair closes on July 8 after almost a month of fun and games. After that, it's only one short month until DHS is back in business.
About the Contributor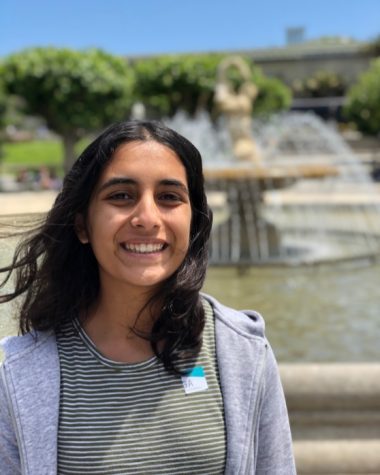 Riya Chopra, Editor-in-Chief
Riya Chopra is a senior at Dublin High and one of this year's Editors-in-Chief. She enjoys writing about everything from school board meetings to the opinions...