Talent Show
Dublin High School had their annual talent show on March 15th, 2018. As always, there was an amazing array of talent displayed with equally amazing hosts and judges. The curtains parted and the improv team introduced themselves as the MC's of the event. The judges for the night were also announced: Ms. Byrne, Mrs. Delapp, Ms. Hollison and Mr. Rubio. The show had a total of thirteen acts: two bands, four singers, four dancers, one doctor, and two composers. The first band, called 6:30, started the show off with a bang when they performed a pop-rock original called "Headstrong". It was sung by Hannah Bumalang, and the music was given by Jhon Solis, Hunter Lampi and Gaurav Phanse. They were followed by Amber Mondragon, who sang a rendition of "Drops of Jupiter" by Train. Her vocals and iconic orange pants tied her whole performance together. Anika Berry took the stage next, doing a classical Indian dance to a remix of "Shape of You" by Ed Sheeran. She wore a beautiful, bold and bright traditional Indian dress as well. Jonah Wendleton was next, singing "World Gone Mad" by Bastille while playing the piano. He really demonstrated his vocal abilities, hitting multiple falsettos. After all of these contesters, one very unique performance of the night demonstrated how to take one's blood pressure. Champion Smith, or Dr. Champion, showed the crowd how to use a BP-measuring sphygmomanometer. His performance was both comedic and educational. After a while of Dr. Champion trying to get his blood pressure correctly, Nicki Butler (one of the hosts) came out to let the audience know that taking one's blood pressure in front a huge crowd can be extremely nerve wrecking so Champion will come back on stage to give a more accurate reading of his blood pressure after the next couple acts. He was followed by John Fulgado, who performed an original piece on the piano. Fulgado says that he "didn't even really memorize [his] piece, [he] kind of just winged and improvised if [he] messed up." This definitely wasn't noticeable from the audience's perspective and it sounded perfect. Similar to Berry's Bollywood dance, there were two other contestants, Anvita Vyas danced to a bollywood fusion mix which was a very classic indian bop. Right after this dance, Champion came back out to give us the final reading on his blood pressure which was 146 over 82.
After the quick 15 minute intermission, Nicki Butler restarts the excitement of the night by asking the judges some very interesting questions that gave students an insight into their life. She asked Mr. Rubio how many he had his blood pressure taken and he answered 5 times. She asked Ms. Hollison what was the funniest thing a student ever said to her and she replied with an anecdote of how a student read 4 chapters of Animal Farm and asked whether the animals were actually talking which was absolutely hilarious. Ms. McCourt was asked a question though she wasn't a judge because finding out more about your teachers is always fun. She was primarily asked what her senior quote but her questioned was changed because she didn't have answer. Her question was changed to who her favorite congress member is since she is a Civics teacher and she said Dianne Feinstein. Ms. Delap gets asked what the most embarrassing moment that has ever happened to her on a school campus was and Ms. Delap told the audience a very entertaining story about how during one of her musicals she fell of the stage onto a pile of folding chairs. Ever since then her nickname has been Katherine GRACE Delap. Finally, to our fearless leader Ms. Byrne, Butler asked if she was not our principal what her occupation would be and she replied with a florist which was quite surprising. Apparently, Ms. Byrne's favorite flowers are gladiolas.
After the brief interview with the judges. The Band Lost in Translation signs their new song "She whispered at Night" which was great alternative song. Gabriel De Silva finished the performance by doing a death drop at the end of it. They were followed by Jada Pegaspi, who played the guitar and san Love on the Brain by Rihanna. She had an amazing vocal range and her acoustic spin of the song sounded amazing. Daniella Tran came next, playing an originally composed piece on the piano that nearly brought the crowd to tears. It was incredible and took the audience on an emotional journey. Justina Mathai went after Tran to entertain the audience with a performance to a traditional Indian song. With the final three competitors of the night, Asia Posey, last year's winner, went up to perform. She sang "Love So Soft" by Kelly Clarkson wearing an incredibly bold outfit to go with her melodic voice. Jenny Wang, a freshman singer and songwriter, sang her unnamed original song while playing the piano. It was a memorable piece and couldn't help but remind the audience of the genuine talent present at DHS. The last performers of the night were Rachel and Jessaca Matheny who performed an Irish tap dance to a remix of "Shape of You" that included bagpipes. They really helped to get everyone excited for St. Patrick's Day..
After a short performance from the wonderful improv team that was absolutely hilarious, the judges decided the winners for the 2018 Talent Show. In third place was Jenny Wang, second place was Anvita Vyas, and first place went to Rachel and Jessaca Matheny fro their unforgettable step dance routine. The night was full of admiration for the people who decided to showcase their talent. How lucky are we to be in a such a  supportive community where students feel comfortable to display their talents and ambitions.
About the Writer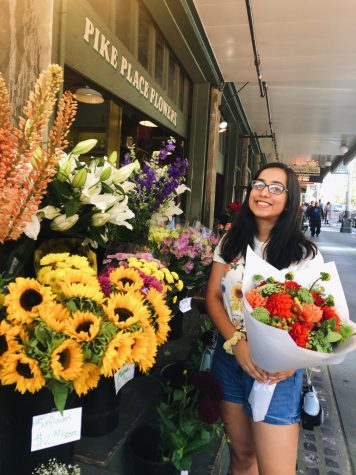 Rhea Mistry, Photography Editor



Rhea Mistry is this year's Photography Editor and senior at Dublin High, and is very excited to be a part of Shield for the fourth year in a row!...