Winter Sports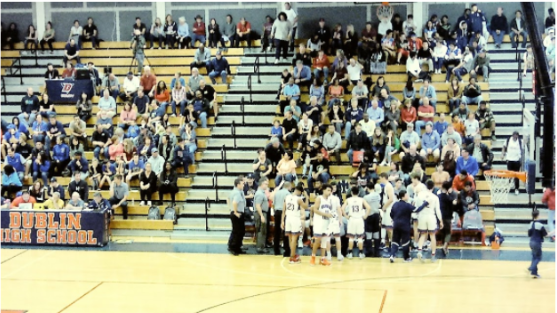 Compared to the other winter sports, the Dublin High Basketball team had a dominant season, with an overall record of 24-4 for the boys' team and a record of 23-4 for the girls' team. Both teams finished at the 1st seed in the EBAL (East Bay Athletic League) rankings. The men team lost in the EBAL Championship by a close score of 69-68 where the boys played against Amador Valley High. The girls team fell short, losing to California High in the EBAL Playoffs. Good job Gaels and keep it up!
Boys and Girls Soccer:
The Dublin High Soccer team had a solid performance this year, with the boys ending with a record of 9-8-4 and the girls ending with the record of 10-6-5. The girls' soccer team finished in 8th place in the East Bay Athletic League, posting a better record than Granada High but ending up behind Livermore High in terms of statistics. The Lady Gaels lost to Clayton Valley Charter High 3-0 in the NCS/ Les Schwab Tires Girls' Soccer Championships. The men's team finished in the bottom of the East Bay Athletic League and lost to San Ramon Valley 3-1 in the NCS/ Les Schwab Tires Girls' Soccer Championships.
"I think our season started off great!" stated mens' varsity player Matthew Dang. "We won our first 8 to 9 games. After losing to Grenada, things kind of took a downhill trend and we lost all of our games since. It's been one hell of a ride this season. We will try to be more well-rounded in our attack since this year, we've been relying on our two forwards to score the goals for us and we know that at this level of soccer, relying on one or two people isn't get you very far in terms of winning."
Hopefully, both teams will have an even better season next year. Go Gaels!
Coed Wrestling:
The Wrestling team did finish strong, with members placing at major tournaments such as the Bill Martell Invitational, the Bay Area 55, and the NCS tournament. The wrestling team placed 10th in the Bill Martell Invitational with 85.0 points. Men's wrestler Kavin Arumugam stated, "I felt great, going in with my teammates and wrestling tough the entire season. We worked hard everyday during practice, and we had a great game plan for our matches. We've done pretty good in duels and individual tournaments. We hope to improve our techniques and overall performances in general just for the matches."
Great job to the wrestling team! The Dublin Shield is looking forward to next season!