The Normalization of School Shootings Motivates Student Walkout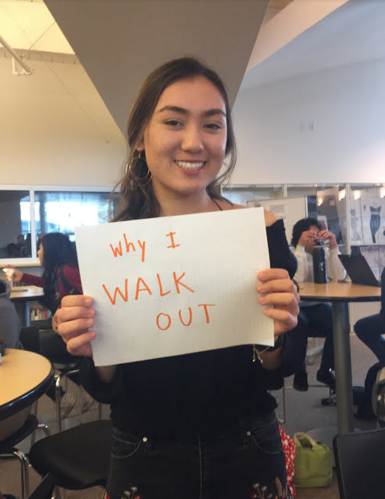 It's been over a decade since two senior students opened fire on their high school campus, killing fifteen individuals, including themselves, and wounding twenty-one more. The Columbine High School Massacre on April 20th, 1999 left our country in a state of shock. The capacity for violence against peers and the devastation of the shooting sparked a national debate on gun control and increased demands for addressing violent tendencies and preventing gun violence. Eighteen years later, the debate has come to little fruition.
We are a part of a generation of students for whom school shootings have become normalized; a generation of students that attends school with the constant threat of incomprehensible violence. We are fortunate, however, to be a part of a generation that is discovering the power of their voice. If students aren't willing to advocate for their rights, it is evident that there are few individuals in positions of authority willing to shoulder that responsibility. Considering that students are the most vulnerable within school shootings, it is our imperative to prevent their reoccurrence.
Sophomore Jasmin Kongsberg spoke about her values to the Dublin Shield, explaining that "with the current political tides and instability that's been introduced by the Florida shooting, I believe that it's important for students, who have been the victims of these attacks, to take the primary stand in ensuring they do not happen again."
Sophomore Ayla Teittinen expressed a similar sentiment about Dublin High School's lockdown drill on the 28th,  remarking that "while it's important to prepare for the possibility of events like a school shooting, it is even more imperative to ensure they don't happen again."
These values have been echoed by students around the country. Over the past several weeks, students have been taking the gun control debate into their hands more so than ever before. By organizing student-led marches and protests and speaking to politicians and the media, they have made it clear that this generation of students is committed to change.
Following the tragic school shooting in Parkland, Florida on February 14th, 2018, the impassioned students of Marjory Stoneman Douglas High School have led a student movement demanding gun control legislation. The incident, though tragic, motivated a generation of students who are committed to raising their voices for legislation that will ensure tragedies like these do not occur again. Students across the country have been motivated by the actions and words of these students, such as Emma Gonzales, to plan walkouts of their own. On March 14th, 2018 students across the nation will walk out of their classrooms at 10:00 am for 17 minutes in remembrance of the 17 lives lost at Parkland. Students at Dublin High School have been organizing a walkout and small demonstration in the quad for this date.
Junior Xitlalli Zavala remarked that she considers students raising their voices "pretty important. It shows the government the importance of gun control laws. There have been too many shootings where individuals with mental health issues have been able to procure guns. It is time to demand change."
Another junior criticized the walkout, presenting another perspective and arguing that the walkout "was another ineffectual show of support that was unlikely to generate real change." He mentioned, however, that he would "be participating because at least it's something."
Remember that there is no pressure to participate and students shouldn't participate just for the sake of doing so. Gun control is a sensitive topic and the aim here is to spark a conversation that considers a variety of perspectives. For students interested in participating, it should be noted that the walkout is sanctioned by administration and that students will not be penalized for participating or not participating.
Priyanka Dadlani, a chemistry teacher at Dublin High, reaffirmed administration's support for peaceful demonstration, expressing her support of "students exercising their right to free speech and advocating for what they believe so long as they aren't physically destructive."
While it's unclear where these marches will lead and how long it will take to create genuine change, it's inspiring to see students advocating for their rights. We at the Shield have always believed in the power of free speech to generate change and it's clear that students around the country and at Dublin High are echoing these principles. Ultimately, we, as students, will be able to look back on these years and acknowledge that as opposed to being silent and maintaining the status quo, we stood up for what we believed in and affected genuine change in our communities.