Google Software Engineer Otavio Good Gives a Fascinating Talk to DHS Engineering Students
On Friday, November 9, 2017, Otavio Good, creator of the mobile translation app Word Lens and a software engineer at Google, gave a talk to approximately 40-50 students in the Dublin High School Engineering and Design Academy. What was unique about this talk was that it was conducted "remotely" (via video call) during third period in Dublin High's new video conference room, N-104. Most of the students in attendance were from Mr. Robert Kaehms' third period AP Computer Science A class.
Mr. Good began his talk by describing his early programming experience, and how he was introduced to the field of computer science through the classes that his mother taught. He went on to describe some of his experiences with startups; specifically, how he founded Quest Visual, which was the company that developed Word Lens. Word Lens used an iOS device camera to detect text written in a foreign language and translate it in real-time without needing a network connection; according to Mr. Good, the idea for a mobile translation app came during a trip to Germany, where he could not read or understand the signs. Mr. Good's company, Quest Visual, was eventually acquired by Google in 2014 and Word Lens' features were later integrated into the Google Translate app.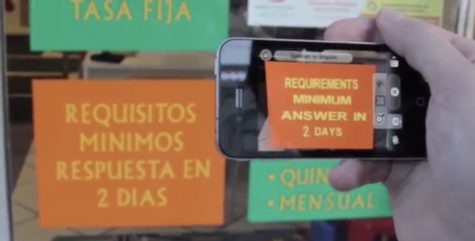 Quest Visual
His talk also touched upon how students can build their own startups; he particularly stressed the importance of building a community for any successful startup.
Mr. Good made quite an impression on the Dublin High students who attended his talk.
"He was a very interesting and intelligent speaker," said junior Arina Sobol. "What amazed me was how interested he was in computer science at such a young age, attending his mother's programming classes and learning everything she was teaching adults!"
"I thought that Mr. Good's back story was very interesting — how he has always loved programming and wanted to learn more about it," added junior Matthew Adrian. "It was very inspiring how he went from being a college dropout to having a company owned by Google."
"I found the talk very interesting and informative," said freshman Jonathan Wang. "The new tech really helped make it feel more interactive. It was really cool how the audience was able to directly ask questions to the speaker, with the speaker being able to see who was asking the questions through the cameras."
"I haven't really explored this type of science before so there was a lot for me to learn," said junior Megan Leng. "I guess I was kind of curious as well, because I feel like this is probably the kind of field I'd like to eventually work in."
All in all, attending Mr. Good's talk was a unique and engaging experience for Dublin High Engineering students. We hope that more such talks will be made possible through the use of new video equipment, for engineering and all other fields of study.