GetSet Goes to Google!
On Thursday, November 9, a group of fifty girls from the Tri-Valley GETSET program, including about fourteen from Dublin High School, boarded a bus to Google's headquarters in Mountain View, California. The students were taken around the campus, to the statue gardens and the visitor center, and were able to interact with a panel of female software engineers and project managers at Google before having lunch in one of Google's famed cafés.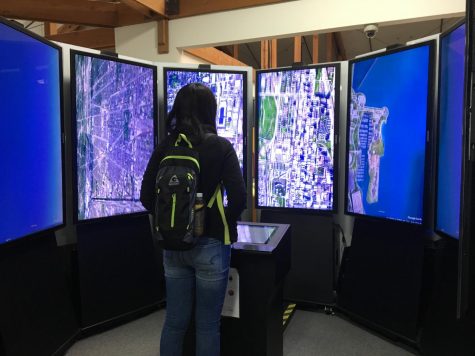 Janice Liu
The journey began, as most field trips do, with a long bus ride and a sense of excitement for the day to come. When the girls arrived at Google, they were greeted by their two hosts, James Morehead and Susannah Church. The students were each given their respective badges and  colorful Google sunglasses! Following the excitement of the gifts, the girls followed their guides to the Android Sculpture Garden, where they all took many fun photos. The garden is home to a collection of statues which each represent a version of Google's Android mobile operating system. Based on code names for the operating systems like Cupcake, Donut, Eclair, KitKat, Honeycomb, Oreo, Jelly Bean, and other sweet treats and desserts, the sculptures represent Google's development over time, so walking among them was like witnessing a short, amusing history of Google.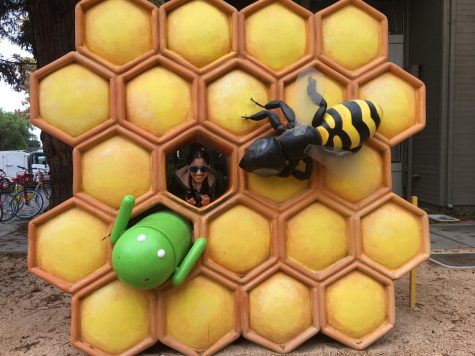 Janice Liu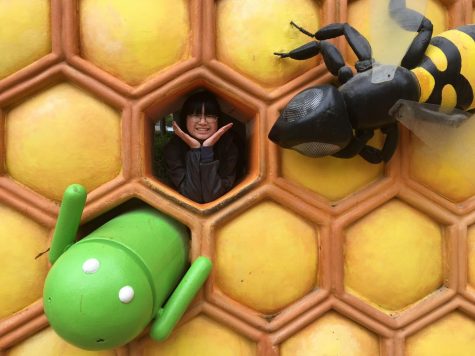 Janice Liu
After a quick group photo session, the girls headed inside to watch an informative presentation about Google, as well as learn the hosts' background and journey to the technological field, and their hopes and advice for the girls. Some of the major takeaways that the speakers, Morehead and Church, emphasized were that "hard problems are cool" and one only gets stronger by overcoming challenges, and "'being technical' is not genetic," which means that anyone can go into the field of technology, no matter their background, because all that is required is a little curiosity and effort. Another major idea that they emphasized was to "leave doors open so when you figure out what you want to do, you can walk through them." Essentially, know that the choices you make can either open or close doors, and explore various interests before ruling any of them out completely. In addition, the girls observed a brief demonstration of Google Home by Church, where they tried out different silly commands like "Beatbox" and "Crystal Ball" and also learned a little more about Google Home's history and the origins of the voice it uses and its speech recognition technology.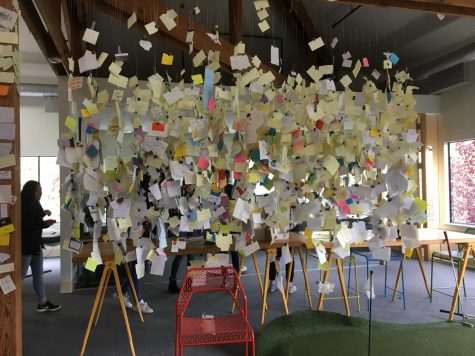 Janice Liu
The main program of the day was a panel of five other software engineers including Church and Morehead. Each speaker introduced themselves and spoke about their path to Google – they were each from a different part of the United States with different backgrounds – and then the girls had the opportunity to ask them any questions they had, including about their work experiences and the most interesting problems they've worked to solve.
Following the career panel, the girls split into two groups: one to visit the Visitor Center and the other to experience the Google Cardboard Expedition.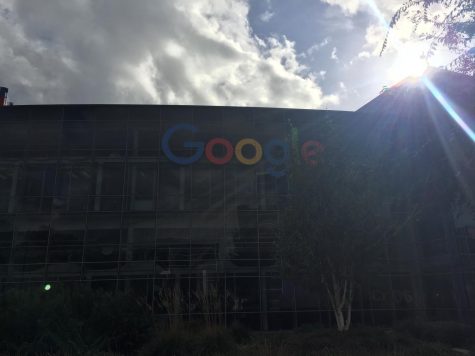 Anvitha Kachinthaya
In the Visitor Center, the girls could look over a brief showcase of the history and values of Google, including the workplace culture at Google. There was even a ball pit and a mini golf course set up there! An array of different models of laptops were set up along a wall, and a few of the girls played music. There was also a sleeping pod and a Google Bike displayed. A sample of a typical workspace of Google engineers was interesting to see. Additionally, there was a Google Earth showcase that gave the girls an immersive experience of viewing Earth by displaying a satellite view on surrounding screens. When the screen was zoomed in or out, it really felt like you were moving along with it!
The Google Cardboard Expedition was a virtual reality experience where the girls were taken on a virtual "tour" led by an instructor using Google Cardboard. On the tour, the guide could point out objects in the scenes and direct viewers' attention to certain objects of significance, while narrating and describing the scenes. The girls viewed an underwater coral reef, sharks from a cage, the seven wonders of the world, the insides of the respiratory system, and the International Space Station. The 360 degree vision and uncanny feeling of floating given by the nature of some of the images caused a lot of the girls to feel imbalanced or slightly dizzy.
After all of the main activities, students had the opportunity to network with the panelists they had met before while eating their lunches from Charlie's at the Googleplex. Charlie's is set up in a buffet-style, and many of the girls enjoyed the food! The dishes at Charlie's covered a wide variety of options, from South Indian cuisine and soft, crunchy fries to milk tea and various desserts like cookies and cakes. There were plenty of choices for everybody, including vegan and vegetarian options. After lunch, the girls wished their guides farewell and boarded the bus back to their respective high schools.
We gathered thoughts on the field trip from the girls who participated, and overall, the girls all enjoyed it.

"The field trip was both fun and educational," said junior Sophie Huang. "We took a tour of part of the campus, learned about a typical day in the life of a Google engineer, and got the opportunity to experiment with Google Cardboard – their latest virtual reality product. We learned about the type of experience necessary or suggested for Google employees, as well as the various career pathways some of them followed to get to Google today. It was definitely an interesting and eye-opening field trip into the world of engineering."
"The most memorable part of the trip for me (besides the free food) was visiting the Android statue garden," Huang added. "They had these cute little dessert-themed Android sculptures in one area of the campus that we got to explore and take photos with."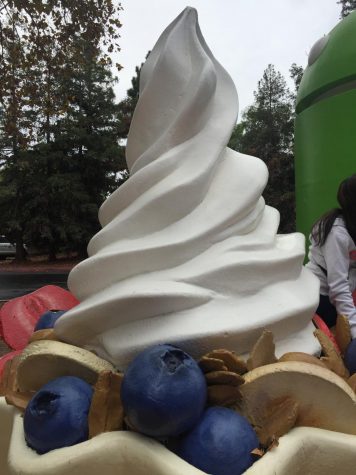 Anvitha Kachinthaya
"The trip was definitely one for the books," shared junior Joey Li. "It was eye opening to see how in order to work for Google and get the types of benefits it offers, one must put in the work (and it is a lot of work). My favorite part, besides the free food, was the Google Cardboard Expedition because it was amazing to explore various areas on Earth without having to travel there."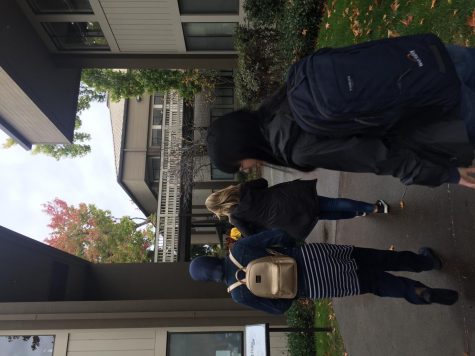 Anvitha Kachinthaya
When asked, "If you were to go on the field trip again what else would you want to see or do?", Huang said that she wished to have the opportunity to go "cross sampling food from all of the Google cafés off of [her] bucket list!"
Junior Gowri Datta wanted to learn more about artificial intelligence. "I think visiting and learning about their self driving cars would be extremely useful, as today's tech world is moving more and more towards AI and Machine Learning," she said. "Therefore, it would be extremely applicable and interesting to learn about as our world becomes dominated by AI."
Field trips like these are valuable experiences, especially in high school where not a lot of field trips are offered. If you are interested in participating in a wide variety of field trips to places working on cutting-edge technology, such as Google or Sandia National Laboratories, or to colleges in the Bay Area with amazing STEM programs, or to museums, or, really, to anything STEM-related, you're in luck! Girls Exploring Technology, Science, and Engineering Together (GETSET) accepts female students into this STEM program across all high schools in the Tri-Valley at the beginning of each school year. GETSET is a Tri-Valley ROP program that collaborates with high schools to host workshops intended to introduce girls to various disciplines within STEM and offer them field trip opportunities. These workshops are exciting and fun to participate in, and allow high school girls to explore their STEM interests. Workshops cover an extremely wide range of topics too, including food science, electronics, video production, anatomy, manufacturing, architecture, biomechanical engineering, cybersecurity, and physics. Some workshops allow you to create a finished product to take back home, such as a laser-cut key chain, or scones or other delicious baked goods. Find out more by talking to Mrs. Nobida in the Career Center!