A Midsummer Night's Dream: A Night Full of Love, Magic, and Mischief That's Not to Be Missed!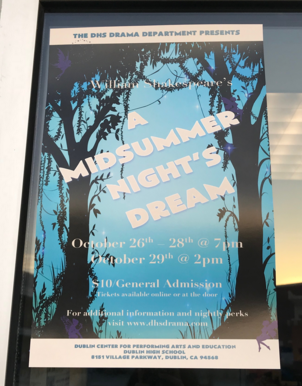 William Shakespeare once said, "The course of true love never did run smooth," and one of his most famous plays, A Midsummer Night's Dream, is certainly no exception. Following the storylines of four mixed-up lovers, a group of lowly commoners trying to put on a play for the king and queen, and (yes!) fairies, the comedy never fails to provide a hilarious, fun-filled yet mystical night – and now, Dublin High School's own Drama Department is taking on this Shakespearian challenge!
"I decided to produce A Midsummer Night's Dream because the school has not performed a Shakespearean piece in a few years and having the exposure to and study of this text is vital for young emerging artists," said Mrs. DeLapp, the DHS drama teacher.
About her decision to do Midsummer specifically, director Mrs. DeLapp added, "This year I wanted to do a classic comedy. To me it's really important to study the classics and so important to study Shakespeare, and this one's so accessible, so funny. The storylines are all very important so it gives a lot of actors the opportunity to have a lot of stage time. And it's just my favorite."
Of course, putting on a Shakespeare play is not as easy as it sounds. Firstly, there is the aspect of actually understanding the language that varies so drastically from ours today, and secondly, acting it out in a way that the audience will be able to follow along and still enjoy the show.
"The most challenging thing I find with Shakespeare is how to bring the language to a contemporary audience," Mrs. DeLapp admitted. "So we've worked a lot on, like, what does this word mean – we have to look it up. Or how can we use punctuation and our own interpretation, our own physicality, or gesturing or intention behind our lines to help convey the meaning to the audience?"
However, despite these challenges, the DHS Drama Department has pulled together an outstanding show with mesmerizing sets and talented actors. Everyone participating in A Midsummer Night's Dream, whether they be performers, set designers, or backstage crew, is excited for the show.
For first-time actress, freshman Shrinidhi Prasanna, who will be playing Hippolyta, an Amazon Queen betrothed to Theseus, the King of Athens, the experience was incredible. When asked what audience members should be most excited for, Prasanna enthusiastically replied, "I think, all in all, the play's just completely magical, and it's fun to watch. It's a comedy as well, so it will definitely make you laugh."
During the auditions, senior Nicki Butler said, "Auditioning never gets easier and never gets less scary, but I'm really excited for the opportunity to perform Shakespeare after Dublin High not doing it for the past four years."
"This is the seventh show I've auditioned for, and I want to get in because performing is a fun and amazing experience," added junior Trevor Haar. 
Overall, A Midsummer Night's Dream is the event that will thrill theater enthusiasts as well as all audience members who come to experience it. The show opens on October 26th, located at Dublin High's Center for Performing Arts and Education, and will go on until the 29th. Tickets will be sold at the door, but are available online for only $10. So what are you waiting for? Come prepared for a night full of love, magic, and mischief that's not to be missed!