North Bay Devastating Fire: How Dublin High Has Been Affected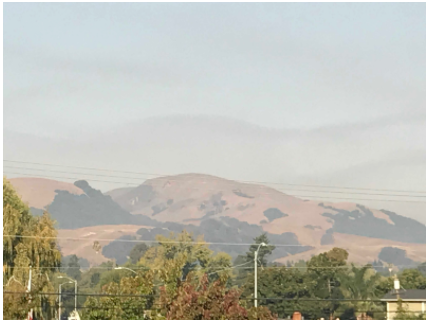 On October 9th, 2017, what started out as a small fire in Napa due to the escalating temperatures, became a horrific tragedy, ravaging through the North Bay, leaving at least 30 dead, hundreds missing, and thousands more displaced. Now, eighty miles away, Dublin High School has begun to feel the devastating effects of what was recently declared as one of the deadliest fires in California history.
On the Tuesday of Homecoming Week, October 10th, it was nearly impossible to not notice the poor air quality. "I walked out of my house one morning and noticed how smokey the air smelled," freshman Erica Wang remarked. "Additionally, on the ride to school, I noticed that the entire outline of the hills had a thick fog rolling towards our direction."
Since then, a number of warnings from the District Office have gone out ‒ cautioning those with breathing problems, and everyone in general, to limit outdoor activities. "The risk that the smoke could pose became a concerning issue when people mentioned that their asthma and other breathing related medical conditions started acting up," Erica continued, addressing the danger the thick smoke could potentially cause. For that reason, a number of school activities have been cancelled – forcing PE classes inside and lunchtime activities to be postponed.
However, the much-anticipated homecoming carnival was the most affected by the air quality. It was announced on the morning of October 12th that, due to the poor air quality, the carnival would be postponed to May 4th, 2018. About the sudden change in plans, freshman Jade Li explained, "I was disappointed that the carnival was cancelled because it was the main thing that I had been looking forward to for Homecoming Week. But it is important to acknowledge the people who have been directly affected by the fires, so in all fairness I feel pretty glad that the district only had to cancel one event."A number of clubs were shocked at this sudden turn of events as well, disappointed at the missed opportunity for fundraising. However, they, like Jade, recognized the severity of the situation, and now some clubs are taking action to benefit the victims. The SPCA club encouraged their members to donate to the Milo Foundation, an organization that helped animals affected by the fires. Furthermore, they're planning to hold a fundraiser that would raise money for the animals, ensuring that they get the safety and protection they need.
Despite the inconveniences Dublin High has faced, it is still incredibly important to recognize the victims being directly affected, and the true acts of heroism that come with devastating tragedy. Even through times of sorrow, stories of bravery and courage emerge, reminding us that, no matter how dark the future may seem, light will always prevail. And in the end, that may be all we need to take the first step in rebuilding.