Drama Ohlone Competition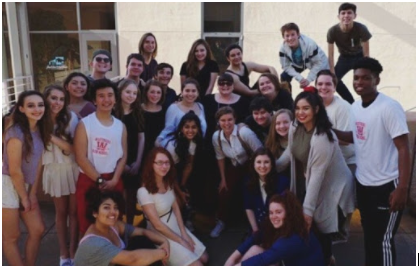 The year of 2017 hasn't just been an amazing year for sports. Our Performing Arts department has also done outstanding work too. Especially the Drama department.
This year's Ohlone contest had major competition. Other renowned schools, such as the San Marin School of The Arts, Oakland School of The Arts, and LA County High School of The Arts (LACHSA) attended Ohlone at a chance to beat Dublin High.
Dublin High School was able to send 30 highly qualified individuals to put them up to the challenge. Of the thirty, three were able to withstand and conquer this great test:
Quentin Curtice won 3rd place for an Original Comedic Monologue entitled "The Teacher." Nicki Butler also took home 3rd for Horror Makeup. Madison Wade was the only one who landed first place for "Blessed" which is an Original Dramatic Monologue.
Even the people who did not bring home a reward also felt like they won in their own little way. Gabriella Alejandrez explained:
"For me, it [the competition] was scary, just because it was my first time competing. But like, the people around me really helped me calm my nerves. Even though I didn't place, I had a really fun time. It was a really good bonding and learning experience. We all grew together."
This is the first and only time that DHS has won first place in a competition this season. And we expect our school to bring home many more awards. Who knows, one day we might even see one of them at the Oscars or on Broadway. Whatever their dreams:
Break a leg!