Don't be a Fool: Go See the New Play "Fools" by Neil Simon at the Dublin Conservatory Theatre!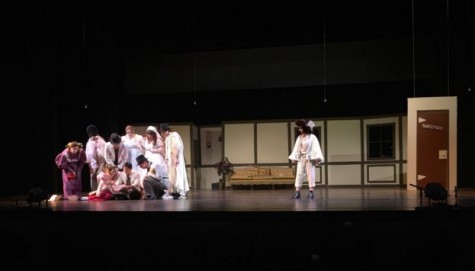 Leon Tolchinsky (Liron Day, Arash Hodjat) is ecstatic when he gets the chance to become a teacher in the small village of Kulyenchikov, Ukraine. He arrives and is greeted by a shepherd Snetsky (Noah Bradley, Quinton Curtico) calling out for two dozen sheep. "There were fourteen of them!" Snetsky cries. He learns that the village has been touched with the curse of stupidity for 200 years by Count Gregor's (Keiva Bradley, Lilla Lavanakul) ancestors and when he falls in love with his student, Sophia Zubritsky (Nicole Dayton, Simonne Campos), he is determined to break it. He must hurry though, if he stays in the village for over 24 hours, he will become stupid just like the rest of them!
"Fools" by Neil Simon is a comedy that is sure to keep you laughing the entire show. The characters are all very different from each other, ranging from an old, crippled Magistrate (Collier Stafford, Mason Mitchell) to vibrant characters such as Yencha (Savannah O'Callaghan Jones, Rhiannon Coiner), a fish vendor who sells flowers, and Mishkin (Claire Kantz, Nicki Butler), the post lady. When put onto one stage, their dynamic will be sure to keep you laughing with their foolish dialogue until your stomach hurts.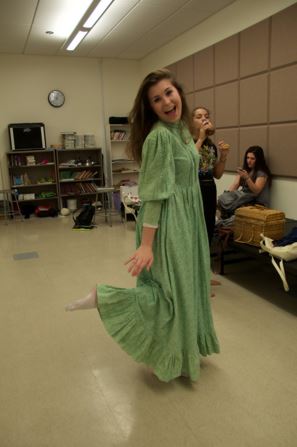 "Fools" isn't only about a man who wants to break a curse in the name of love though. The story line also incorporates other important topics such as self esteem and gender equality. In the play, the butcher Slovitch (Trevor Haar, Dylan Seeley) expresses his fear of being stupid forever and looks upon Leon to help him and his village. Dr. Zubritsky (Matthew Glynn, Jaxon Chadsey), Sophia's father learns the meaning of equality when he says that it is radical that women have been treated unfairly through history and his wife, Lenya Zubritsky (Savannah Quintero, Olivia Rubimelli) storms out on him.
The "Fools" cast isn't only friends and family on stage though. They're best friends off stage which explains the cast's great chemistry on stage! Backstage, they help each other into their costumes, on their makeup and even prosthetics (for Count Gregor)! Right before the show, the two casts do a "shake out"- an exercise that loosens up their bodies and energizes them. "We also have a prayer circle before the show," says Simonne Campos, who plays Sophia Zubritsky in the play.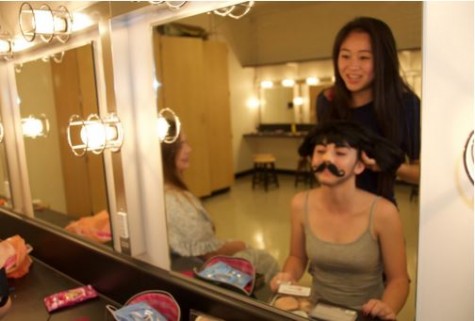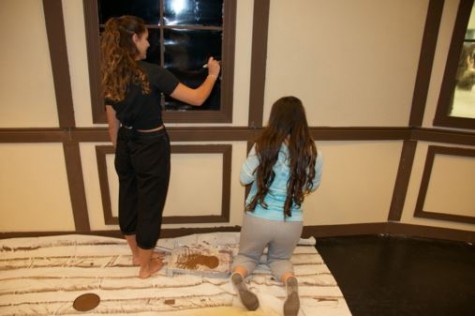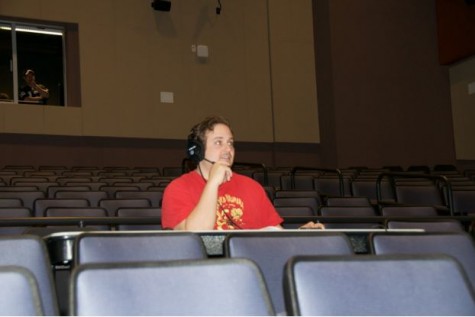 "Fools" by Neil Simon is a fresh comedy that isn't only about young love and a curse that needs to be broken, but about perseverance and growth. The play will keep you off your seat as you laugh at the folly characters of Kulyenchikov live out their daily, clueless lives. The characters, set and props are brought to life by the director and drama teacher at Dublin High School, Scott DiLorenzo. He put much time and effort to work with the talented actors of Dublin Conservatory Theatre, molding each of the characters into their real life imagination. You can purchase your tickets NOW at: http://www.dhsdrama.com under the tickets tab or buy your tickets at the door when "Fools" runs November 5-8!