Different ways students can get to their goal SAT score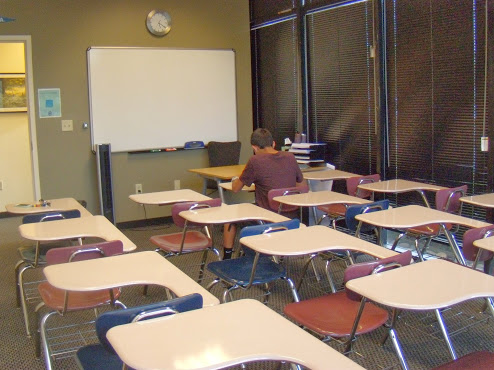 With all the chaos in the last couple years of high school, the SAT is one of the most stressful things a student worries about. Using helpful tools such as an online course, or a prep-book can come in handy when students are studying.
The SAT, a common high school exam taken in many places, is a test used to determine your academic ability for colleges. To prevent students from walking into the test without any experience, people have designed classes to the best of their ability to aid students with this rigorous exam. Some kids spend endless hours reading, writing, and solving problems, while they are glued to the computer trying to absorb all the information they can. Others take a different approach, purchasing a prep-SAT booklet, and working on it of that for a few months before the test. Depending on the score kids are trying to receive, might determine the study course or selection they take in the future. Junior Annalisa Watson took classes at San Ramon Elite for a few weeks.
"It was time consuming, but when I took the test, it was nothing I wasn't use to," Watson says. "With classes during the week, and a pre-SAT test every Friday, I learned to adjust to the time crunch when I took the actual test in early March."
On the other hand, if students are looking for a more flexible study tool, online courses are always available. Dublin High also offers a long term class at the school. Senior Melis Guceli studied for the SAT by doing this.
"It was a six week Revolution Prep class at the high school, that took practice tests," Guceli states. "This is what I used to study for."
Creating an account on College Board has helped many students in the past, with signing up for the SAT, or getting ideas for classes. This website is designed to direct high school students to college. Junior Sereena Patel uses College Board, so it can track every year of high school.
"It's a really useful tool, especially if you are starting to map out your future plans," Patel stated. "I signed up for my SAT classes through College Board so I could be guaranteed my score on time."
The website is intended to guide students toward a better future with their plans, SAT guides, and a year-by-year plan.
The actual SAT can be a good tool to study from — coming into the test, students aren't exactly sure what's going to happen. After, they can take what they weren't sure of, and study more on that subject. Most students take it multiple times, so after the first time people can get a feel of what it's like. Senior Abigail Sweeney took the SAT last year for the first time.
 "It was super hard for me," Sweeney explains. "I studied vocab a lot because that's what the entire first section consisted of."