Food Establishments during the Covid-19 Pandemic
This year, the novel Covid-19 virus caused our community to shut down. Schools, offices, and public areas have all been shut down due to the fast infection rate of the virus. However, one of the most notable businesses that have been affected by the virus are restaurants. People eat at restaurants daily, and they are a major part of many people's lives. (ADD)
Covid-19 has forced many restaurants to shut down as people are recommended to stay home during this pandemic. Recently, the popular buffet chain "Sweet Tomatoes" was closed permanently. They were known for their large collection of soups and salads. A total of 97 of their restaurants shut down, leaving nearly 4,400 employees jobless. Due to Covid-19, the FDA released regulations, asking restaurants to limit self-serving options, such as buffets.  "The regulations are understandable, but unfortunately, it makes it very difficult to reopen," CEO John Haywood told the Union-Tribune. "And I'm not sure the health departments are ever going to allow it". Many new health regulations were put into place due to the virus, leaving many restaurants in a difficult situation.
These regulations affect smaller, local businesses as well. ISushi, a sushi restaurant in Castro Valley, talked about the struggles due to the new regulations. "My experience is challenging," says Stanley Chan, the executive chef. "You have to understand the Covid-19 health guidelines so you can train your staff". Following the regulations is difficult, however studying and understanding these guidelines is a struggle itself. On May 21st, the FDA released a four pages checklist on the best practices for running a food establishment in the midst of the pandemic. These establishments were encouraged by the FDA to partner with local health establishments to learn about specific requirements necessary before reopening their establishment.
Another difficulty restaurants face during this pandemic is running the business itself. According to the National Restaurant Association, nearly 40% of restaurants nationwide have closed down. Just in the month of March, nearly $30 billion was lost in sales. The industry expected to lose up to $50+ billion in April. The sales of many restaurants have gone down tremendously. Chan says, "It is challenging because it's difficult to run a business without sit-down dining". Most restaurants have adopted an online delivery system.  According to The Hill, there has been a surge in noncontact food delivery. Some use establishments such as DoorDash and Uber Eats to sell and deliver their food, while some create their own website and payment system. This helps keep their business running, without the need of physical customers at stores.
It is unclear where food establishments will end up due to the pandemic. America may begin to adopt an online delivery system over a sit-down dining style. However, one thing for sure is that many businesses are in difficult situations at the moment. Some ways you can help local restaurants is by continuing to order from these restaurants online, using applications such as DoorDash and Postmates. You should also keep safe and healthy so restaurants can still serve you in the future.
About the Contributor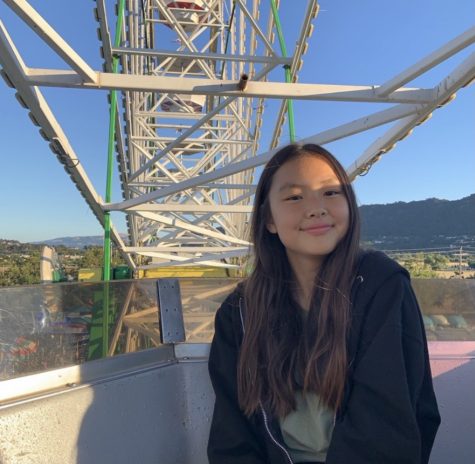 Claire Song, Editor-In-Chief
Claire Song originally joined the Dublin Shield as a Freshman and is now a Senior going into her fourth year. Claire has a strong passion for writing and...