A Race to the Finish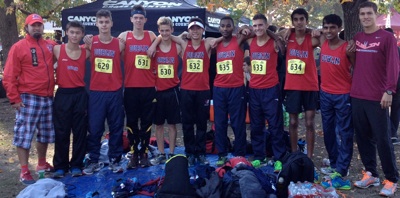 BANG! The gun signals the start and numerous talented runners take off as rain pours down and mud gives way along the three mile course.
On Saturday, November 21st, the Dublin Cross Country team competed North Coast Section Championships at Hayward High School. The varsity boys enjoyed an amazing success, winning second place against schools in Division II such as Redwood, Casa Grande, Maria Carrillo, and Granada. As a result, they will be competing at the CIF State Championships on November 29th in Woodward Park, Fresno.
"They are only the second team in DHS history to qualify, equaling the effort of the 1999 team," Coach Chris Williams said.
The last time Dublin's Cross Country team made it to the State Championships was 15 years ago. Many of the boys and Dublin Alumni have been hoping for this opportunity and this year's 2014 team has achieved that dream.
"During the race I didn't really feel anything at all," senior, Zach Schmidt said. "I was focused on finishing the race in a spot that could get our team to state. After the race, I was nervous because I knew it was going to be a close race for state, but once I found out we made it, I felt a weight lifted off my shoulders. I love my team, my family, so much."
Senior David Yeshi also placed 7th out of 132 varsity boys, finishing the three miles with a time of 16:15. What an incredible feat!
The varsity girls were just as extraordinary. They won 11th place in Division II and 27th overall out of the 100 schools competing.
As the season reaches its end, this race is often an emotional time for seniors like Sruthi Veeragandham, who have been a part of cross country since their freshman year.
"I felt a lot of everything!" Veeragandham exclaimed. "Mostly satisfied and relieved, but also a little sad that high school cross country was over for me forever. After that, though, I was talking with this year's freshmen about my freshman year and I realized that I have so so many funny and happy cross country memories that I think I'll be okay."
Congratulations, runners, and good luck to the boys heading to the State Championships.