Improv Article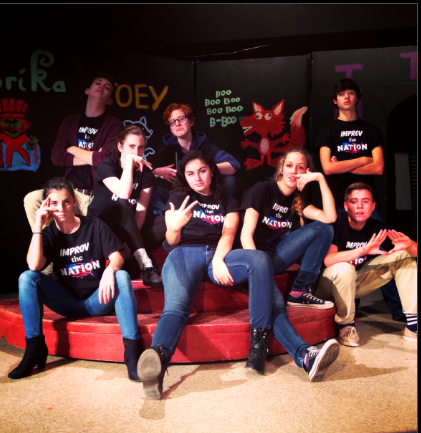 Performing on a stage is scary enough, but what if you had no lines to memorize? Improv is theater without a script; everything is made up on the spot! This can result in extremely hilarious and surprising results. At DHS, there is an Improv club that performs this unique type of performance.
"Here at DHS [Improv Club] started a couple years ago and someone was just like, 'lets make an improv team'," said Jennifer Strasser, one of the captains of the DHS improv club.
Ever since then, the club has been entertaining DHS students with its excitement and spontaneity.
At their performances, the Improv Club plays various games to create situations in which they can decide what happens as it happens. During these games, actors will periodically request suggestions from the audience to guide the scene. Doing this causes extremely unique circumstances the students must adapt to.
"Honestly it just comes into your head; after a while you get to be creative watching other people and it's all creativity," said Alyssa Ponce, a member of the club.
Since the scenes in improv are ever changing, it is important that members are quick thinking with the responses they give.
In addition to their performances, the Improv club has many traditions that help keep the club united. One of these traditions is giving each other nicknames.
"The members that were already on the team, there were only three this year, will make up nicknames for [new members] and it usually has something to do with their personality or a mannerism or a quirk," said Racheal Gregory, another Improv Club captain. "They're personal because we know each other really well and a lot of them have hidden meanings."
The nicknames also help members of the club to perform better on the stage.
"It's just a stage name so that you don't have to feel like you're going up there as yourself," said Strasser. Not using an actor's real names helps them feel more comfortable and make it easier for them to adapt to the spontaneous scene.
You can see the Improv Club's entertaining skits at improv shows. The Improv club will be performing again January 10 and 11. Everyone will enjoy the hilarious ways in which the club adapts to random scenes.