Tapping Into Happiness
As the last quarter of yet another school year approaches talk of finals, AP exams, tests, and more often arises. However, it is critical to check in with your happiness because being successful and happy with your life does not always coincide. Even when circumstances are tight and a rough patch arrives, it is important to always stay in touch with some outlet of happiness. Happiness itself is vital because there would be no motivation to get through the rough patches. 
Staying connected with your happiness is crucial to being content with your life. Without it, despite the success, every accomplishment will remain short-lived and would feel of low value. Maintaining happiness will promote a healthier lifestyle and provide a better way to deal with stress.
How exactly can someone tap into their happiness? Changing one's mindset is the most effective way to maintain happiness levels; one of which would be to let go of the past. This seems to be very simple and quite cliche, but it remains an effective piece of advice that many take for granted. Staying in the past will only lead to depressive symptoms. Why dwell on the unchangeable past when so much can be done to shape the future?
Another mindset change would be to put more faith and trust in yourself. Trusting yourself is vital to building strong and valued relationships with others in your life. Placing faith in the fact that you make the right decisions, and will do what's best for yourself also builds great confidence naturally. This confidence allows you to trust your choices and leave anxious indecisiveness behind. 
The last implementation to stay in touch with your happiness is to create the changes you want to see in yourself and the world around you. Do not sit and wait for somebody else to implement the changes you want to see.  A lot of anxiety and stress centers around waiting for something to happen. Trust yourself, don't overthink, and give in to your passions and urges. If there is something that you have control over, make the change yourself rather than waiting for it to happen. If you want to build a stronger relationship with a friend, call them and ask to hang out this weekend. If you want to raise your grade in a class, spend extra time finding online resources to help you understand the content better.
Checking in with your happiness is crucial for maintaining a life of growth. I urge you to try and shift your mindset to be more open to new ideas and growth. To connect more with your joy, let go of the past, trust yourself, and implement the changes you want to see in your life. Maintaining happiness will encourage a healthier lifestyle with less stress and anxiety. 
Featured Tool of the Week!
The 5-Minute Happiness Journal: Practices to Help You Tap Into Joy Every Day
About the Contributor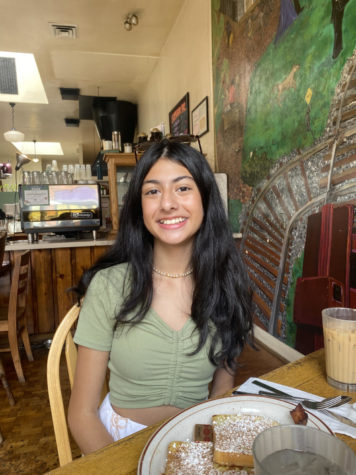 Meher Madan, Student Life Editor



Meher is a sophomore at Dublin High, and loves to write, play the guitar, listen to music and watch 90's sitcoms! This is her second year at the...