DHS Student-Teacher Reaction to Paris Attacks
In the week since ISIS killed 129 people in Paris, France on Friday, November 13, the shock of the terrorist attacks spread around the globe. For people with family or friends in Paris, or even in Europe, this week has been a stressful one; everyone is on a knife's edge, wary of another attack.
For several teachers at DHS, this has been their week as well.

"
When something like this happens in a place where you used to live, or that you have a really fondness for, it really hits home."
— Ms. Lea
For Mrs. Lea, a French teacher on campus, Paris is a special city.
Having spent three semesters abroad in Paris during graduate school, Mrs. Lea knows the city, especially the Latin Quarter near the University of Paris, extremely well. Even today, she visits the city several times a year.
Ms. Lea had seen the news about the ISIS attacks in Beirut, Lebanon the day before violence erupted in Paris. However, she admits to being shocked by the Paris attacks.
"When something like this happens in a place where you used to live, or that you have a really fondness for, it really hits home. I was an adult when 9/11 happened," Ms. Lea recalled, "and so I remember the feelings of helplessness and stress, and just feeling really victimized. And all those came back on Friday night. All those same feelings that I felt after 9/11 had just completely returned…. But, just to see the courage of the Paris people, is really just formidable."
But, as Ms. Lea stresses, she's not the only one at DHS with a personal link to the Paris attacks.
"Dublin High school has a very specific connection to the attacks in Paris…four of the foreign language teachers, three Spanish teachers and myself, took 31 students to Paris, Madrid, and Barcelona, just this past summer. Our tour manager is Parisian; he was a reporter for French television, and he and his wife live in Paris. And all the DHS students got to Nicolas pretty well and got to be pretty good friends with him…. He has two teenage children, one of whom is a fan of heavy metal. We were all worried that Nicolas' son might have been at the Bataclan nightclub where a heavy metal band was playing and the fans taken hostage. Anyway, after the Paris attacks, I contacted Nikola to see if his family was okay. And, although they were very shaken up, he said that his wife frequently dined at the Cambodian restaurant where eighteen people were murdered Friday evening. The location of the restaurant is right next to his wife's work."
Although worried about another attack in Paris, or another European country, Ms. Lea is also concerned about how the attacks will increase Islamophobia in France.
"Muslims already have a really tough time in France. You know, there's around seven to eight million muslims that live in France in already. Muslims have never really been able to assimilate into French culture, no thanks to the French. After WW2, there were a lot of Muslims that came up from Algeria, Tunisia, and Morocco to settle in France. And, although they were able to get an education and a job, they were never able to get out of poverty or be accepted by the French people. That's kind of sad. There's already that kind of discrimination that they already face, but I just fear that the recent attacks will cause that to increase."
Ms. Lea's view mirrors the fear that many others have; French President Hollande has declared a state of emergency and has pledged to increase the police force to numbers not seen in almost ten years. However, rather than an increase in security, there may need to be a culture shift as well to create a safer, more unified France.
Police numbers aside, the atmosphere of Paris has already changed.
"Living in a city means that anywhere you go, sound does not escape your side. Everywhere you go there is a car honking, a bus ringing its bell, and people yelling over the phone or laughing over a cigarette. This being said, the silence that followed the Paris attacks on the 13th of November was absolutely inexplicable. The traffic is deluded [sic], the French don't complain if my bag brushes up against them in the metro" reveals NYU freshman and 2015 DHS graduate, Ana Daza.
"
France feels like a trap that I can't get out of, every day with a new threat of a possible attack and wondering if I'll be physically able to call my boyfriend at the end of the day."
— Ana Daza
Because she was studying abroad in Paris, Ana was inside the city when the attacks happened. Fortunately, she wasn't hurt during the Paris attacks, but the aftermath affects her life everyday:
"An unspoken yet obvious paranoia that is overwhelming us and every single aspect of our lives. It is easier said than done that life still 'goes on' after a terrorist attack, and although Paris is healing, the wound is still open."
Living abroad is always a time of change, but the attacks in Paris have done nothing to help with Ana's homesickness.
"France feels like a trap that I can't get out of, every day with a new threat of a possible attack and wondering if I'll be physically able to call my boyfriend at the end of the day. However, I have to persevere through the fear and reinforce the idea of moving forward and not slow myself down. Even when dark, the city of lights still glows, and the French continue to drink wine and eat croissants with hopes of a brand new day tomorrow. The absence of the 129 people that lost their lives that Friday is felt everywhere you walk in the city, no matter where you are, and I don't know when the paranoia and the hanging silence will disappear."
Despite the devastation of the attacks and the vacuum in the city, Ana admires the French's perseverance and remains positive about the situation in Paris.
"…the French aren't known for backing down (considering the fact they had a numerous amount of revolutions), and even if hope is reestablished through anger and bitter mumbling in the subway, it will reappear."
We, as a country, must also remain optimistic we wait for developments on the situation in France.
About the Writer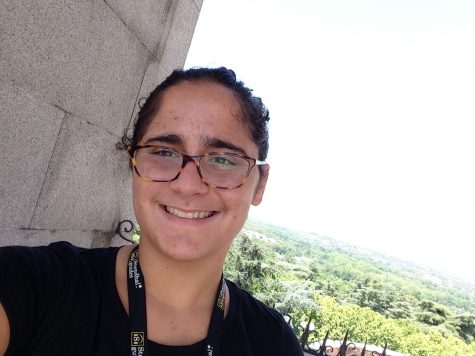 Alexandra Stassinopoulos, Editor-in-Chief
Alexandra Stassinopoulos was a senior at Dublin High School and the 2016-2017 Editor-in-Chief. She joined the Dublin Shield as a sophomore and worked as...