A fresh perspective: rising ninth graders look forward to high school
The following guest column was contributed by Meher Madan, a current eighth grader set to enter Dublin High with the class of 2025 this fall. As always, contact us at [email protected] if you're interested in writing an opinion piece for the Shield.
The foreign idea of entering high school brings up diverse feelings for many students.  The excitement of being able to be in an environment to safely discover who you want to be when you graduate is balanced with the nerve and stress of knowing that the next four years could potentially make or break your future success. The added uncertainty of COVID has only increased this stress for many incoming students.
High school is commonly thought of as a large stepping stone, prepping us with the skills to face the realities we may face in just a few years. Seeing that high school is preparing us for a majority of our lives can be extremely nerve-wracking. Knowing that there is so much relying on these next four years can put an immense amount of pressure on us to do well. Almost every student wants to succeed so they can thrive in their life after high school. What we learn and how we do in high school could possibly decide how the beginning of our lives post-school play out. 
Conflicting feelings of excitement and comfort come with knowing that we are joining a community of students to support and guide us. This huge school provides a large community of students, ensuring we are never alone. This same group of students standing together are also the ones who make us feel safe while we discover who we might want to be after that blue cap is thrown in the air. 
The thought of entering high school is also extremely exciting because it opens up so many new opportunities for students to discover new interests and pursue old ones. With hundreds of clubs on campus and a wide variety of classes to choose from, we can look forward to the school day. With the decision of our classes being in our hands, we can tailor them to fit our specific talents and interests such as writing, science, visual art, and more. We can use the decision of these classes as a way to explore new and interesting classes to eventually help us with choosing our fields of career in the future. 
As we know, the past year of our education and personal lives have changed drastically. Our schools have transferred to online, and that change in itself has severely impacted many students. The lack of motivation, stress, and distractions that come with online learning have made many students eager to return to school in-person.
The changes that the pandemic has brought have also impacted our perspective of the transition we will soon face to high school. Under regular circumstances, it would be comforting to know that your friends will be going to high school alongside you. However this year, we haven't had the experience of seeing one another in person every day. It can seem pretty lonely, and can make the idea of high school seem like a much larger change. 
Despite this, there are several benefits from transitioning into high school digitally. We have been in online learning for so long that the idea of going to school in person is extremely exciting! On top of that excitement of seeing friends and peers, we will be at a new school with a fresh start. Knowing that we can return to a new school, with so many new opportunities, makes it feel much more exciting to go to high school.
Additionally, our way of education will evolve as well. Not only will we be learning in the traditional format including lectures, independent work, and textbooks, we will also be learning in hands-on ways. Through active participation, volunteer work, and in-class projects, our way of learning will be more fun and educational. 
While students face the battle between joy and nerve on the thought of entering high school, the importance is not from our thoughts prior to the beginning, but of the experiences that we gain, good and bad, at the end of the journey.
About the Writer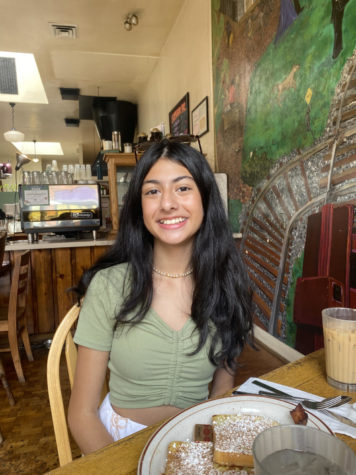 Meher Madan, Student Life Editor



Meher is a sophomore at Dublin High, and loves to write, play the guitar, listen to music and watch 90's sitcoms! This is her second year at the...