Almost, Maine, and the Euphoria of Post-Quarantine Theater
For the Dublin High School drama department, COVID-19 was devastating. Doors to theaters all over America were closed; with them, so went plans for the spring musical, Sweeney Todd. After a semester of hard work and countless rehearsals was washed away, returning to the normality of theater seemed unfathomable. 
Now, the DHS drama department is headed back to the stage with their first in-person show in two years, 'Almost, Maine'. This Friday and Saturday, the Dublin High Performing Arts Center will transform into a snowy small town on the very edge of the USA— one filled with warmth, broken hearts, and, above all else, love.
The world of Almost, Maine, a romantic comedy consisting of nine short vignettes (plays), is set in a quaint New England municipality on the outskirts of 'nowhere', also the perfect vantage point for viewing the Aurora borealis. The vivid setting, however, is only the surface of a series of interconnected tales, allowing the audience to witness the unique relationships brewing in the small town. 
"Our rendition of Almost, Maine is very warm and really gives the audience the opportunity to latch on to the characters and their stories… we are relying on the characters' dynamic attributes and how our actors bring those characters to life", explains Mrs. Masdeo Oliver, the director of the DHS drama department. She adds, "in between each vignette, you see the story advance through the characters coming back on stage… the play feels more like a town than nine distinct [short scenes]."
Indeed, the play's theme of interconnection feels more relevant than ever after the world has spent almost two years in lockdown, a sentiment that has not been lost on the cast and creative team. 
"It's been crazy and exciting – the cast are genuinely some of the greatest people I've ever met, and I feel really happy to be doing a show with them," commented Parker Visosky, the actor portraying Phil in the scene "Where It Went". As assistant director Dani Bara affirmed, "this show coming back from quarantine has a different set of obstacles unlike before, but has revealed our cast's ability to persevere. [It] focuses on the intense emotions associated with love, which is more important in times like now where we have just been separated for so long!" 
This production of Almost, Maine also reaches a new threshold in representation, working with gender and sexuality in a way that gives more audience members the chance to see themselves even more deeply within DHS productions. 
"We cast Almost, Maine without a distinct look at gender…   [It's] inherently about love and relationship, so we have a lot of different models of what relationships can look like and be… I'm really excited that our play sort of defies the heteronormativity that is around us on a daily basis, and it offers some visions of relationships outside of that stereotypical box," said Mrs. Masdeo Oliver. 
That representation extends offstage, too; the show's stage manager is none other than David Teittinen, who recently became the first non-binary student ever to make Dublin High's homecoming court.
As a whole, there is an inherent beauty to Almost, Maine, a euphoria in the triumphs of its cast, crew, and what it stands for— especially after the tumultuous waves of the COVID-19 pandemic. 
For Adwaith Sreenivasan, a senior in the department, his last ever Fall show at DHS has been a joyous one. He shares, "what I really love about the show is how creatively we were able to morph the play from a set of completely separate scenes taking place in the same town to an interconnected community… To be honest, while I was happy to have the [opportunity to] perform at least in some form during quarantine, it feels really good to finally be able to perform on stage again." 
This Friday, audiences will be able to experience this connection for themselves as the cast of Almost, Maine takes the stage for a night of unforgettable performances and community.
Almost, Maine runs from Friday, 11/5/21, to Saturday, 11/6/21, at 7 PM. $5 for student admission, $10 for general admission. We'll see you there!
About the Contributor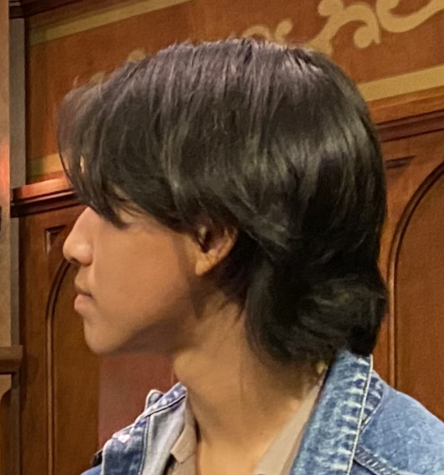 Brian Guan, Entertainment Editor


Brian Guan is a junior and the Entertainment section editor for the Shield! He is passionate about writing and creative expression, having received...