The Great Gatsby Full Review: SPOILER ALERT
  Millions have waited for the modern interpretation movie of the novel The Great Gatsby. Any movie made after a book is sure to be compared and harshly judged, especially with a book such as this one.
  The movie started out astray from the book and Nick Carraway was telling the story from his point of view while in a sanitarium. This director's choice set a less hopeful tone for the rest of the movie.
  "I did not like the beginning scene because I think it took away from the original theme of the book," stated Senior Kendra Cheda.
  From a movie watcher's standpoint, the scene added drama, but in terms of being in sync with the book, it was not accurate.
  Other aspects of the movie matched events in the book relatively well and certain scenes used dialogue word for word.
  The effects and settings of certain parts, such as the party scenes, were very intriguing and exciting to watch.
  The cast represented each character rather accurately and they worked well together in showing the relationships between each other.
  "Personally, Tobey Maguire as Nick was my favorite even though I wasn't a fan of the movie as a whole," shared Sophomore John Schofield. "I am a fan of the soundtrack though."
  It is hard to create a movie based on a book because there are set expectations and people expect the director to cover all parts to the story. Director Baz Luhrmann did a great job of incorporating all the detail but it made for a long film. Although thorough, any movie that is 2 hours and 22 minutes long will seem drawn out.
  Certain aspects of the film were on point and entertaining while others lacked accuracy and did not live up to expectations. The Great Gatsby movie, although an excellent story, gets mixed reviews.
About the Contributor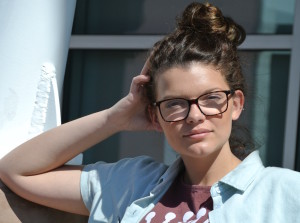 Lauren Flint, Managing Editor
My name is Lauren Flint and I am a senior at Dublin High. I like writing for The Dublin Shield because it is our own product and we can be creative with...