The war in Ukraine: a Ukrainian student's perspective
Russia's increasing military presence in Ukraine has led to multitudes of Ukrainian families being forced to evacuate their homes. One of those families was the family of 17-year old Artemia K., a student living in Ukraine's capital, Kyiv.
Dublin Shield was able to interview Artemia regarding her experiences as a teenager affected by the Russo-Ukrainian war. Artemia's interview shares a high school student's perspective, as well as sheds light on the global unawareness for the events occurring in Ukraine.
"I have lived in Ukraine for almost seven years, but I had to evacuate my home due to the war Putin has declared. We stayed in Ukraine up until the very day the war was declared, even though my friends had evacuated long ago. None of us were expecting true war, after all Russia had been at the border for far longer," Artemia commented.
Russian military vehicles first entered Donetsk, Ukraine in 2014, leading to an ongoing war. In 2021 and early 2022, Russia's military presence at the Ukrainian border greatly increased.
She also reflected on the morning her family had to evacuate Ukraine: "I had just woken up on the 14th of February, expecting to do a little math homework and relax. It was a week-long break before mock exams started and I knew I wouldn't get the chance to relax for a long time."
"Instead I was told Putin had declared war, and had already started to invade. My family and I decided to immediately pack and drive to the Romanian border. It took seven hours of waiting to even reach the border, there were so many cars lined up trying to leave Ukraine."
"I dropped all the work I was doing for school — evacuating was far more important. I am doing the International Baccalaureate in 12 Grade, and this meant I had to drop any preparations for applications and grade making work, things that could change whether or not I would go to my dream college."
"It was awful, hearing that Putin had finally begun the invasion."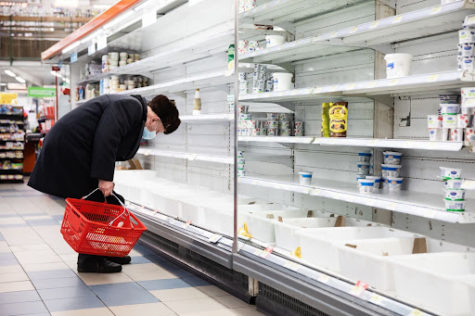 Artemia considered her family lucky to get out of Kyiv; some of her friends remained in the Center of Kyiv. "I kept in contact with those friends throughout the days they were trapped in the center, and they described how their shelters shook when bombs were dropped above," Artemia commented.
"They described how their pets were stressed and scared, and how they had seen troops and heard gunfire. The battles were constant, and difficult to evacuate safely- though thankfully my friends eventually did." 
In addition to describing her situation, Artemia also warned against the rampant misinformation: "The misinformation scares me. Russia has done terrible things, and blamed it on Ukraine. I am obviously disgusted at the actions of Putin, but this is nothing new."
"This is old news, but the Russian military shot down Malaysia Flight 17 and (very poorly) photoshopped a satellite imagery of a Ukrainian jet shooting it down. I don't know how that got swept under the rug," Artemia explained. 
Malaysia Airlines Flight 17 was a passenger flight from Amsterdam, Netherlands to Kuala Lumpur, Malaysia, that flew over Ukraine on July 17, 2014. The plane was struck down while flying over eastern Ukraine. The Dutch Safety Board led an investigation, resulting in the government of the Netherlands holding Russia accountable for the crash.
Russian state television and the Russian Ministry of Defense promoted images to prove that Ukrainians shot down Malaysia Flight 17 in an effort to assassinate President Putin. These photos were later disproved in a forensic study.
She also reported that to cause fear within Ukranians, members of the Russian military said that Kyiv was surrounded by troops: "Another lie, and this was also quickly proven wrong."
Artemia criticized the global awareness of President Vladimir Putin's actions at Ukraine's border and how this contributed to the ongoing war. "It seems strange to me that no one knew about Putin attacking the border for years before. Even hiring mercenaries to act as Russian separatists and attack the region Donetsk and Luhansk are located in."
The Donetsk and Luhansk People's Republics are located in Eastern Ukraine. On February 22, the Russian Ministry of Foreign Affairs published a statement recognizing Donetsk and Luhansk as independent states. 
"Putin used this recognition as an excuse to declare war," Artemia told the Dublin Shield, "His presence at the border before the war is common knowledge in Ukraine, but I have rarely seen any mention of this globally."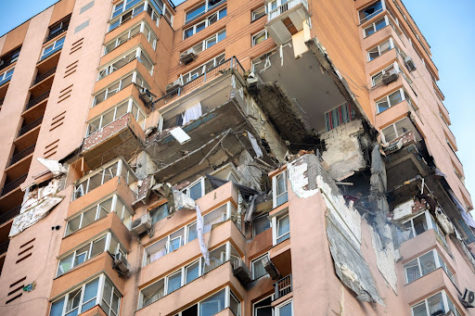 Artemia also shed light on the events in Kharkiv, another city in Ukraine. "Kharkiv has been relentlessly bombed and shelled for no other reason that terror. TV towers have been shot down. Gas and oil lines are bombed and set on fire. Our president has suffered through numerous assassination attempts. Thousands are dead for a war with an unclear motive," Artemia reported.
"This war isn't without casualties. Although Ukrainians are still standing strong, the sanctions currently enacted haven't done a thing to help halt Russia's attacks."
Despite the hardships this war has brought on her family, Artemia told the Shield that she is grateful for the worldwide awareness. "Protests throughout the world have raised awareness and not allowed the real war crimes occurring in Ukraine to be covered up again. Even the citizens of Russia itself are standing against this war. All of the global support has warmed my heart," Artemia commented.
Artemia ended her interview with one impactful and emotional message: "I want this war to stop, I want to go home."
All photos used are courtesy of a free image collection, titled Say No to War, from DepositPhotos. This collection includes photos taken in Ukraine, in addition to images of worldwide protests. Click here to visit.
About the Contributor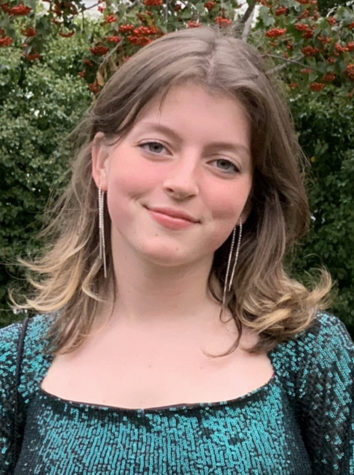 Catrina Currier, Staff Writer
Catrina Currier is a junior at Dublin High and a staff writer for Shield. This is her first year in Shield and she looks forward to exploring journalism....