The Founding Of Dublin, and How it Got its Name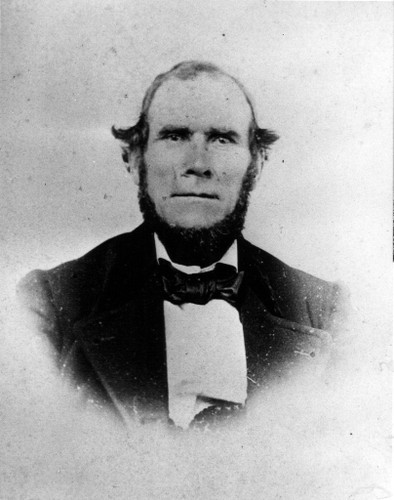 While the City of Dublin was founded February 1st, 1982, the village itself dates back to the early 1850s. Like how the city has grown up around the interchange of I-580 and I-680, the original village of Dublin grew up at the intersection of the Martinez-San Jose and Stockton-Hayward roads. With Irish immigrant roots, and Tennessee spirit, Dublin's founding is a tale of hardship, success, and a home away from home. 
Micheal Murray, Jeremiah Fallon, and settling in Dublin
Two decades after the founding of Rancho San Ramon, California was a different place than before. Mexican rule of Alta California had given way to the 31st state of the Union, and where once there were Spanish colonies, there were now rough and tumble boomtowns. The Gold Rush had changed California physically and culturally, but Dublin by the year 1852, still looked very similar to when it did in 1835. However, two families would change the history of the area forever.
Micheal Murray, Jeremiah Fallon, and their families were immigrants from Ireland who left the famous Emerald Coast in 1834 in search of a better life. In New Orleans Fallon had a ship-building and ferrying business. In 1838, Jeremiah married Eleanor Murray, the sister of Michael Murray. After having visited Michael, who was at the time living in St. Joseph Missouri, they found him to be so persuasive about moving out west, that they gave up their livelihoods to go with him. 
After a six-month-long trip, in which there were encounters with bears, Native Americans, and a few broken bones, they finally arrived at Mission San Jose. It is here that Micheal married his wife, Amelia. In 1852, the now growing Fallon and Murray families were outgrowing the confines of the Mission, so they purchased land from Jose Maria Amador. Fallon purchased 246 acres of land in the southern part of the Dublin area, whereas Murray purchased 746 acres for the northern part of the region. Together, they would make up about 1000 acres of land in Dublin.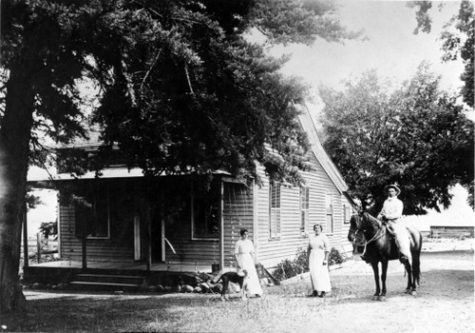 Fallon built a one-story home out of redwoods, near what is now Laurel Creek Way and Foothill Road, approximately 1.50 miles from the Alamilla Springs, whilst Murray built a home southeast of what would be the center of the original village of Dublin, at Donlon Way and Dublin Boulevard, the site of today's Dublin Heritage Site. 
To capture their history and benefits to Dublin would demand an entirely separate work of writing, so this is where we'll leave it off for now. 
Establishing Murray Township and the arrival of James Witt Dougherty
It was only a year after the Fallons and Murrays had settled in, that Alameda County was formed from the mass that was Santa Clara and Contra Costa county. In order to administer civic law to the towns and villages in the new county, the land was divided into townships. At the time of establishment, Michael Murray used his knowledge of the land to aid in the endeavors of the new Alameda County. Ultimately, the largest township in the county was named after him. 
"Murray Township was one of five original townships in the county. In a time with very few cities, or towns, townships were the only political entity in the heavily rural country. It [the Murray Township] roughly covered the entire southeast part of Alameda County." wrote Steve Minniear, describing the new township in the book Dublin California, A Brief History. 
Moving away from the township for now, it is imperative that we dwell into the history of another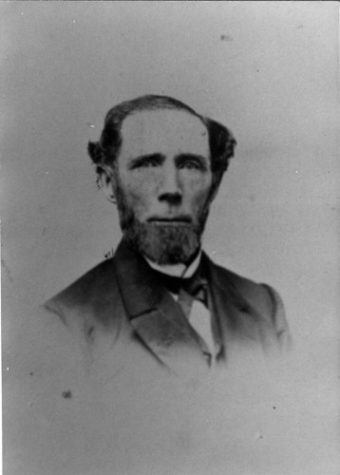 influential figure: James Witt Dougherty. Dougherty was born in 1813 in Tennessee. He would move to Mississippi to attempt to establish some businesses, which often "flourished or failed".  He had his first experience with California was in 1849, when he (like so many others) moved in search of gold. Of course, he barely found any, but he discovered both a new love for the land and many business opportunities. In 1850 he departed New Orleans for San Francisco, and when he arrived he immediately went to Sacramento to open a store involved in the gold mining sector.
After gaining enough money, he returned to Tennessee for a trip. After enticing some families to join him out west, he came back with a business partner: William Glaskin. With the help of Glaskin, Dougherty's Sacramento business would grow to gain the duo a decent amount of money.
After seemingly wanting to get a change of pace, he moved to Dublin in 1852. He would then make the biggest land purchase in early Dublin history. 
"He [and William Glaskin] purchased 10,000 acres of land from Jose Maria Amador for $22,000. This price is less per acre than Murray and Fallon had paid, but Dougherty probably demanded a better price for making such a large purchase." described Virginia Smith Bennett, in the book Dublin Reflections, And Other Bits of Valley History. 
In addition to this large purchase from Amador, he also bought 7,000 acres from Francisco Alviso. His new land would include the Tassajara Valley, Dougherty Valley, and large swaths of the area between Dublin and Pleasanton. 
From 1852 to 1863, the Dougherty family lived in Jose Maria Amador's former adobe, until it was collapsed by an earthquake. He would run a ranch that was worth $115,000, but he would further accumulate more money after leasing land to new immigrant families like the Morans, Knapps, and Grahams who all moved into what would become Dublin.
With Dougherty's land and evaluation of the potential business, Dublin would grow. 
St. Raymond's Church and the Murray Schoolhouse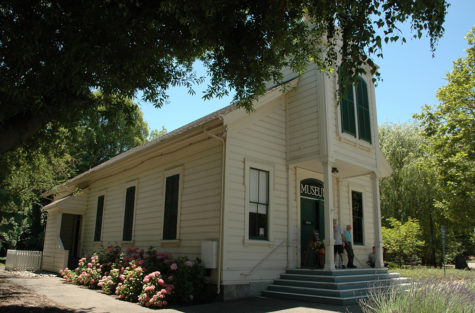 As new settlers trickled into the area, the demand for both a church and a schoolhouse was rising. In fact, it was the latter that came first. The Murray Schoolhouse was built in 1856, on Flanagan Lane, entirely on land donated by John Witt Dougherty. It once held 50 students, all in a typical rural one-room schoolhouse taught by a single teacher. Unfortunately, its spot on Flanagan Lane was found to be prone to flooding as it sat in a bog, so the schoolhouse was moved to Dublin Canyon Road. It sat there for 100 years until it was moved to the Dublin Heritage Park.
The St Raymond's Church was next, having been built in 1859. The need for a church in Dublin was great, as prior to the construction of the church, people had to ride to Mission San Jose in order to attend services. 
So, Micheal Murray and Jeremiah Fallon donated approximately four acres of land to accommodate the new catholic church at the crossroads. Unfortunately, during construction, a man named Tom Donlon fell from the roof while trying to aid in construction. He died, and although many people had been buried in the church area before, his death would formally establish what we now call the pioneer cemetery.
Although the location of the Murray schoolhouse is different than what it once was, the church has always remained in its same place. Today, the Murray Schoolhouse is a museum about Dublin's immigrant history, and the church still remains a church, after all these years. 
The mystery of Dublin's name.
As previously discussed, the original name of Dublin was not Dublin. It was known as the Alamilla Springs for many years, until James Witt Dougherty established a hotel in 1862, formally creating Dougherty's Station. When scouring the annals of history, there are often many contradictions and unclear matters of history, but in this circumstance, we know for certain one thing:
We do not know how Dublin got its name.
There are a wide variety of stories as to how Dublin achieved its name. There could be an extremely practical explanation to the Dublin origin though. At the original crossroads (now Donlon Way and Dublin Blvd), there once were two signs that stood across the road from each other. Maybe, the name could have originated from the term "Double Inns". 
"Still another version says that Dublin got its name due to preparations to haul wagons up the large hill just west of the crossroads. Drovers would stop, prepare their teams, and "double"them up. This effort then led to the identification of the place as 'Doublin'." explained Steve Minniear, in the book Dublin California, A Brief History.
Indeed, there are many practical explanations to the origins of the Dublin name, but there are certainly some very popular more community-like ones too. The most popular of these stories was when James Witt Dougherty once said: "Since there were so many Irish living south of the road, they might as well call that [Dougherty's Station] part Dublin.", and thus the name stuck. Other tales suggest that his cousin named the town Dublin after Dougherty told him it had no name other than Dougherty's Station.
Whatever the true origin story is, the name of Dublin stuck. It is a name that reflects the Irish Immigrant origins of our sprawling suburban town, and it is one that resonates deeply with the cultural and ethnic diversity of today. We leave off this article at the year 1860, the turn of a new decade and a new age for Dublin. 
Until then! 
References:
Stuart, Reginald And Grace, and B/W Photographs. CORRIDOR COUNTRY. An Interpretive History of the Amador – Livermore Valley. Volume One. The Spanish – Mexican Period. First Edition, vol. 1, Livermore, California, The Amador-livermore Valley Historical Society, 1966.
Bennett, Virginia Smith. Dublin Reflections and Bits of Valley History. Dublin, California, Dublin Friends of the Library, 1978.
Minniear, Steven. Dublin, California: A Brief History. The History Press, 2018.
Lynch, Mike. Dublin (CA) (Images of America). Illustrated, Arcadia Publishing, 2007.
About the Contributor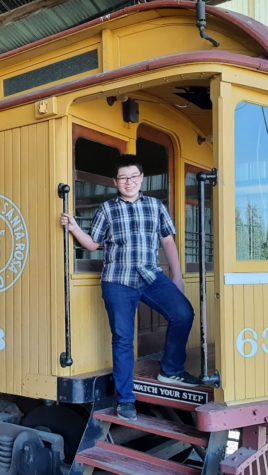 Alex Dion, Staff Writer
Alex Dion is a freshman at Dublin High School, who enjoys hidden history, cooking, biking, and writing. Being an avid railfan and passionate transit geek,...