2020 Dublin Organization of the Year awarded to Breaking BEARriers
This year, the club Breaking BEARriers won the 2020 Dublin Organization of the Year. Breaking BEARriers is a 501-c3 organization founded by six high school freshmen, four of which are enrolled at Dublin High. They are dedicated to helping students develop leadership, teamwork, communication, and interpersonal skills. Founded in 2019, membership has increased to more than 30 students and is continuing to grow. 
Every year, the city of Dublin presents volunteer recognition awards to outstanding individuals and foundations whose projects have benefited the community. There are five main criteria used to determine nominees. They use the Dublin Integrity In Action's 10 Characteristics: originality and uniqueness of the project, relevance, importance to Dublin, time spent, and the challenges in completing the project. Normally, the city would hold a ceremony with speeches from the club representative, but the COVID-19 pandemic has  changed the agenda. Instead, the ceremony was held through a virtual Zoom video conference and broadcast live on the Tri-Valley Community Television. Here's more information about the winning club and their projects. 
Summer Shi, the co-founder of Breaking BEARriers and a 9th grade student, states that " Our club's main motivation is paying back the community. Over all these years, the community of Dublin has given us a wonderful place to grow and develop, and we feel as if it's time to give back and help those in need." She encourages members of the club to use cutting-edge technology and out-of-the-box ideas to solve problems society faces. 
Breaking BEARriers was nominated based on several projects they initiated since the start of the COVID-19 pandemic — many that helped strengthen communities in and around Dublin. One of the projects was their Face Shield Project. The goal of the Face Shield Project was to help hospitals and care centers in Dublin get the necessary protection equipment for treating patients. In total, club members donated over 3000 face shields to local hospitals like St. Rose Hospital, San Ramon Regional Medical Center, and the Dublin Rotary. The project shows their determination to give back and help those in need
After the completion of the Face Shield Project, Breaking BEARriers then partnered with Fertile Groundworks to create a mural painting. Fertile Groundworks is a non-profit organization based in Livermore that encourages others to grow healthy, organic food with an emphasis on sustainability. Together, they created a 24-foot by 8-foot mural and donated it to a local garden. 
Anthony Li, another co-founder and freshman at Dublin High School, remarked that "the challenges we faced mainly came from the time crunch and the actual job itself. We had to go out to Fertile Groundworks 2 nights in a row to sketch the mural in pencil from a projector, as our electronic design needed to be scaled to the size of the mural." Their determination and originality of the project helped them secure a nomination for the volunteer recognition award.. 
If you're inspired and motivated by Breaking BEARriers, don't hesitate to contact them or apply to join the club. Their email is [email protected] and more information can be found on www.breakingbearriers.org. 
For more information about the Dublin Volunteer Recognition Awards, please visit https://dublin.ca.gov/2313/2020-Citizen-Young-Citizen-Organization.
About the Contributor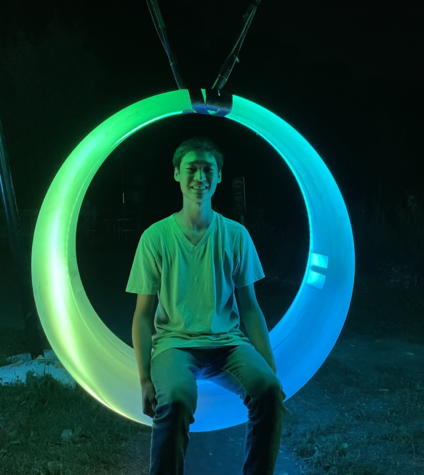 Alexander Suen, Managing Editor



Alexander Suen is a junior at Dublin High School. He enjoys writing about various topics that are popular and relevant. In his free time, he likes...