Cardboard cutout sales to benefit local charity
The Dublin High leadership team recently announced that they will be selling cardboard cutouts to keep in classrooms while students remain in distance learning. This unique idea allows students to choose who they want a cutout of, whether that be themselves, family members, pets, celebrities, or anyone else. Profits will go to Hively, an organization that supports children and families in need; each sale will feed a child breakfast for a week. 
Because leadership can't focus as much on having spirit days or spirit events this year due to the shelter-in-place, they're focusing a lot of their efforts on philanthropy and helping those who are going through difficult times due to the ongoing pandemic. Cardboard cutouts offer a fun way to keep the school together in this time of separation while still giving back to the community. Mr. D'Ambrosio, the student activities director this year, talked about how the idea came from baseball stadiums. "We saw that they were doing it for their fans, and so, we were saying why not try to bring that to Dublin High School?" He explained how baseball teams have been putting cardboard cutouts of fans in their stadium.
"The reason why we wanted to do this was simply because it gave the opportunity for the students to connect with the teachers and the teachers to connect with the students," he noted. "It's just a way for us to connect when we can't be together at this time." It's hard to have a sense of togetherness when everyone is in a Zoom classroom instead of sitting at a desk, and cardboard cutouts are a way to bring that feeling back. 
Hannah Briggs, a junior who bought two cardboard cutouts, said she "really liked the idea of cardboard cutouts because it allows students to be involved with the school. Distance learning has not really allowed classes to bond and be together, so being able to be together as 'cutouts' is a fun and great opportunity to be involved with school again." One of Hannah's cutouts is of her cat, which is pictured below.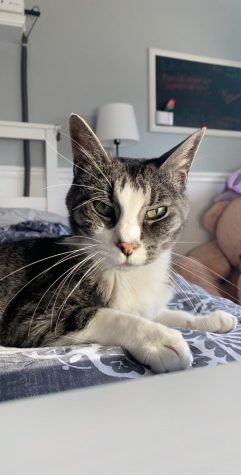 "I feel very accomplished to say that I helped someone get a meal. Doing things for our community like this fundraiser really makes a difference and I am proud to say I helped with contributing to this important cause," said Hannah. 
Leadership has broken themselves into ten houses that focus on different topics (such as community, clubs, virtual fun, and more). Mr. D'Ambrosio said that they are "trying to find things to try and keep kids involved and keep the students engaged while they aren't here." When asked about future plans, Mr. D'Ambrosio said "we are constantly thinking of ideas and we have a few ideas that are coming out in the next month or so which is exciting" so stay tuned for more fun!
Leadership is still taking orders for cutouts. They cost $20 each, with the $10 profit going to Hively. If you want one, head to the Dublin High webstore to purchase yours!
About the Contributor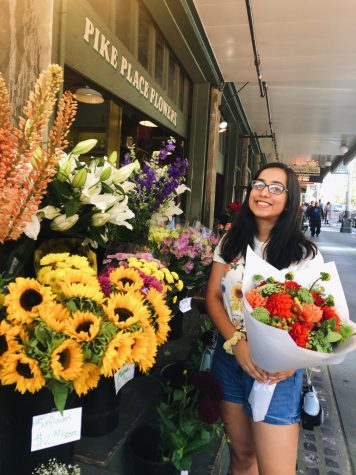 Rhea Mistry, Photography Editor



Rhea Mistry is this year's Photography Editor and senior at Dublin High, and is very excited to be a part of Shield for the fourth year in a row!...