Emily Que and Haley Tjon Recognized as 2019 Young Citizens of the Year
On February 19th, 2020, the Dublin City Council recognized Dublin High seniors Emily Que and Haley Tjon as Dublin's 2019 Young Citizens of the Year. In her nomination, Principal Maureen Byrne stressed that it "would be impossible to recognize one of these outstanding youths without the other. Both Emily Que and Haley Tjon have been instrumental in expanding Dublin High's Interact Club and have made powerful contributions to our community." 
When reflecting on her initial decision to join interact, Emily explained that she found the club fair to be a little overwhelming as a freshman, and she was uncertain where to invest her time. When she spoke with Kevin Hom, DHS alumni and former president of the Interact club, she was immediately drawn to the dedication to service and projects Kevin described. Emily appreciated that Interact engaged with both international and community level projects, benefiting individuals at all scales. "It seemed like a very incredible club and organization to be a part of and I was like okay I'll join this club and here I am now," said Emily. 
Emily added that fall kickoff, the first significant event during the school year, was among her favorite events. She's been attending since freshman year and loves the huge rally that brings together over 2000 Interact members from all over the Bay Area. "That's when they release our community project and our international projects for that year. So it gets everybody really excited to be involved with Interact for the rest of the year and serve the community. It was the first event that really made me realize this is a huge organization and there's so many people that also want to be in service and are so passionate about giving back; that really inspired me to give back to my own community" explained Emily. 
Emily expressed that it was this excitement for Interact's community service initiatives that motivated her and Haley to apply to be officers as freshmen. Describing their initial experience and working relationship as officers, Emily explained that "it was really exciting. First of all, to be on the board as a sophomore with a lot of inspiring seniors, and then to work together with one of my closest friends. It's been really good especially because I think our work dynamic flows really well. We disagree on things but then we talk it out and we never really had any big issues, which is really surprising for a friendship that's lasted this long."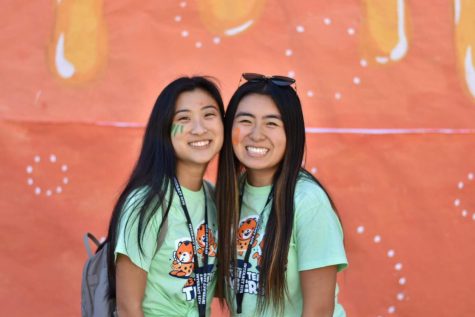 Emily and Haley's effective collaboration is best embodied by the incredible progress they've made during their time as co-presidents, bringing the club to 150 members and initiating international and community service projects that have had a significant impact on global communities but also created empathetic and dedicated students within Interact. This year, they're working with the International Project Build for Tomorrow and the Community Project Recovery Through Resilience. As described by Rotary International, the governing organization for Interact clubs, Build for Tomorrow is working with BuildOn to raise funds to construct schools in Nicaragua. BuildOn works in several countries to disrupt the cycle of poverty by providing access to education and increasing literacy rates. For Recovery through Resilience, they've partnered with Shatterproof to make effective treatment and recovery programs accessible to impacted individuals, as well as supporting research on addiction and developing programs to support individuals affected by substance abuse. 
Despite their immense accomplishments, Emily expressed that she was still incredibly surprised to receive the nomination in the mail. "I think the biggest reason why I found it to be really honoring is because most previous Interact presidents have been nominated for the award and I look up to them so much. For example, Kevin Hom and Ally Loo were really inspirational for my personal journey and to be nominated in the same way that they were and then to win was crazy and it's just a great feeling to know that Haley and I also have that inspirational effect and are creating the impact they did when I was underclassman," Emily explained.
Emily also underscored that their accomplishments wouldn't have been possible without the constant support of Interact's advisor, Mrs. Nobida, and her counselor, Ms. Halket. She praised the constant support these staff members provided, explaining that "they've not only been advisors to the club but they've been incredible personal advisors. They're incredible support systems and they both have been very supportive of all my activities. They're also great people to just catch up and talk with. In general, I'm just very thankful for them."
Emily also provided advice for other students engaged with community service activities. She emphasized that choosing to spend time with activities you were genuinely passionate about was incredibly important. Returning to her initial experiences, she mentioned that she understood a lot of people struggling as freshmen and encouraged them to try a lot of different activities and then during the first couple meetings, make an effort to understand where you belong. "If you don't feel really passionate about what they're discussing, there's nothing wrong with leaving but when you do feel that connection, take initiative and pursue opportunities" Emily said. She also encouraged students that felt genuinely engaged with the clubs to pursue leadership opportunities. If they felt uncertain or anxious, she encouraged them to remember that "you never know what happens." She stressed that "my advice is just always to try any opportunity that comes your way because if you don't try, you'll never know what could have been so why not just go for it." With this mindset, Emily emphasized that she'd been exposed to a lot of unique experiences throughout high school.
For students in leadership positions, Emily stressed that planning ahead had been imperative to Interact's success. Emily explained that through the multitude of events she's arranged with Haley she's learned that "even if you plan everything perfectly, there might be one little thing that ends up ruining everything and it's important to be prepared for that." She reflected on the time they'd organized a charity dinner for Interact, creating a "beautiful backdrop that they'd set aside to dry overnight but then it unexpectedly rained and we had to re-do everything." She stressed that being prepared for the unexpected was essential to ensuring that everything worked out. 
Ultimately though, Emily stressed that a dedication to the ideals of the clubs you commit to was essential to dealing with the inevitable difficulties. It's clear that this passion for realizing international and community impact through Interact has made Emily and Haley incredibly deserving of this award.
About the Contributors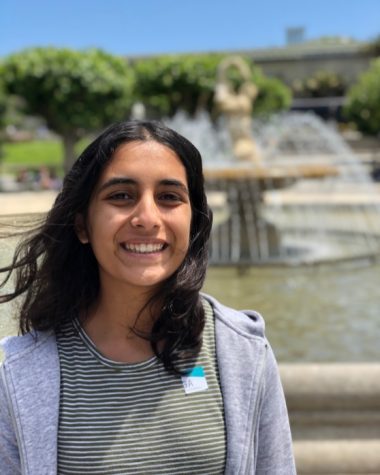 Riya Chopra, Editor-in-Chief
Riya Chopra is a senior at Dublin High and one of this year's Editors-in-Chief. She enjoys writing about everything from school board meetings to the opinions...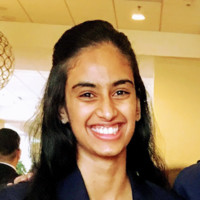 Kaushikee Nayudu, Editor-in-Chief
Kaushikee Nayudu is a senior at Dublin High and the Editor-in-Chief for the Dublin Shield where she enjoys writing articles covering a diverse range of...