Unsung Heroes: Ms. O'Shea
Our campus is filled with hardworking and caring individuals, providing invaluable support to students and playing a pivotal role at DHS. Unsung Heroes is a new series designed to feature a few of those individuals and give them the appreciation they so deserve.
Perhaps because she's often working behind the scenes rather than directly interacting with students, many students are unaware of Ms. Emily O'Shea's integral role at Dublin High School. Ms. O'Shea's official role, Data Technician, doesn't encapsulate the variety of responsibilities she effectively handles for the Career Center and the Counseling Office. She manages everything from updating transcripts with grades and classes, transferring credit from other institutions, ensuring teachers are meeting deadlines to submit grade, and scheduling teaching assistants. 
Upperclassmen may also recognize Ms. O'Shea as the counseling secretary when she first started at DHS, four years ago. In this position, she scheduled appointments and answered student questions at the front desk. Ms. O'Shea quickly moved to the Data Technician position but even now, at her desk in the Career Center, she always greets students with a willingness to help and a warm smile. Furthermore, Ms. O'Shea's commitment to students is clear in every interaction and the incredible work ethic she brings to her position. In the words of a former Counseling TA, "Ms. O'Shea is always so bright and happy and it makes even the most stressful days seem manageable."
Ms. O'Shea's uplifting spirit and dedication to her role makes sense, considering her belief that her central responsibility is to support students. She explained that "before coming to DHS, I actually didn't work for a school, I worked for a small cybersecurity company in Mountain View and it was very hectic and focused on profits. Whereas, over here, and I love this, it's all about the students, helping kids and making sure they're taken care of and have someone to go to ask for help."
"
If you work hard enough at it, you can do anything you want to. Nothing is unachievable."
— Ms. O'Shea
With the insight from her position, she also stressed the importance of balance though, explaining her concerns that "a lot of the students are so driven and there are so many hard classes that sometimes kids find themselves in a sticky situation where they can't keep up." To avoid this, Ms. O'Shea encouraged students to always prioritize their mental health and make sure to strive for balance in all their academic and extracurricular pursuits. Drawing from her career and personal experiences, she also offered the following motivation to students, "it's invaluable to have a positive attitude towards whatever you're doing. If you work hard enough at it, you can do anything you want to. Nothing is unachievable."
Ms. O'Shea embodies the positive attitude she encourages and perhaps more significantly, has a genuine commitment to helping students realize the ambitious goals she motivates them to strive for; for that, and everything she does for our campus, we all owe her a thank you.
About the Contributor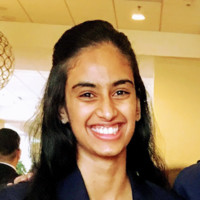 Kaushikee Nayudu, Editor-in-Chief
Kaushikee Nayudu is a senior at Dublin High and the Editor-in-Chief for the Dublin Shield where she enjoys writing articles covering a diverse range of...