Second High School Begins Construction. Yes, Really.
It's been coming for a while, yet we thought it would never come. At long last, the Dublin Unified School District's school board has seen it fit to descend their thrones long enough to give the order and to ring the bells. A second high school! In a city known for its phenomenal proficiency for construction, the elusive high school site has finally been found. Turns out there still are a few square inches of undeveloped land left.
A spokesperson for the school board released a statement saying that "we, the district planning committee, have seen it fit to commence the establishment of a second high school in Dublin. It turns out, contrary to popular belief, that we have a slight bit of an overcrowding issue here at our Dublin schools."
The flippant tone of the press release was met with varying levels of public outcry. One Dublin High junior noted with visible disgust that "we're already being trampled physically," gesturing to his bandaged ankle, a byproduct of the J building stairwell. "Why must we be trampled metaphorically, too? They've never listened to us and now they act as if our protests were nothing."
Numerous world-weary students welcomed the statement instead, tired of their dreary existence in portable classrooms filled to the brim. However, a new board member has proposed the idea of an entirely-portable school.
"There's no possible way for this whole overcrowding myth to have any truth to it," one representative stated. "We've been dealing with an influx of students so far by adding a proliferation of portable classrooms to schools all over Dublin because there's no way that these students plan on staying very long – why stop now?"
At this point, the general consensus of the Dublin community is that we will take what we can get.
About the Writer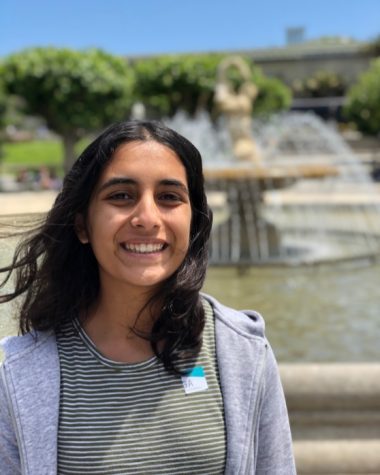 Riya Chopra, Editor-in-Chief
Riya Chopra is a senior at Dublin High and one of this year's Editors-in-Chief. She enjoys writing about everything from school board meetings to the opinions...