Lenaea High School's 2018 Theatre Festival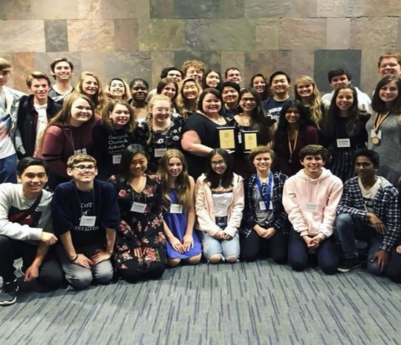 If a three day, Shakespeare-filled, theatre kids bonding sounds like the perfect weekend, then you should have joined the DHS drama department at Lenaea High School's annual theatre festival. The purpose of the Lenaea theatre festival is to promote and strengthen theatre art education at the high school level by offering students the chance to advance their creative skills within a safe and supportive environment.
First, a little bit of background on the festival. The movement for this program was initiated by Dr. Carl Thomas in 1955 in order to create an encouraging space for students interested in the performing arts. Lenaea offers students the opportunity to enter into One-Act Plays, Student Directed One-Acts, Student Written One-Acts, Musical Theatre Solos, Duo Scenes, Monologues, Set Design, and Costume Design competitions. Additional programs were added to the festival by Dale Wahlberg such as interactive workshops to give advice to the student performer immediately after their monologue or music piece.
Noah Bradley, known for his role of Demetrius in A Midsummer Night's Dream, says that "it was awesome to be selected as a part of Franc D'Ambrosio's master class for musical theatre…[and given] the chance to receive advice from him about performing." This is a huge opportunity since Frank D'Ambrosio has been the Phantom in the broadway show Phantom of the Opera for the longest time.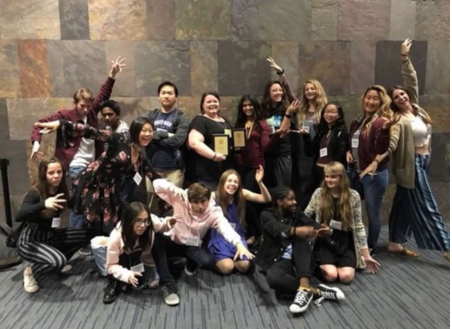 At this festival, DHS performed a shortened version of A Midsummer Night's Dream and the One-Acts. Many members of the cast and crew won medals and gold awards for their outstanding performances. A special shoutout goes to Nicki Butler for winning the gold award for Student Written One-Acts.
"The environment is what I enjoy the most. The overall experience of meeting new people and getting closer to those you already knew" is what Rosemarie Hughes believes made Lenaea an exciting experience for the drama department.
Many students were able to further explore their interests in theatre and acting through this festival. Not only did DHS students win awards, but they also got the chance to get feedback from their theatre role models and witness the hardwork and talent of other schools performances.
The drama department has grown closer and become a tight-knit group of friends.
"Theatre is so much more than costumes and lights. It is vulnerability and truth, and it brings you closer to people in ways you could never imagine," says Simone Campos, known for her role as Hermia in the fall play.
It is important to acknowledge the dedicated hours and intense practices that the drama department puts into every single one of its productions. We, as a school, should come together to celebrate this victory for the arts and the unbelievable talent at DHS.