Support the DHS InvenTeam in their Chipotle Fundraiser!
The DHS InvenTeam was one of 15 teams awarded a grant from the Lemelson-MIT Foundation out of a pool of 8,000 teams. The team was awarded a $9,000 grant to build assistive technology for the annual Tri-Valley Special Olympics. The team's project, Special Olympics Robotic Thrower (SpORT), will help students with special needs participate in modified stationary basketball and soccer games during the Special Olympics. In particular, SpORT will allow the students to become more actively involved in the ball sports. The team will be attending the EurekaFest to present their final prototype at MIT this June.
Although the DHS InvenTeam was awarded a grant, they still need more funding to help offset the expenses of additional prototyping material and prototype shipping to build the best possible solution they can! Funding also will help cover the travelling expenses of all 19 team members to attend the EurekaFest to showcase their final project. Come support the DHS Lemelson-MIT InvenTeam on their journey to MIT!
The fundraiser will be at Chipotle in the Persimmon Place in Dublin from 4 PM to 8 PM on Monday, December 18th. Be sure to bring a flyer, show the cashier a photo of this flyer on your smartphone, or tell the cashier you're supporting the DHS Lemelson-MIT InvenTeam. 50% of the proceeds will go towards funding Dublin High's InvenTeam, so please support their cause!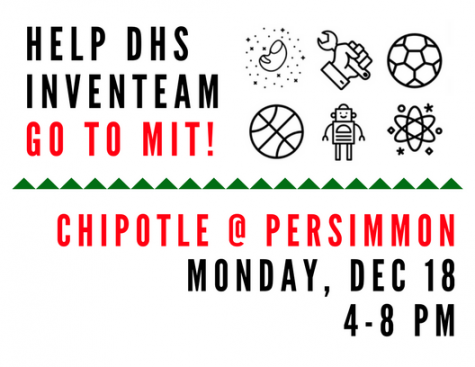 The DHS InvenTeam appreciates the generosity they receive from the community!
Learn more about the DHS InvenTeam and their cause at www.dhsinvent.com!