Bomb Threat on Dublin High School Leads to Evacuation
Dublin High School has had a chaotic past few weeks with several instances making our school feel more insecure than usual. The chaos reached a peak on Thursday, November 2nd, 2017 when the entire school was evacuated due to a bomb threat.
At around 2:29 pm, just before the end of 6th period, an announcement was made that teachers were not to dismiss their students from their classrooms when the bell for passing period rang. Teachers appeared to be fairly calm at this point, assuming it to be a minor issue and that there was little cause for concern.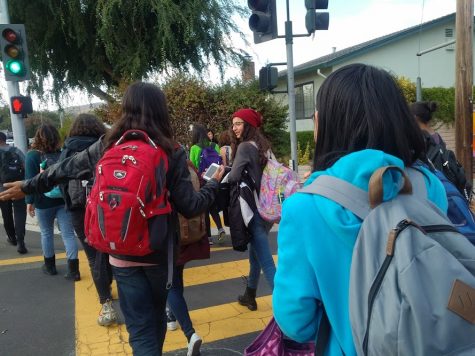 Less than a minute later, however, another announcement instructed students to evacuate the building. It told students who had cars or walked home to leave campus and return home immediately. Students who were waiting for a ride or take public transportation were asked to walk to Kolb Park with their instructors. The rush to exit the building and the swarm of students meant that the majority of students quickly lost their instructors. As sophomore Morgan Minkler expressed right after the incident, "I wasn't even down the stairs before I lost sight of my teacher."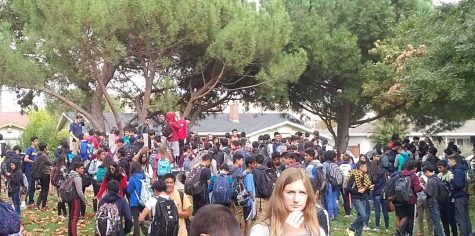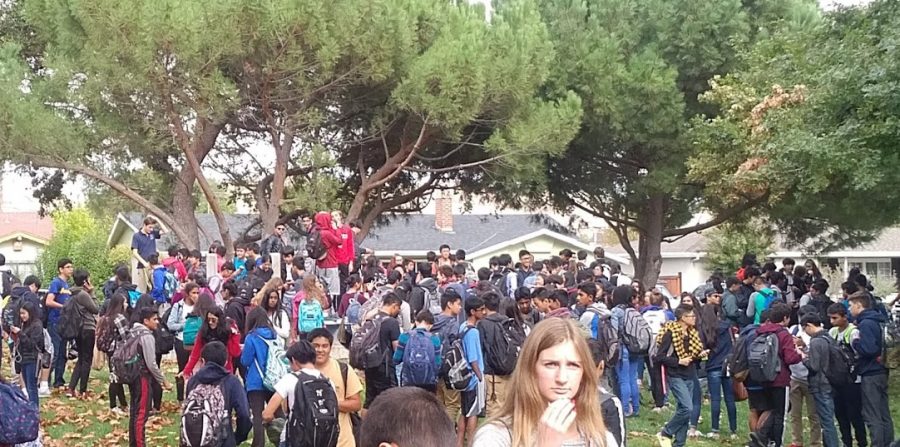 While walking to Kolb Park, a brief few minutes from campus, students were directed by teachers who did not have a 6th period and campus supervisors.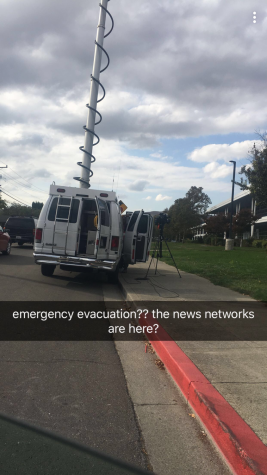 The mass of students at Kolb Park were all attempting to reach their parents and find a way home. Students had little information about the nature of the incident outside of the announcements and rumors that were spreading through social media.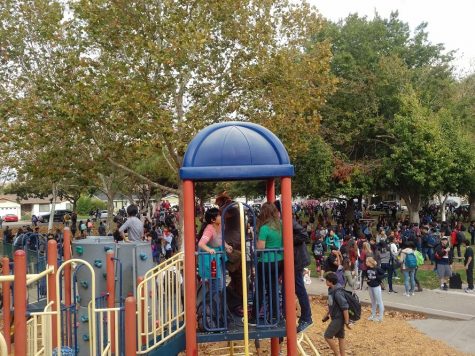 Traffic was described as "a complete nightmare" by a junior attempting to reach their parents. All students had to be picked up on Brighton Dr near Kolb Park and were not allowed to walk back towards the school. Traditional traffic rules were disregarded as police officers and administration attempted to get parents and children home as efficiently as possible. As a senior driving a sibling home articulated, it was "essentially just organized chaos."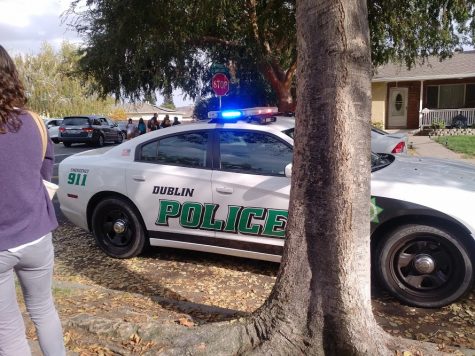 For students taking public transportation, the buses arrived at around the same time and ran on the same schedule. They did accommodate the change in location fairly well, however, a point the district made note of in their calls to parents.
Eventually, around 2:44 pm, the district sent an email out to parents explaining that there was a bomb threat and campus was being evacuated. Several minutes after the email was sent out parents whose phone numbers were on file started receiving generic calls from the school with updates.
At 5:06 pm, only three hours after the incident started, a message with the subject line "Dublin High is ALL CLEAR" was sent out to all the students and parents this time. Michelle McDonald, the DUSD Public Information Officer, explained that the local police had swept campus and declared it safe; as well as thanked students "for their amazing response."
In the aftermath, there remained a good deal of confusion over precisely what happened but a few press releases from Ms.McDonald shed light on the situation. It has been established that after receiving a bomb threat around 1:45 pm, school officials called police. The former student utilized a personal cell phone to make the threat and expressed that the threat was in response to the racially motivated fight on campus and administration's reaction to it. Eventually, the student would turn themselves in. Though the threat wasn't considered to be genuine, in the case that it was evacuation was considered the safest route. In coordination with the police officers and with the decision to exercise caution rather than regret it later, students were dismissed early from school. The area was cleared around 4:20 though by Dublin police with bomb-sniffing dogs and drones.
The following morning, Friday, November 3rd an announcement from the principal expressed appreciated for student and faculty cooperation. It also revealed that the former student who sent the threat had been identified and is in custody. Taylor Mychelle Pearson, the twenty year old former student who made the threat, explained to police that she was upset about the school's handling of a recent assault on a current female student. Pearson is being held at Santa Rita Jail on suspicion of making a false bomb report, making a false emergency report and making a criminal threat.
As the chaos of the event dies down, discussion has shifted to the unsettling nature of events over these past few weeks and how they have been handled by students and administration. With this event, in particular, the calm response of students has been supported, though a few students have expressed discontent over the crazed behavior on social media and over text as students spread ill-informed rumors. Administration's efficient, though somewhat disorganized, evacuation has been praised by most though some parents have expressed anger at the lack of immediate communication from the school. Ultimately, this event is a reminder of the importance of being prepared for the unexpected and remaining calm and cooperative in emergencies such as these.
Ultimately, when faced with any kind of adversity or incident that challenges the strength of our community, it is imperative that Dublin takes a step back and does what we do best: remain unified and retain the integrity of our community as a whole. Our unity as a community is something that distinguishes from many others and instead of letting negative situations divide us, we should unite and work together to prevent any future incidents from occurring.