Girls' Tennis Senior Night: Lady Gaels Take It to the Court One More Time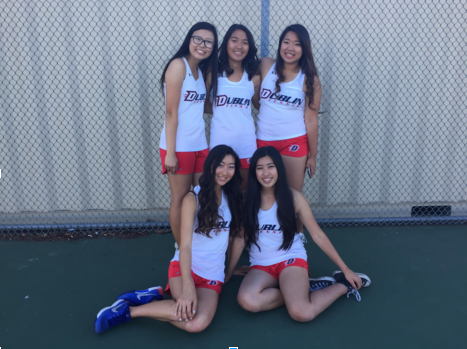 The 2017 girls tennis season has come to an end, and with it has ended the tenure of six of its beloved members. Senior Night, which took place this Tuesday against Dougherty Valley, was highlighted by the score of 0-9 for the varsity team. This was not a surprise, as Dougherty Valley was undefeated all season, but as many Dublin players noted, it was the fight that counted. DHS ended the season with a record of 6-12.
Senior Night was, above all, an opportunity for the departing seniors to shine. Without further ado, we present the seniors who have been contributing to the remarkable entity that is the DHS tennis team for the last four years.
CO-CAPTAIN Alison Yoo, Line 6 Singles
Regarded by her teammates as a highly competent captain and an even better teammate, Alison Yoo admitted that being a captain of the tennis team was "definitely a challenge, but a challenge I was willing to take." She noted that while tennis is often underrated and is seen as an individual sport, the DHS tennis team is truly a wonderful team to be a part of.
CO-CAPTAIN Abigale Kim, Line 2 Singles
Abi Kim, one captain renowned for her deceptively patient style of play and overt enthusiasm, commented on the importance of the mental aspect of tennis, saying that "you go in, and your game is decided by your attitude. You decide whether you win or lose." This was just one example of the invaluable advice given to the underclassmen by these seniors. Regarding her role as captain, Abi stated that she was "astonished at the sheer amount of motivation" presented this year.
Hillary Chung, Line 2 Doubles
Hillary Chung was quick to say that this season was by far the best that she had witnessed during her four years on the team, remarking that "this was the first year where I think we truly felt and acted like a team," a quality that made it all the more enjoyable.
Andreana Aquino, Line 2 Doubles
"AA" Aquino said that above all, this season was special because they "worked hard as a team," which made both practices and matches all the more enjoyable, and added that she definitely didn't regret this year and was "genuinely proud of playing number 2 doubles."
Jenny Li, JV
Jenny Li had a different perspective than the rest of the seniors, in that unlike the others, this was her first season on the team. She said that she was pleasantly surprised at how enjoyable the season was and remarked with enthusiasm that her "only regret was not joining sooner."
Along with these five students who played at Senior Night, Mayzin Kung was a senior who made her presence on the tennis team clear throughout the season. Despite being injured and unable to play for the entire season, she made it a point to show up for matches and practices, an example of just how far the members of this team will go to support their fellow Lady Gaels.
While the seniors had plenty of praise for the team's performance this past season as well as for its future, their younger teammates were full of gratitude for their leadership. As freshman Rachel Leung said, "Coming into DHS, I thought that the older girls on the team would ignore us to some extent or even be slightly rude. Instead, I was astonished at just how quickly we were not only accepted into the team with open arms, but how we felt  as if we had been a part of it for years. Now, thanks to them, I can't imagine it any other way." Sentiments like these were echoed by many other underclassmen on the team, so at the end of the day, one thing is certain: Despite their impending departure from Dublin High, the positive impact that the seniors have made on their younger teammates is bound to positively affect the team for years to come.