DHS Supports Its Teachers, Through and Through: A Statement to the School District
To the Dublin Unified School District:
My name is Abigale Kim, and I am a senior at Dublin High School. I have collected stories from students about how they are impacted by the teachers in the Dublin Unified School District. As you know, due to difficulties in contract negotiations, the teachers are forced to execute the policies of Work to Rule, which makes them only work according to the policies on their contract. The teachers in Dublin do so much more than work on their contract. They are role models who inspire us to work harder, achieve our goals, pursue our passions, and overall, become better people.
I hope the stories below help you realize how much the teachers truly matter to us. I hope they persuade you to give them better terms of negotiation. The cost of living in the Bay Area, including Dublin, is increasing, and if they are not paid enough, teachers may not be able to live in the area. As a result, they may not be able to stay in Dublin, and like me, I am sure you want them to stay in Dublin. To do that, it is imperative that you give them the money and benefits they need to live in Dublin.
Lastly, I would like to thank you in advance for reading each and every one of these stories. I know that the students put a lot of thought and effort into them, and I do hope that they help you realize how important the teachers at Dublin Unified School District are.
Sincerely,
Abigale Kim
Submissions are edited for length and clarity.
Anonymous, DHS student
"So one day I stayed after class to get help with Ms. Wienholz and she ended up talking to me about my future plans. I felt comfortable talking to her and getting an outside point of view on some issues I had been having."
Anonymous, DHS Student
"This is kind of a blurb about all the teachers together.
As my 9th grade math teacher, Ms. Mongold is an over achieving educator. She puts in the time to help out with clubs and even during school hours she makes up games to make learning fun for her students.
My biomedical teacher, Mrs. Sundstrom is an outgoing teacher as she puts together programs for all the biomedical students, she brings in volunteers to educate us, and she organizes the academy.
Mrs. Vidrio as an English teacher does more than just teach English. She comes out to support the track and cross country teams along with Mr. Kleinow. They both put in the extra effort to support the students of Dublin High even though they could be doing other things than wasting their time on us.
The teachers really put in all the work they can to help students achieve their goals and I personally feel that they deserve better."
Anonymous, DHS Student
"Ms. Sheaff is the most caring teacher that I have ever met. She works her hardest and tries to teach as best she can in a positive manner, making sure that everyone has a good experience in school. As a teacher, Ms. Sheaff has helped me learn better English but as a person, her caring personality has allowed me to feel better about myself all throughout high school and keep a positive attitude."
Anonymous, DHS Student
"I would like to thank my awesome AP Chemistry teacher Mr. Vereen for all he has done for me. He is always a man of his word and when I do not get a concept, he spends his lunchtime with me to make sure I understand the concept."
Anonymous, DHS Student
"Ms. Wienholz is one of the best teachers that I have ever had. She made me completely understand history in a completely new perspective. Not only is she an amazing teacher, she is also the most considerate, understanding, and kind teacher that I have ever had. If I slept in class, instead of getting upset at me, she asked if I was feeling okay. She made sure I wasn't feeling overwhelmed. When I was bullied, she comforted me outside of her work hours and made me feel a whole lot better. I love her more than words can describe."
Anonymous, DHS Student
"Ms. Maurer has been an amazing role model for me for over a year. She has inspired me to try hard in school and do what I love. I've been told several times that I'm not capable of doing anything with life, but Ms. Maurer is a constant reminder to me that it isn't true. She is a perfect example of a strong, intelligent, and kind woman and I aspire to be just like her someday."
Anonymous, DHS Student
"Although I only had Ms. Lewis for a year, she left a huge impact on my high school career. She teaches AP Physics with passion which results in high rates of 5's on AP tests and true readiness for college courses. She genuinely cares that every student actually learns the material and knows exactly how to make it happen. She is one of the best teachers I've ever met."
Anonymous, DHS Student
"Teachers not only educate the present but also the future. They shape our society and lives and are the sole reason why this world is constantly advancing. Teachers deserve much more than just a paycheck but it is in their complete power and will to ask for a 2% pay raise–which is absolutely necessary."
Anonymous, DHS Student
"Ms. Chrisman is an amazing physics teacher here at Dublin High. She works so incredibly hard to help her students do the best they can. She makes elaborate and detailed lessons for all kinds of learners. Whether they be visual or audible learners, she always includes something for them. Ms. Chrisman has a heart of gold and always has students' best interests at heart."
Anonymous, DHS Student
"I've had an amazing experience with Dublin High School teachers and they're always willing to go the extra mile to help me. They definitely don't get paid enough for all the extra hours and time they put into our learning and education."
Anonymous, DHS Student
"Mr. McKeon means a lot to me because he cares on how his students are doing physically and emotionally. He is a kind and loving teacher and wants the best for all of his students. I also enjoy that he makes learning engaging and fun!"
Simonne Campos, DHS Senior
"I have never had a teacher like Mrs. Vallejo before. When I had her as my Advanced English teacher in sophomore year, she was the most well-rounded, put together, clever and inspiring woman I've ever had the privilege of being taught by. Not only did she help me become a better writer and challenge me in ways I will never forget, she was one of the first teachers that went out of her way to look out for me and my mental health when I was under immense stress. She was always there to ask me how I was, but always searched for a real answer and had encouraging and comforting words to respond with. She inspires me to work hard and challenge myself, to stand up and make a difference in the world, to be a better person to others and always show compassion. I remember her as more of a mentor and wise friend than I do a teacher, because she was so much more than just a teacher. I have the best memories from that class and it is one of my favorite experiences from high school, all because of her and the passion and genuineness she put into that class. Mrs. Vallejo deserves more than the world for all she offers it, and Dublin High."
Madison Colangelo, DHS Senior
"When I first entered Fallon Middle school, I was the "new kid". I was shy and found it difficult to be able to meet new people. However, I was lucky enough to have Video Production with Mrs. Young in 7th grade and Leadership with her in 8th. Throughout these years, she helped me realize my potential and supported me. Her class allowed me to meet some of my best friends, and she always made time to talk to me. Without her, I wouldn't have met the amazing people I have and I wouldn't be as outgoing as I am today.
Going into Sophomore year, I didn't have much motivation. I was already tired of high school, especially all the English essays and work, until I entered Mrs. Hollison's Advanced English class. She rekindled my love for English and language, and made everything engaging and interesting in class. I can happily say I am her TA now, and I would not trade it for anything. She is a ray of sunshine in my life and always makes my day no matter what I am going through."
Ernestine Covarrubias, DHS Senior
"Mr. Dance genuinely cares about his students, he shows us respect and compassion in and out of class time. I have gone in during lunch and talked about issues with school and at home, he was there for me even though it wasn't in his job requirement. Mr. Dance and teachers like him that go above and beyond should also feel valued at our school, it's the teachers that impact our education journey and that should be recognized."
Trevor Haar, DHS Junior
"I really appreciate my drama teacher Mrs. DeLapp. She's such a support to students who are having a rough time, and she knows how to not only get a whole group to have fun and learn at the same time but to support each of her students individually. She goes out of her way to do so much for her students and it's very clear that she cares so much about the people she teaches. She has helped me get through multiple hard times in my life, and I know she's done the same for so many others."
Nicole Jong, DHS Senior
"Ms. Briggs is in no way a normal English teacher, and it is in the best way possible. Right off the bat, it's clear that she has a passion not only for English, but also for teaching. It is not often that you see a teacher so genuine, caring, and compassionate for her students. Little things like checking in on the class' stress level or having us give our classmates positive affirmations are indicative of such care and compassion. She makes a genuine effort to connect with her students, and she's definitely made that connection with me. I haven't developed many relationships with adults that I feel I can trust, that care about and understand me, but Ms. Briggs is someone I know can trust. She has not only helped me become a better writer and literary analyst, but a stronger person. She inspires me, and has inspired me to pursue a major in English at Oxford. She has helped me develop confidence in my writing and myself. She has given me honest advice and taught me things I'll apply to the rest of my entire life. I didn't ever think I would have a teacher that I'd connect with beyond an academic standpoint. I didn't think there was an adult, let alone a teacher, that I'd be able to trust, to build a relationship with. I consider Ms. Briggs a life-changing figure and I can't express my gratitude sufficiently for what she does for not only me, but for any and every student that has been lucky enough to have her."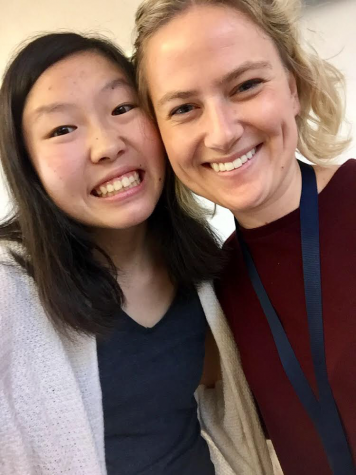 Ashley Kim, DHS Senior
"Ms. Sininger is one of the best teachers that I have ever had throughout high school. She is one of the most genuine, kind women I have ever known. From the beginning of the year, her passion for biology was extremely clear. Whenever I would ask her a question, she would either research it on her own or motivate me to find the answer for myself. That year, I possessed a deeper understanding of biology fueled by my own curiosity and her ability to encourage me. She considered my thoughts as valuable to my understanding of not only biology, but the inquiry behind science itself. Science is about questioning the world around you and developing explanations to observed phenomena. Being in Ms. Sininger's class captured that ideology for me. She is always open to any new ideas that I have regardless of how random they are. She solidified my love for biology and let me embrace every opportunity I have to know more and do more. She inspired me to continue with the field of biology (and potentially medicine) in my higher level education. Ms. Sininger has helped become the inquisitive young woman I am today. Dublin High thrives because of amazing teachers like Ms. Sininger."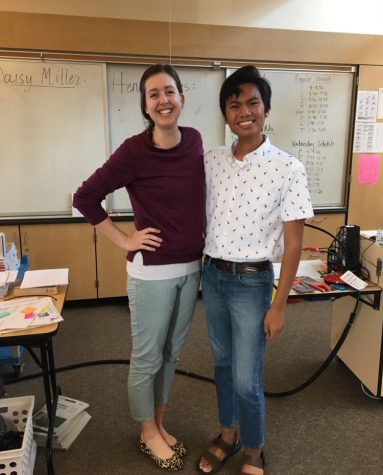 Thomas Lim, DHS Senior
"Without a doubt one of the greatest gifts Dublin High School has ever received, and I have ever received, is Ms. Sheaff. During the second semester of my freshman year, I had to move from Connecticut to California, a transition which I strongly did not appreciate. However, after having time to reflect on it, I no longer have that desire to return to the East Coast, and a large reason is Ms. Sheaff. She is an excellent English teacher, but also an insightful mentor who had been so kind to me. She made me forget my position as the "new kid". Thanks to Ms. Sheaff, I started looking forward to school again, I started wanting to succeed in my academics, but most importantly I started giving my move to California a chance. This willingness to try in a new environment was the gift Ms. Sheaff gave me, and one which I value and hold near my heart as a senior of Dublin High School today."
Chris Liu, DHS Senior
"To my Chinese teacher.
Dear Xu LaoShi,
Thank you for letting me come before school to edit my projects, generously taking the time to point out my mistakes and suggest any improvements. Thank you for responding to my emails at 11:00 at night, answering any homework questions I had. Thank you for letting me stay in your class during Gael, listening to all of my long-winded thoughts . Thank you for everything you have done for me in my three years of taking Chinese with you. Thank you for being the closest teacher I have had.
I am not a native Chinese speaker, but now because of all the time you have put into my learning, I can speak to my grandparents back in Taiwan. Thank you. I think a 2% raise and a wholesome, encompassing healthcare plan is the least the Dublin Unified School District could do for you."
Sophie Melgoza, DHS Senior
"Two teachers I appreciate are Ms.Ha and Ms. Sheaff. I have had the absolute blessing to have these amazing women as my teachers during my high school career. As a senior now, I can't help but reflect on everything they have taught me. They didn't just teach me about anatomy and how to analyze a poem in a book. They went beyond that and built a relationship with me. I still go them with personal problems or even if I am experiencing some stress and need some reassurance. See, a teacher in the Dublin community doesn't just stop at teaching their students on the curricular assigned. They are caring, loving women and men who will do anything for their kids. Without Ms. Ha and Ms. Sheaff I wouldn't have been taught valuable life lessons that make me the young woman I am today. They are two women I aspire to be one day and for that, I am extremely grateful."
Emily Perry, DHS Senior
"Professor Quintanilla has taught me a lot more than Spanish for the past two years. She has also taught me that there is always something worth fighting for in life. No matter what, you will have to face the windmills of life, and it's the choice of whether you run away or run forward. Her AP Spanish Literature class is one I look forward to everyday, not only for the knowledge but to hear her opinion on the topic of the day. I'll definitely miss her when she's gone at the end of this year."
Katelin Sha, DHS Junior
"One teacher I want to show my appreciation to is Ms. McGinley. She's the supervising teacher for the Friends of the SPCA Club and we've been using her classroom for our meetings and club events. She's given us so much support and so much help. She's offered to help with fundraisers, food/toy drives for pets, and helped us with so many ideas. Without her help during our lunch meetings, we would never have been able to accomplish our goals and prepare for the great events we did to help animals!
One teacher I want to thank is Ms. Sininger. Ms. Sininger is a great teacher and she's passionate about what she teaches us. Everyone knows AP Bio is a difficult class, but Ms. Sininger is always offering extra help and support. Not only does she work with us as a class, she also works with us one and one and ensures that every student is caught up with the curriculum. Without her help, I think I would be completely lost right now."
Ally Slayday, DHS c'o 17
"I'd like to make a note about Ms. Quintanilla. Following the death of my aunt she allowed me to come to her during her prep period and her lunch to talk. She greatly helped me get through a very hard time for me when she didn't need to.
Also on Mr. Viviani. When I was in his AP Euro class I had difficulty with the material. He allowed me to come in every day at lunch for 4 months to help me work on the material so that I could better pass the test."
Kobe Turangan, DHS Senior
"I appreciate the special education teacher, Ms. Melvin. She is so supportive to her students and her assistants. Not only does she teach her class effectively, she makes them excited to learn new material. Being a teacher's assistant, she always includes me in conversations and cares about my well being. She starts my day off well with joy and I know she does the same for her own students."
Melody Woo, DHS Senior
"Ms. Lawson is a very responsible teacher. She is always willing to answer my math questions even after class. She is pleased to give me help to improve my grade."