Dublin High Views the Great American Eclipse
Today, on August 21, 2017, America saw its first solar eclipse since June 8, 1979, and the entire country was filled with talk. Many websites and news channels offered live streams. Mrs. Lewis, the physical sciences and engineering lead teacher at Dublin High, explained what eclipses are. "As a physicist, the best thing about eclipses is the way they expand our understanding of science and the rules that govern the universe. For instance, the most famous physicist probably everyone knows is Einstein. But interestingly, when he first came out with his theories of relativity, his scientist peers weren't quite sure if he was completely correct. He's the only person to have ever won a very non-specific Nobel Prize, which says 'for his services to Theoretical Physics', and it was a total solar eclipse that actually proved many of his ideas."
She expressed further fascination with  the eclipse, saying, "What an absolutely crazy coincidence that our sun-moon SIZE ratio exactly matches our sun-moon DISTANCE ratio, so that the only planet in our system inhabited by beings intelligent enough to understand the phenomenon can actually see the feat!"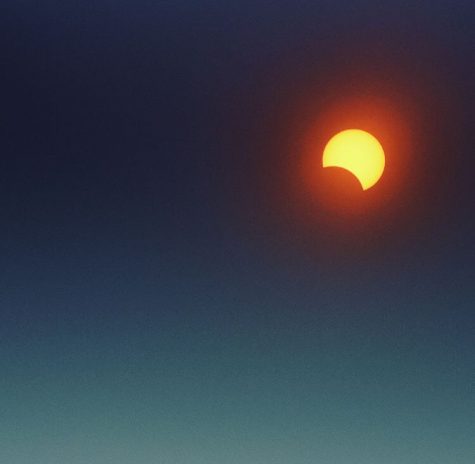 At Dublin High, a partial eclipse occurred, and many of the teachers allowed students to go out and view it during third period, when it was at its peak.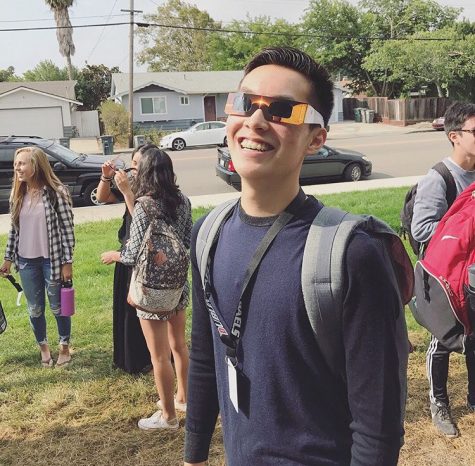 Nezrin Hasanly, a sophomore at Dublin High, said, "The eclipse was very beautiful, and  I am glad I got to witness this occasion."
Junior Noah Fourby commented, "I thought it was remarkable and it was amazing we got to witness a once in a lifetime experience."
Senior Vade Shah agreed, saying "It was amazing to see a once in a lifetime occurrence from our very own campus."
However, many also pointed out that because California is not in the path of the total eclipse and the moon didn't cover the entire sun, we did not see the darkening of the sky and the stars that would have been in Oregon or other locations in the US. Only those in the direct path of the eclipse were able to see that phenomenon. Junior Maddie Davis traveled to Teton Valley, Idaho to get a firsthand view of the eclipse. Unlike her peers, she was able to see the solar eclipse in totality.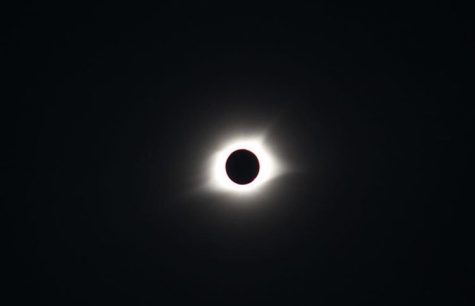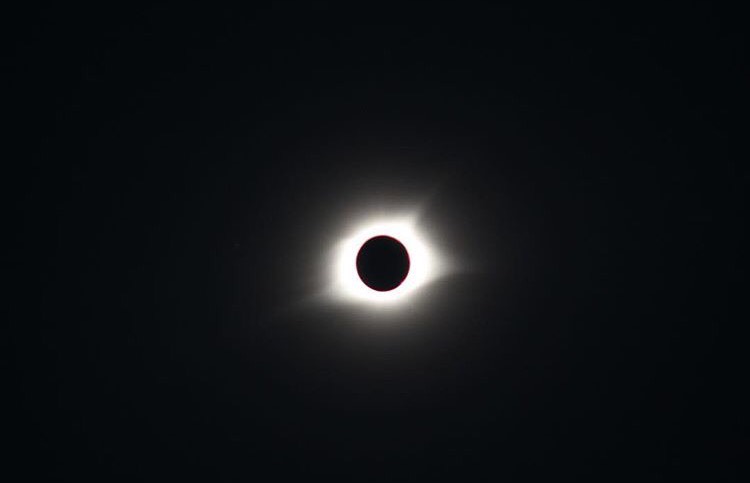 James Wang, a senior with knowledge in the physical sciences, noted,"You can't see anything unless there is totality."
Sophomore Ayra Jafri added, "It was a very awesome experience, but it would have been nice to see it in totality. I really hope to see some more eclipses later."
Freshman Aarya Dharm said, "I was very surprised by what the eclipse looked like because I saw so many pictures on the Internet that made it look super beautiful. But through the glasses, it looked like a slightly blocked orange circle. Once I got past the disappointment, I noticed its charm, beauty and rarity."
Sophomore Rijuta Vallishayee agreed, saying, "It was interesting, but I would have liked to see it in totality."
Mrs. Bude, a chemistry teacher at Dublin High, said, "It would have been wonderful if we could have seen the totality region. The beautiful thing about eclipses is the alignment of the sun, moon and earth. It is a rare astronomical occasion for it to occur in America, and the fact that we could see a partial eclipse during the school period was fascinating. The human reaction in the past is also very interesting. There were some civilizations that were terrified of the eclipses and believed they were unlucky, and there were others that believed it was lucky."
Dublin High students were fascinated by the eclipse and viewed it through their glasses. Many students noted that from California, the eclipse was shaped like a crescent moon. This was, of course, due to the fact that the eclipse was not seen in totality. Junior Brooke Beeson liked viewing the eclipse. She said, "It was pretty. It looks oddly like the moon."
Senior Greg Merz agreed. He exclaimed, "Wow! It looks like an orange crescent moon."
Merz also posed a question. He asked, "Did you know if you constantly blink while looking at the sun during an eclipse you have a ten percent chance of going blind?"
(The Dublin Shield cannot affirm nor deny the accuracy of Merz's claim.)
Other students were impressed by the eclipse, but they found the hype around the eclipse less than satisfying. The eclipse was cool, but it wasn't that cool. Sophomore Lucas DelValle pointed out, "It was cool, but they made it seem like something was going to happen. It's not like it started snowing."
Other students at Dublin High took the meaning of the word solar eclipse quite literally.  "I saw the sun and it looked like a sun," said sophomore Ayra Jafri.
In order to see the eclipse, one needed a pair of special sunglasses (regular ones were not enough protection). So students without these glasses could not even see the eclipse in its full capacity. Sophomore Melody Wang said, "It was cool. I looked at it for a fraction of a second without glasses and my eyes burned."
Sophomore Miguel Arada agreed with her, saying, "I couldn't see anything because my eyes were burning."
Even if you missed the eclipse, there are always photos on social media and time lapses on the Internet. Happy eclipse viewing, Dublin High!