Dublin's Much Anticipated Aquatic Park the "Wave" to Open Soon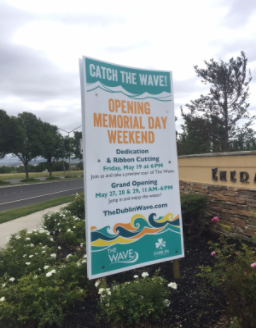 Hang on for a minute...we're trying to find some more stories you might like.
The much anticipated aquatic center, The Wave, will be hosting a ribbon cutting ceremony and tour of the facility on Friday, May 19th. The grand opening of the facility will then take place the following week, during Memorial Day weekend. The 31,000 square foot aquatic park has been in the works for nearly a decade now. Designed by architect George Markel, The Wave is intended to provide recreational activities that go beyond the typical swimming pool and hopefully to attract both local residents and visitors from surrounding areas. Markel has described The Wave as "a facility that you can come back to over and over again, and experience something different each time."
The opening of The Wave was initially hindered by complaints during 2015 from Dublin residents that it was illogical to construct a large-scale aquatic park during the drought and that the water park would further congest the growing neighborhood. Eventually, a scale back in late 2015 led to approval that allowed construction to continue. The scale back brought the estimated price of the aquatic park to thirty-six million dollars, eight million dollars less than the initial estimate of forty-four million dollars. Now, the water park is finally opening just in time for the coming summer season.
The Wave includes an indoor swimming pool for year-round swimming lessons, exercise programs, and recreation use. This area will also have interactive play areas for young children with water cannons, a wading pool, and other features. The indoor pool is covered by a large skylight style roof that will help to reduce evaporation, an innovative feature characteristic of only a few aquatic centers.
Outside, The Wave offers a competitive pool for swim meets or water polo games. Fences will be used to keep a play area open for public use even during competitions. Here visitors to The Wave can also use the forty-eight waterslide tower which contains two speed slides, three loop slides, and a large super-bowl slide. The splash pool for these slides has a beach-style entrance with several enjoyable features for younger children.
Other services provided by The Wave include locker rooms, shaded picnic areas, outdoor ping pong tables, community rooms, and an area that can be rented for parties. Junior Kelly James voiced her excitement for the grand opening stating that she was glad "for a swimming pool where my friends and I can enjoy more than just the swimming pool itself."
    Dublin's students are excited for the opportunities the aquatic center provides. The Wave has even employed several Dublin High students as lifeguards and attendants.  Freshman Casey Taylor expressed her excitements to the Shield "for a new place to hang out with [her] friends and maybe even work at." Ultimately, The Wave has generated anticipation and high expectations among Dublin residents that it seems well on the way to satiating.