Liz Fu Takes Her Passion for Art and Design from Dublin High to the University of Michigan
ANN ARBOR, MICHIGAN—Dublin High School Class of 2016 graduate Elizabeth "Liz" Fu is a freshman at the University of Michigan currently studying branding and identity through the UMich Stamps School of Art and Design, and user experience design through the university's School of Information.
"Basically, branding and identity is the design of the corporate image used by companies for advertising purposes—through logos, typefaces, and other visual aspects," Liz says.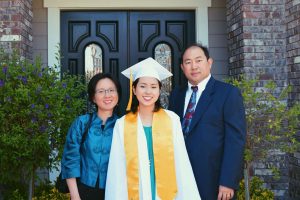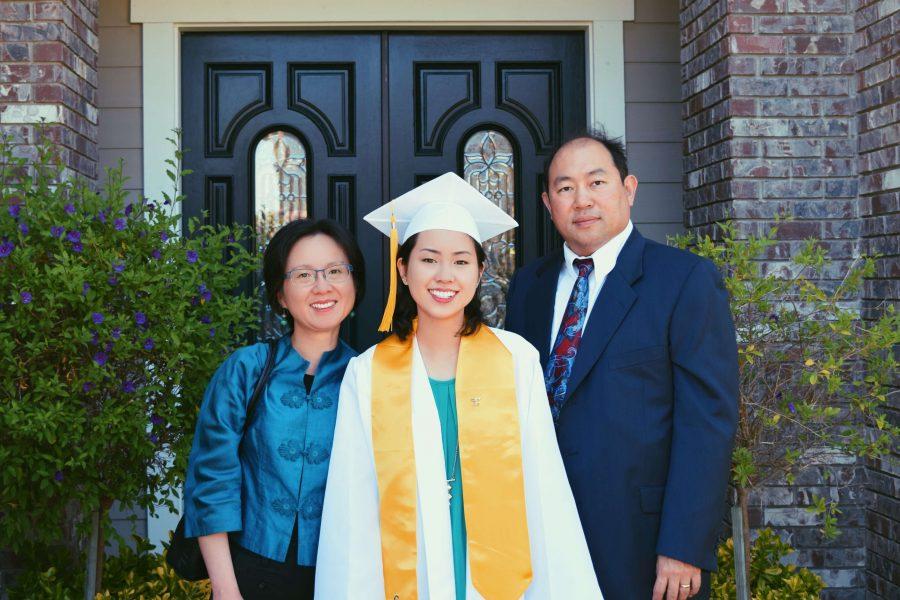 She adds: "User experience (UX) design works to augment user satisfaction by improving the usability and accessibility of a product, typically in web and app design."
I recently caught up with this multitalented former Gael, who shared more about her exciting experiences at the University of Michigan and reflected on her passion for art and design.
Neha Harpanhalli: You're currently planning on majoring in Human Computer Interaction, and minoring in the Art & Design program with a focus on graphic design/branding and identity. How did you become interested in this field?
Liz Fu: I've always known that I was interested in graphic design and branding. When I was in elementary school, I obsessed over the myriad of fonts on [Microsoft] Word, my favorites at the time being Copperplate and Century Gothic (gross, I know). On trips to the grocery store with my mom, I developed a keen interest in the branding of my favorite snack products—juice bottles in particular. I have a collection of my favorite bottles on top of my bookshelf!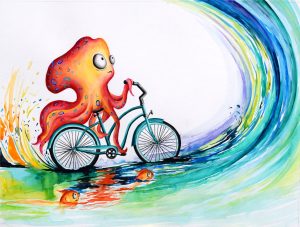 I became interested in the field of Human Computer Interaction (UX and UI specifically) after getting my first iPhone and laptop in high school. Well-designed apps and websites made me excited—I found that if an app or website was confusing to use or unappealing to the eye, I didn't want to use it. One of the main reasons I want to pursue user experience and user interaction design is so that I can create solutions to how people interact with technology.
Harpanhalli: Given your remarkable talent in art, graphic design, and photography, you must have been accepted to several colleges. Why did you decide to attend the University of Michigan?
Fu: I chose the University of Michigan because I wanted to study at a smaller "school"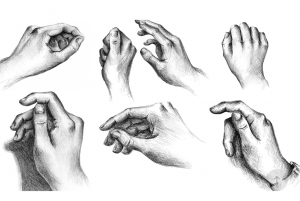 within a larger university. Michigan's art and design program stood out to me because the curriculum is pretty interdisciplinary, something that was important to me. My mom jokes that I chose Michigan because it was the school furthest away from home. Totally not true, but the independence that being far from home has forced me to take on has really helped me to grow as a person.
Harpanhalli: Did any of the courses you took in high school prepare you for college? If so, how?
Fu: I would say that the English classes that I took in high school—honors English 10 and 11 to be specific—helped me develop strong reading and writing skills that prepared me for all the writing that I've had to do in college. I picked up skills in those English classes such as argumentative writing, citing, and properly structuring an essay that have been invaluable to me in my classes here.
Harpanhalli: Are there any Dublin teachers who have had a significant impact on you?  
Fu: My favorite class in high school was English 10 Advanced with Ms. [Sara] Hollison in my sophomore year. Most of the books that we got to read in that class became some of my favorite books. Fahrenheit 451, Kaffir Boy, Lord of the Flies, Night, and Brave New World are some of the most thought-provoking books I've read. Ms. Hollison is an amazing teacher, I highly recommend her class!


Harpanhalli: Can you share some of your favorite experiences so far at UMich?
Fu: One of my best memories at UMich was hearing President Obama speak on campus! It was the day before the election, and we got in line at 6 in the morning for the rally. Some people had been in line since midnight!
Another one of my favorites was when it first snowed. Coming from a place where it never snows, it was very exciting for me! I went outside with my friends and made a small snowman. Sadly, they are all from the Midwest and were not nearly as excited as I was.

Harpanhalli: What differences, if any, have you noticed between how art is taught at the high school versus college level?
Fu: Art is much more intensive in college and the structure of the classes is very different. Studio classes are each 3 hours long and typically consist of work sessions and critiques. Critiques are class sessions where the class gathers around your piece and discusses what they think about it. In high school, you might be able to get away with doing a drawing for art class during GAEL period or lunch, but in college if you don't put a significant amount of time and effort into your projects, critique can tear you apart.
However, in college, students have access to more resources—I'm able to use laser cutters, 3D printers, and the woodshop for my projects. High school is much more limited in terms of resources so it can be difficult for students to experiment with materials outside of traditional art mediums.  

Harpanhalli: What do you consider most enjoyable about the college experience?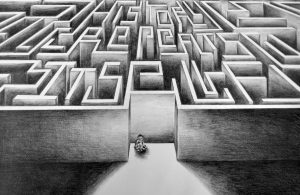 Fu: Something I really like about college is how much more open people are. In high school, I felt contained to certain groups, but in college pretty much everyone is open to being friends. I've met and become friends with so many people here that I never thought I'd meet, much less become friends with. My friends here play a huge role in shaping my college experience, and it's been a good one so far!
Harpanhalli: You were the Editor-in-Chief for the Dublin Shield, Dublin High's student news source, in your senior year. Are you involved in any similar organizations at the college level?
Fu: When I was in Dublin Shield, I worked on some editorial design, which helped develop my interest of graphic design. Here at UMich, I'm a member of CHISL, a student-run design consulting group. My team is currently working on the branding and identity for a social app that discourages homophily [the tendency of individuals to associate and bond with others like them].
Harpanhalli: What is it about California, and Dublin in particular, that you miss the most?
Fu: I miss being able to make boba runs! One of my favorite memories from Dublin is getting T4 all the time. Unfortunately, Michigan sorely lacks in good bubble tea places. Another thing that I miss that probably isn't too hard to guess is the California weather. Before going to Michigan I thought that California weather was inconsistent, but Michigan weather is on a whole new level! The day before it first snowed it was a sunny 75 Fahrenheit.
Harpanhalli: What advice do you have for any high school students who are trying to pursue the same field as you, or hope to attend a college like the University of Michigan?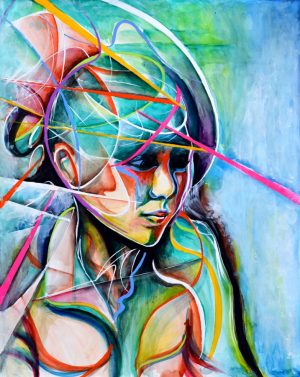 Fu: Keep your options open! If you love visual arts, you don't necessarily have to major in the arts to continue working with it. There are tons of people here who are talented in the arts but are in the Ross School of Business or the School of Information, and they're still able to work on art/design related projects!
For those who hope to attend UMich, I hope you like cold weather.
At the 2016 Senior Awards Night, Liz Fu received the Academic D Block, President's Gold Award for Educational Excellence, California Scholarship Federation Life Member, and GAEL Scholar awards, and was recognized as a National Merit Commended Student.