Sadies Week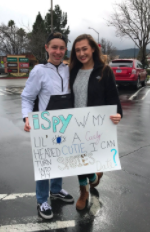 Valentine's Day is just around the corner and love is in the air… Gaels, you know what that means! It's time for the ladies to ask the gentlemen to Sadie's! The Sadie Hawkins Dance will take place on Friday, February 17th, in the Student Union from 7:00 to 10:00 PM.
Sadie's will be a fun time for couples and friends to dress up for spirit days together throughout the week, from 2/12 to 2/17. "I'm really excited for next week," said freshman Chloe Nickels. "I think the theme is pretty cool."
This year's Sadie's dance is Safari-themed, so be sure to come to the dance dressed up as a jungle explorer or your favorite wild animal! Monday's spirit theme was be "6 AM Flight" Day, with students showing up in their comfiest pajamas. On Tuesday, wear DHS wore all out red to take an "Adventure in the Red Sea." Wednesday students wore orange to raise awareness about Teen Dating Violence.  Thursday's theme was "Adventure in Antarctica," so everyone bundled up in their warmest clothes. On Friday, DHS was awash with the tackiest tourists there ever was.