Cross Country Boys Make DHS History at NCS
On November 19, 2016, DHS history was made. After many years of barely missing the cut, the DHS Boys Varsity Cross Country qualified for the state championship as a team through a stunning NCS victory.
The varsity boys team had had a phenomenal season so far this year, taking first place at multiple meets and winning the EBAL championships by seventeen points. These accomplishments were made even more impressive due the fact that this was DHS' first season in the league
As such, the team had high expectations going into NCS, although they were still nervous.
"I felt like we were going to win before the race, but I was surprised by how much we won at the end and how we all performed during the race," admitted sophomore runner Loic Scomparin.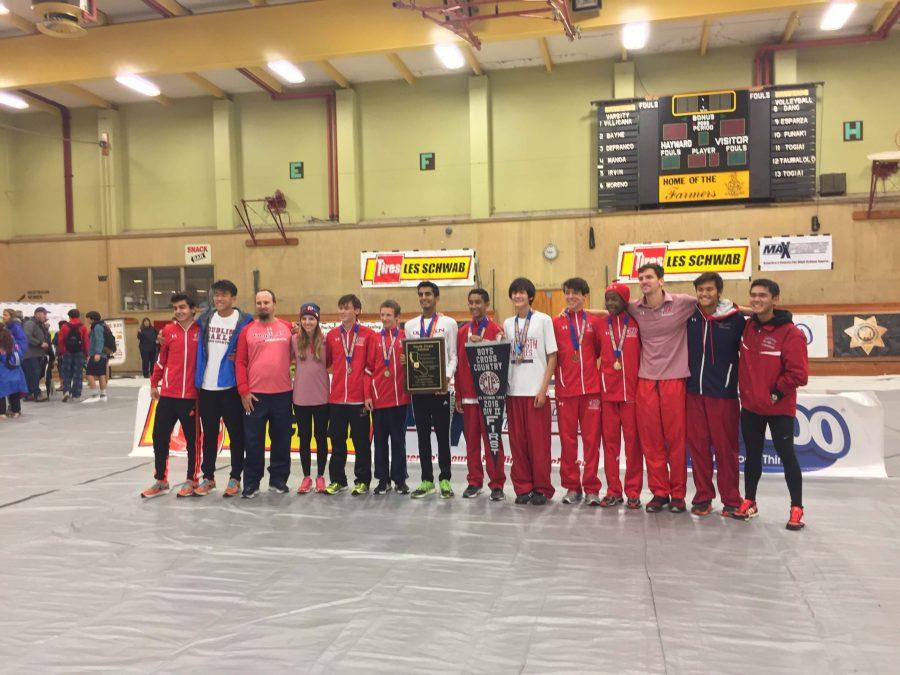 His teammate, Anirudh Surapaneni, who individually placed second overall, agreed. "NCS was a pretty big meet for us because we were slight favorites going in, but the competition was very good. We were confident going in, but were unsure of how well we would do." (To see Anirudh receiving second place at the NCS Awards ceremony, click here.)
The team's apprehension was natural considering not only the competition they faced, but also the wet and slippery course conditions. Despite the rain and unsteady footing, however, the DHS Varsity Boys team outran the competition to take first place overall. Their score of forty-two points, was ridiculously low (the lowest score wins, and each team's score is tallied by adding up the finishing places of the team's top five runners), with the team's top runners finishing in second, sixth, seventh, ninth, and eighteenth places; to put things in perspective, the second place team (Monte Vista) lost by thirty-one points.
Not only was the victory an impressive team effort, but some runners also PR'ed.
"NCS was a great race for me," said sophomore varsity runner Hunter Lampi, "I beat my previous time by almost twenty seconds. I started off in the back and worked myself to the front pack. I made great moves leading me to take teams out of the race."
Because they placed first at NCS, the boys qualified for the state championship, which will take place on Saturday, November 26 at Woodward Park in Fresno, California. The boys have raced at this course before during the Clovis Invitational and consider their chances of winning, or at least making the podium, fairly good.
Junior runner Adrian Schroeder believes that, "Dublin has a chance to make a big splash at states. We're a dark horse going in and because of that we have a lot to prove. That being said, our goal is to win and we're very serious about our chances."
This view is echoed by his teammates, with Loic Scomparin pointing out that because of their NCS and EBAL victories, "everyone is really motivated for the meet and as a group I feel like we still have a lot of energy left."
Senior runner Anirudh Surapaneni,who qualified individually for the state championships last year, is more cautious, but also optimistic. "We're currently ranked pretty high in the state for Division II but we know how good southern teams are. A win would be an amazing (but possible) achievement. I think we are contenders for a podium finish."
"There are probably five top teams going into the state meet [who have a chance of winning]," he continued, "with us being one of them. Loyola HS (form LA) and Claremont HS are the strongest teams we are looking out for. While we haven't raced these teams head to head, we are pretty confident in our matchup with them!"
However the team does at states, the Varsity Boys' team has set new records for DHS Cross Country that will be remembered for years to come!