Teacher Feature: Mrs. Cunningham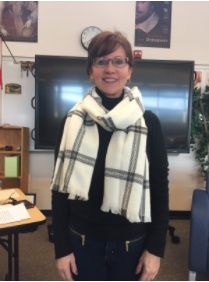 With many years of experience, Mrs. Holly Cunningham is one of Dublin High School's English 1 Advanced and English 3 Honors teachers. I recently had the honor of sitting down with Mrs. Cunningham to discuss her approaches and personal views on teaching, as well as her advice on balancing the pressures and stresses of high school.
JL: What are some of your favorite parts of teaching English, at Dublin High and in general?
HC: I love teaching English because I love the subject. But most importantly, I think it is the power of language, how we can make it achieve certain purposes, how we use it to communicate, that is the most fascinating to me. And to help students learn how to harness that power is really fulfilling. I enjoy that, I enjoy seeing a student progress in their ability to write exactly what it is they're trying to say.
JL: Some students may initially struggle to grasp certain concepts or ideas–what do you do to ensure their understanding and success?
HC: I think the advantage we have in English as a subject is, by nature, we tend to go back and revisit things. We may be studying a different text, but we are likely to be covering concepts multiple times throughout a year, and so we often get to see a student progress instead of just completely struggle with the subject, or a concept, or an idea, and have no chance to come back and refine it. Or, maybe another text speaks to them in a way that a previous text did not, and they can then utilize that.
Another thing that we also tend to use is to try and assess things in multiple ways. So instead of having everything a test, or everything a paper, we have students write papers, we have them do one-pagers, we have them do presentations and projects and things together and individually to allow them to revisit concepts, and to glean from other students who are more effective in that area. So I think it's partly the advantage that we have with how our subject works–we don't tend to be linear.
JL: What would you say is the greatest reward and greatest challenge of teaching?
HC: The biggest reward is honestly the connections that we have with students. To have students who have graduated from Dublin High School come back and return tells us about the incredible positive atmosphere that we create at this school, and the relationships that we develop with [them]. One of the greatest challenges, I think with education in general, is to help students understand that they need to have a breadth of knowledge, they need to not just pursue what they're interested in, but to understand a variety of subjects to a certain degree of competency. And that's not always something that comes easily, or willingly, from students, but I think it's our task to make it as positive an experience as possible.
JL:  Out of all the units that are taught throughout the year, which unit do you find most enjoyable to teach?
HC: That's like asking which of my children is my favorite–that is so difficult, because I tend to enjoy each one that I'm in as we're doing it, because I always get to see the end product. I know where we're going and I know what I want the students to be getting from it, and I'm always enjoying what's coming next. Some of it, for units with me, is also connected to the time of year that we're doing it. Knowing what's happening, that we're dealing with the holidays right now, and the argument unit that we're working on with the freshmen, or romanticism with the juniors. It's connected. I don't have a particular favorite, I have lessons or assignments that fall within different units that are particularly fun, and I love to see the product that the students create.
JL: Many Dublin High School students face an enormous amount of pressure to succeed in academics, in extracurriculars, and in college. What advice would you give to these students in terms of maintaining health alongside a pursuit of success?
HC: It is okay to stop. It is okay to take a breath, and to sit and do nothing for a time. You can't let it stop you, but to sit and enjoy just spending time with some friends, to spend some time alone, to decompress, to enjoy that latte from Starbucks, and not be constantly thinking about the paper that you have to write, what your planner is filled out with, but to get outside, and to simply enjoy the fact that we are here, in a beautiful area, with an amazing school and a great community. I think it's extremely important that students learn to let go, and to step away, and that is not only okay, it's important. And it can't just be go, go, go all the time.
JL: Finally, what is your biggest motivation behind teaching each day?
HC: I love it. I absolutely love getting in the classroom with the students, and thinking of ways that I can actually hand things over to them. You learn so much more from one another than I can do standing up and lecturing in front of a class. So it's the creative endeavor of watching the dynamics of that happen in a classroom of students who I find engaging, and interesting, and fun, and who enjoy laughing with me. I think education needs to be fun, and it can be challenging, but it shouldn't be onerous.