The Irish Guard Takes the V(ictory) and Wins A Historic Sweepstakes Trophy At Vintage High School
For the first time in twenty years, the Dublin High School Irish Guard and Marching Band won marching sweepstakes in a band competition. They also brought back third place for woodwinds, second place for brass, fourth place for color guard, and fourth place for percussion. The competition took place at Vintage High School in Napa, and featured marching bands from all across Northern California.
Like the years before, DHS Irish Guard was expected not to place, so getting first place and marching sweepstakes was a surprise to them.  "I don't know how it happened," sophomore and piccolo player Shelley Shinohara admitted.
Students in the marching band were ecstatic about their win. When Dublin High was called as sweepstakes winners, the whole band cheered as loud as they could. 'Sweepstakes' meant that DHS' marching band and color guard was the best out of all the schools that competed at Vintage High School. The Irish Guard was also astonished at the 2-foot-tall sweepstakes trophy they brought home after the competition. "The trophies are really tall," said sophomore flutist Hallie Neff.
This year, in particular, has marked a series of wins for the DHS marching band that has been unparalleled by any other marching season.  The DHS marching band has already won second place at Foothill High School and first place at Dublin High School.  However, the win at Napa was the first time the band took sweepstakes, and they couldn't have been more excited.
"It was unbelievable.  One girl started crying," said flutist Brianna Knapp.
Junior clarinetist Jenelle Barbier said, "When we won, I was amazed, but not in the way that I didn't think we would be able to win. Just because it was so surreal that we actually did it and that all of our work and time that we put into practicing and rehearsing paid off. I was so proud to be part of our band at that moment when they said that we had won."
Especially excited were the freshmen, who had worked hard to keep up with the upperclassmen this year. From their first days at band camp to the penultimate competition of the season, they improved so much over the course of the season through their many rehearsal and competition.
Michelle Morris, freshman flutist, said, "It was really awesome finally winning something."
"It was crazy just being there.  I've heard from older students that we didn't win the year before so it was really exciting," added freshman and clarinetist Sabina Boudames.
Every single band member worked incredibly hard to gain this win, going through seven-hour rehearsals (sometimes in 100-degree weather) and fourteen-hour competitions. But these wonderful "young adults", in the words of Mr. Everts, never truly got tired of each other's company. They instead became closer and formed what they all affectionately call their "bamily".
Freshman and color guard member Lilyann Day said, "I will always remember competitions and hanging out afterward. And even if someone didn't have a good run, then I know we will always support them no matter what."
With one competition left to go, the Dublin High Irish Guard and Marching Band is ready to perform their best and hopefully take home another sweepstakes trophy this weekend.
The sky's the limit for this awesome band and color guard!
Below are some images of the DHS Irish Guard at Vintage High School.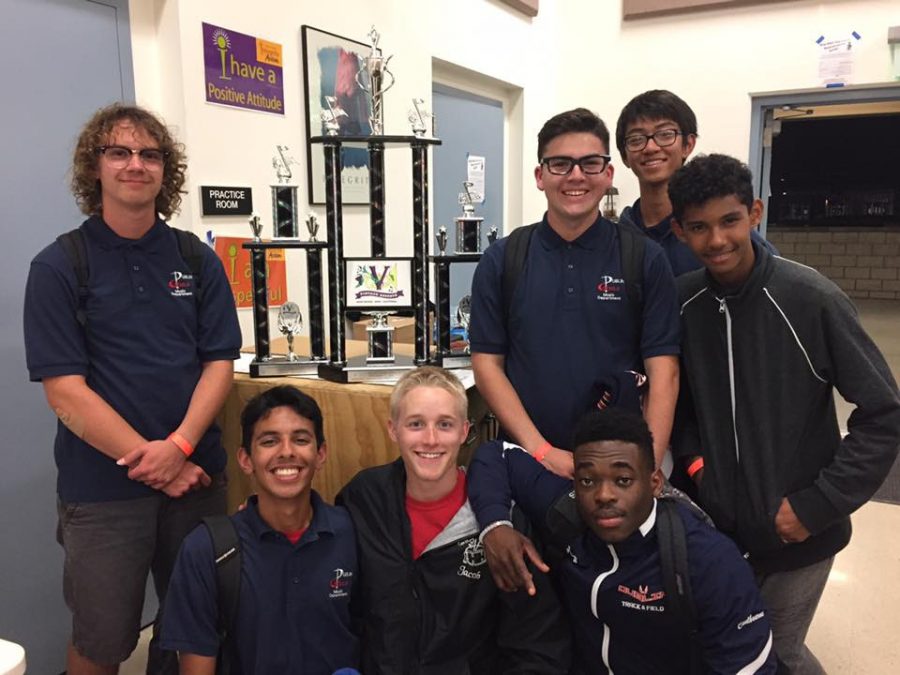 The battery section took a photo with the three trophies that Dublin High School brought home! Front row: Pranav Singh, Jacob Bratsman, Piat Coulbourne
Back row: Zach Larson, Zachary Scharton, Benjamin Ly, Adam Ganeshalingam
CREDITS: Laura Morphis Larsen