DHS Cross Country: EBALs Champions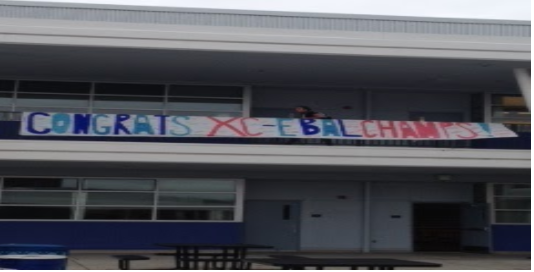 November 4, 2016 is the date of an important milestone for the DHS cross country team. For the first time in cross-country history, the Varsity Boys team finally took home the East Bay Athletic League (EBAL) title, making them the first DHS sports team to win this title since the school switched athletic leagues. EBAL is a larger league than the "DFAL" league DHS competed in last year. Because of this, the DHS Cross Country team faced stiffer competition at league finals than at last year's.
The EBAL Championships was held at Shadow Cliffs Regional Park, Pleasanton, with ten other schools trying to claim the title. Some of the Gaels that led the Varsity Team to a win include Anirudh Surapaneni (2nd place 15:00), Loic Scomparin (9th place 15:25), Gaurav Phanse (7th place 15:18), Adrian Schroeder (13th place, 15:38), Trevor Chapman (32th place, 16:14), Hunter Lampi (30th place, 16:09), and Christopher Middleton-Pearson (22th place, 15:53).
In addition to the Varsity Boys winning the title, the Junior Varsity Boys also took home a title, with the assistance of runners such as Matthew Koay (3th place, 16:29), Nathaniel Colunga (4th place, 16:42), Noah Goldfarb (6th place, 16:43), Rafael Gamboa (23th place, 17:27), Justin Symmank (13th place, 17:05), Brian Patterson (24th place, 17:27), and Robin Bajwa (9th place, 16:45). The Frosh and Soph Boys did win a respectable second place in the competition. The Frosh and Soph Boys were lead by Kyle Morrison (5th place, 16:15) and Ishaan Jain (7th place, 16:38).
With the victory in Pleasanton, the Varsity Boys team rose up in the State and NCS (north coast section) rankings. Website PrepCalTrack (a website for Golden State Cross Country coverage) put the Gaels at 3rd place in the state and CrossCountryExpress (a blog highlighting California Cross Country athletes) gave the Gaels 1st place in the NCS. The websites also increased the ranks of two DHS runners, with Anirudh Surapaneni being ranked 4th in state and 1st in NCS. The other runner, Adrian Schroeder, is ranked 10th in state.
When asked about the victory in Shadow Cliffs Park, several athletes expressed their thoughts about winning the championships and how they felt about participating in Cross Country.
Junior Gaurav Phanse, a member of the varsity boys team said, "This win was the first time a Dublin Cross Country team has won their league championships and it was really a proud moment for us. When we heard that we won we were extremely excited and we cheered louder than any other team! It was really a confidence booster because we beat the teams we are facing at NCS and to win NCS is our primary goal. Overall it was amazing to win but we know we have more work to do to win NCS."
Likewise, varsity runner Adrian Schroeder said, "Winning was a big thing for the team because for those that don't know we had just entered into a new and larger league this year. Being able to be the newest team in EBAL and then winning it was amazing for us. I want to give credit to leadership for coming out to support us, that truly meant a lot. The cross country team is a family and this win was important for all of us, however we're all still looking ahead to NCS and State Meet. This was just a step in our long journey as a Dublin program."
"Winning EBAL was really cool and really satisfying." said Junior Trevor Chapman, a varsity runner," It was really nice to see our hard work finally paying off. Now we have to work even harder, stay focused, and get ready for NCS and hopefully state meet."
Let's hope that the DHS cross country team uses this experience as a stepping stone to accomplish even more. Let's go Gaels!
Link for the EBAL Championships Complete Results:
http://www.athletic.net/CrossCountry/Results/Meet.aspx?Meet=119016