Cross Country Team Sets NCS Record at Clovis Invitational
This past weekend, DHS's Cross Country had major success at the 38th annual Asics Clovis Invitational, held at Woodward Park in Fresno, California.
One of the biggest competitions of the cross country season, the Invitational was attended by more than two hundred schools across the state. DHS runners raced in the Frosh/Soph, JV and Varsity categories in Division 2, which had over a thousand runners.
The varsity boys team won first place overall in the division, with senior Anirudh Surapaneni coming in third place overall with a time of 15:24.6 for a 5k. He was followed close behind by his teammate Adrian Schroeder, who won fourth overall. The rest of the boys varsity runners–Gaurav Phanse, Loic Scomparin, Hunter Lampi, Christopher Middleton-Pearson, and Noah Goldfarb – also did extremely well, with all seven runners finishing in the first quarter of a race with two-hundred and thirty-seven runners. The DHS boys varsity team, in fact, ran so well that they not only won their division, but also beat the NCS record and placed fourth out of two hundred plus varsity teams that ran that day.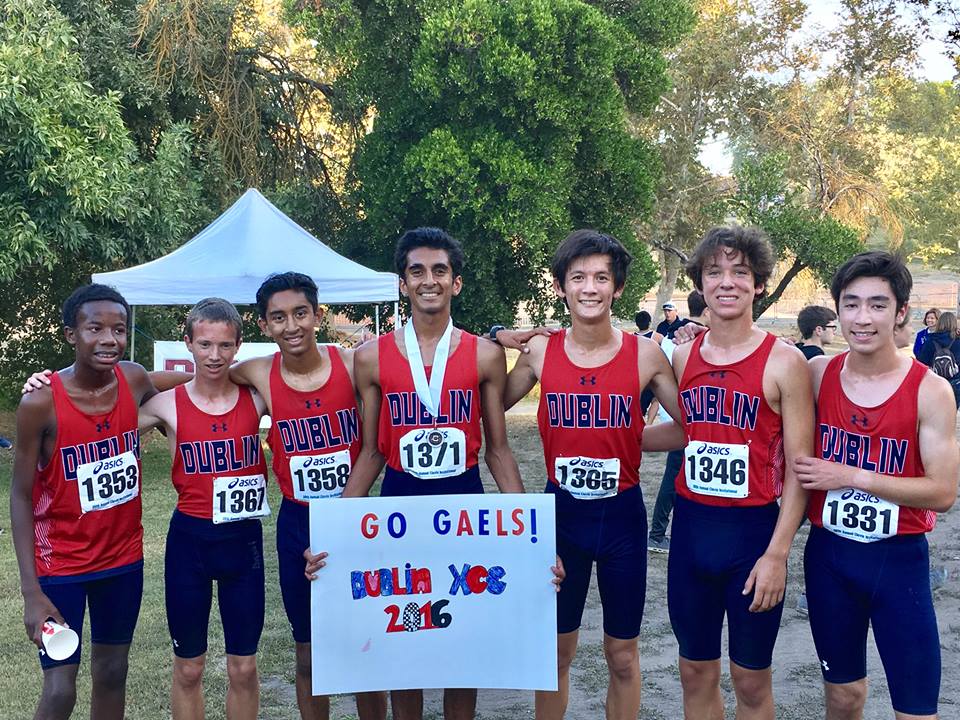 Anirudh Surapaneni says that the meet was "really special because we went out in the morning to do well and win because in the morning we weren't able to get into the seeded race, which was the fastest race of the day, so I'm glad we won the race that we were in."
The girls' varsity team also did well at the meet, placing ninth overall in their division, with many runners showing a minute or two improvement over times from last year's race on the same course.
The boys' frosh/soph team continued Dublin's meet by taking third in their division. Their success was followed by that of the JV Boys Team, which had junior Trevor Chapman and senior Matthew Koay medal third and eighth, respectively, out of four-hundred and one runners.  
Nile Desta, who ran in the JV Boys race, but placed 244th, said that, while he's glad for his teammates, the Clovis Invitational wasn't one of his best races. "With a race of 401 students in the JV Boys race, I think a lot of [the runners] can say that we didn't perform our best" because there was so many people. "Although the Woodward park 5k course was mostly flat, it was extremely strenuous and the rugged terrain made it very challenging for all of us to race….During the ending of my race, I tripped on the curb and lost most of my momentum, putting me back about three seconds. I hope to better at the [next] meet."  
The Cross Country season will continue this week on Wednesday with a EBAL Center Meet at Newhall Park in Concord. That meet will be followed by EBAL Championships and NCS in November. With one of the strongest teams in years, the both the boys and girls teams are expected to do very well. If the team places third or above at NCS, DHS Cross Country will compete at state, which will take place at the same course as the Clovis Invitational. Anirudh, who went to state with the team as a sophomore, and again last year individually, says that "this year's team is already doing better than the team that got second two at NCS two years ago. I think the chance of the team qualifying for state again is very high."