Meet Mrs. Gabrielle Vidrio, 9th and 10th Grade English Teacher and Assistant Cross Country Coach
2016 marks the second year at Dublin High School for Mrs. Gabrielle Vidrio, who taught Sophomore CP English and Expository Writing last year. Mrs. Vidrio now joins the 9th Advanced English team, while still continuing to teach Sophomore CP English. She is also an assistant coach for the DHS Cross Country Team; along with the other coaches, she dedicates much of her time outside school hours encouraging and motivating our student athletes.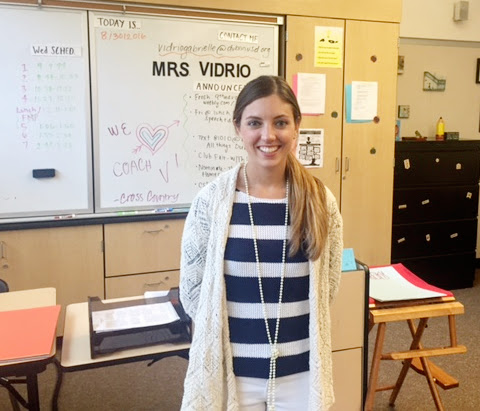 Mrs. Vidrio grew up in Roseville, California, and attended UC Berkeley, where she majored in English and Sociology.  Prior to joining DHS, she taught sixth grade English in Oakland.
I recently sat down with her to learn more about her passion and enthusiasm for English, as well as her love for Cross Country.
DS: Why did you decide to join DHS?
GV: I love the Bay Area, and I've been here now for about seven years. I've heard about the community through my husband — he coaches soccer for Dublin United — and so I've interacted with a lot of the parents and the families here. I just love their commitment to excellence, as well as their friendliness and positivity. And I was really impressed when I walked onto campus for interviews or informal visits.
DS: How has your experience been so far here? Is there any one thing that comes to mind about the DHS community?
GV: What just really impressed me was when I walked into the classrooms, students were asking me, just like "How was your first day? How has your first week been?". They were very polite, introducing themselves to me with handshakes, saying "good morning", and so I think that just the overall friendliness and warmth of this campus was something that was very new to me. And just the respect that was palpable between not only staff members, but also between students and staff.
DS: Your website includes a well-known Socrates quote from The Apology: "The unexamined life is not worth living." Is this meant to represent your teaching philosophy in any way?
GV: What I want to cultivate in students is the ability, thirst, and drive to ask questions and question everything. I would come home [from high school] and tell my dad everything I had learned in school that day, or about current events, and he would always question me, push me, debate with me. And I think it's important not to just accept things as they are, and to not just aimlessly go through life, but be self-aware, question, advocate, and to make sense of your world.
DS: With so much emphasis placed on integrating technology in the classroom, have you had to consider changing your method of teaching in any way?
GV: For me, it's just knowing that your personal preference as a teacher doesn't necessarily mean it's the way your students like to learn. I just love writing things down; I have planners, I have notes on paper all the time. And so I've been very mindful of the fact that students nowadays are growing up more and more with technology, they're more comfortable with that digital platform. And so I have definitely tried to incorporate and use Google Classroom and just the aspects of sharing documents and having presentations….because I know that's what a lot of jobs are using nowadays.
DS: Among the various units covered in both 9th Advanced English and English 10, which unit are you most looking forward to teaching this year?
GV: I love all the books we teach in English 10; they paint a very pessimistic view of life, but I think it's very interesting and important to study them. I think I'm most looking forward to teaching Night by Elie Wiesel. I know he just passed away this summer [on July 2], so I think it'll be very poignant to teach and reflect on his writings, especially with that knowledge….almost as a tribute to his message and what he was trying to convey to the world. And I'm also excited to maybe try to incorporate a guest speaker with past experience, who had gone through some of the concentration camps, and I know last year some teachers have gotten some information on that and I'm excited to hopefully coordinate that, if possible.
For Advanced English…I'm really looking forward to studying Romeo and Juliet. I know some students are very hesitant about Shakespeare, but last year I actually subbed in one of the English Advanced classes while they were performing. And having the students really get into the language and words of Shakespeare using props and costumes, and setting up the scene and actually acting it out…helps them really see how they can learn to love Shakespeare.
DS: I also see that you have a very impressive high school cross country record. What got you interested in the sport?
GV: So I tried out all the various sports: volleyball, softball, basketball, soccer, everything. Sometimes being a part of the team was overwhelming to me, to know that everyone was counting on you and all eyes were on you. I really liked the idea of competing against yourself. Because there was still a lot of competition…obviously in running, you still are working as a team, but it was really down to the individual to beat their own time, and I've always been good at putting a lot of pressure on myself, so that worked with my own personality! I think the "runner's high" really is true; it's a way that I could really relieve a lot of my stress and pressure so, it's peaceful.
DS: What advice would you give our student athletes on how to balance their academic commitments with their respective sports?
GV: Great question! I think it's just really a matter of prioritizing to make time for both, because both are really important — as much as academics are important, your extracurriculars and leadership opportunities are important as well. It's really about scheduling and time management (I love planners!). Just writing down each day what you're going to get done in each time period, and then rewarding yourself when you actually do accomplish it, so that you have motivation to really work through everything on the list.
DS: What are some of your hobbies or interests apart from English and Cross Country?
GV: I love hiking. It's really nice living around here in the Tri-Valley because there's a lot of beautiful hikes in Danville and San Ramon. Las Trampas is one of my favorites. I also enjoy kayaking, I love to go to Tahoe. I have two cats — they're not really kittens anymore, so I can't really play with them — but it's fun just to be home and hang out, read a book, or watch TV with them. My husband and I also like to go on day trips to Napa too.
DS: What are some of your favorite books/movies?
GV: One of my favorite books is Wuthering Heights. The last time I read it was in high school, so it's been a while, but I just love that it was kind of a "dark romance", and that the characters weren't necessarily likable. It just was dark and eerie and gloomy…it pulled me in, it was very intriguing. I also love Atonement, because I feel that the language and the description is very lyrical, it's beautiful.
When it comes to movies, that's the one time I like to turn my mind off and I'm a huge fan of chick flicks, particularly old ones with Meg Ryan.
DS: Can you tell me an interesting fact about yourself?
GV: Interesting facts, hmm…so this is perfect because we've been playing a lot of these games with students. Let's see…I was a synchronized swimmer for about ten years when I was younger, so I know some people watch that on the Olympics. My whole family was born in the same hospital…mom, dad, all my sisters. And…I broke my collarbone while walking my dog. I'm not very coordinated, that's why I chose running. [laughing]
DS: Before we conclude the interview, is there any other advice you would like to give your students?
GV: One thing that I felt was important to say was just (especially for students) to keep an open mind about what you might do, or where you might end up, as I never thought I would want to be a teacher or that I would be a teacher…and I'm loving it and I do feel that it is where I'm meant to be. So just keep an open mind.