The Club Fair is Here!
As students work together to brainstorm, prepare, and get creative in order to promote their clubs, others excitedly wait for a chance to explore all the opportunities Dublin High has to offer when the big days come around. A special time for club leaders, freshmen and new students on campus, and others simply looking to get more involved in their school and community, many Gaels are looking forward to the annual Club Fair. The Club Fair will be held on Wednesday, August 31 during lunch, and Thursday, September during lunch, but after FMP. 
To hear what DHS students had to say about the club fair, we interviewed students during lunch. Sophomore Sammie Crocker Sammie Crocker, an exuberant sophomore, told us that she was "excited for the club fair to see new clubs and new opportunities for involvement in the school, and getting a chance to join clubs I wasn't able to last year."
Sasha Padilla, another Sophomore, said "I specifically look for community service clubs, because I enjoy helping my community," said tenth grader Sasha Padilla.
Cole Heinbaugh, a junior studying at the Hub during lunch, told us that his favorite thing at the club fair was seeing the friendly club-to-club competition.
"I also love seeing all the excitement that people have and how passionate they are for their clubs," Sammie added.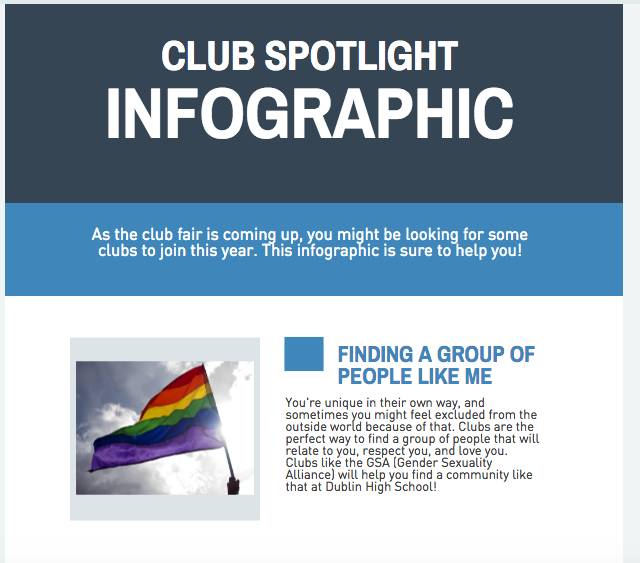 Besides the environment created by different clubs during the fair, many students also look forward to the free food many clubs give out. a popular activity that is looked forward to by many students is all the free food being given out by clubs.
On the other side of the event, club founders and officers seem to be working hard to make sure that their clubs are presented well.
Abi Kim, a junior, told us, "Though I look forward to it, I'm stressing over the club fair because my club is new, and I'm worried people won't join."
However, she quickly added that she hadn't given up hope yet;  quickly restored enthusiasm by adding, "In an efforts to get people to join, I'm working on a tri-fold poster, buying food to give out, and just… hoping for the best!"
Students on campus eagerly await the days of livelihood, colors, and Gael pride. Clubs look forward to a bright, productive journeys in the year ahead of them. Because the fact of the matter is, the club fair is where those journeys start.