DHS Choir Jazzes Up the Night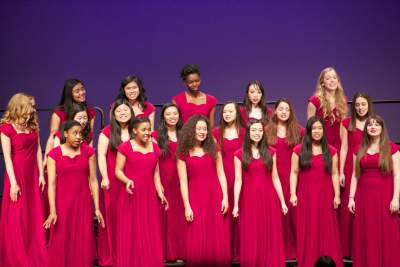 On Tuesday Night, the DHS Choir Classes performed their spring concert, "Puttin' on the Ritz".
As the title implies, the concert was jazz themed and featured popular swing songs from the 20's, 30's, 40's and 50's. Some crowd-pleasing favorites included "Lollipop", originally sung by the Chordettes in 1986 and"Boogie Woogie Bugle Boy" by Don Raye and Hughie Prince.
The concert's opening number, Duke Ellington's "It Don't Mean a Thing, If It Don't Got that Swing", was sung by all three choirs: Concert Choir, Treble Choir, and Show Choir. The Concert Choir, which is made up of Freshmen and students in their first year of choir, sung John Mercer's "Dream"  and "I Left My Heart in San Francisco" by George Cory and Douglass Cross, just to name few, during the first part of the performance.
Concert Choir singer Maegan Endaya's favorite song during this part of the show was "New York, New York". Besides learning the new songs and choreography, her favorite part was after they'd mastered their songs: "We got to hang out and dance together and it was a really fun experience. I feel like I know everyone in choir so much better now!"
After the Concert Choir finished their repertoire, the Show Choir came up and put on their performance. Unlike the Concert and Treble Choirs, Show Choir focuses on dancing as well as singing. Because of the jazz theme, members of Show Choir danced traditional swing numbers, including the Charleston, as they sang . Their songs "Puttin' on the Ritz",  "Joint is Jumping", and  "Chattanooga" were some of the most lively numbers in the whole show.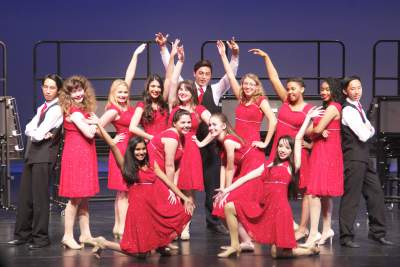 Shannon Greenhouse, a junior in Show Choir, said that dancing while singing was a great experience for her. "Even though I got kind of out of breath going straight from one number to the next, I loved dancing while we were singing. We danced the Charleston in "Joint is Jumping", and the one I enjoyed the most was 'Puttin' on the Ritz'."
Treble Choir, or Advanced Choir, sang the last numbers, which included "Embraceable You" by George and Ira Gershwin and "Mister Sandman" by Pat Ballard. They ended the night with "Boogie Woogie Bugle Boy", which is considered to be one of the most popular songs of the twentieth century.
Juniors Sarah Grier and Kera Hunsaker in Treble Choir both agreed that "Boogie Woogie Bugle Boy" was "by far" their "hands down favorite number", even though the lyric and the rhythm were initially hard to master.
Autumn Kelly, a senior, also thought that "Boogie Woogie Bugle Boy" was the Advanced Choir's best song.  "I loved singing 'Boogie Woogie Bugle Boy' because it's a really fun song to perform, but when we first learned the song we thought it was much slower. The first time we listened to a recording of it, though, it was like five times faster and we had to speed up our tempo a lot."
Missed the action? Choir's next performance will be in May. It will be Disney and Broadway-themed, with the Show Choir dancing numbers from Mary Poppins.