King of the Town
With the stress of upcoming finals, projects, and the imminent struggle to get everything done before the winter break, students start to stress and become frazzled with all the work that has to be done. A blessing in disguise, we're reminded of how much we love Dublin High with the highly anticipated, annual Mr. Dublin competition. Every year as a senior class fundraiser, senior boys audition to participate in a male pageant where the winner, chosen by a panel of Dublin High staff, is crowned the coveted title of Mr. Dublin. Just like a real pageant, the show consisted of different categories the contestants competed in; Swimwear, Formal Wear, Q&A, Pickup Lines, an opening and closing dance, and the crowd favorite: Talent.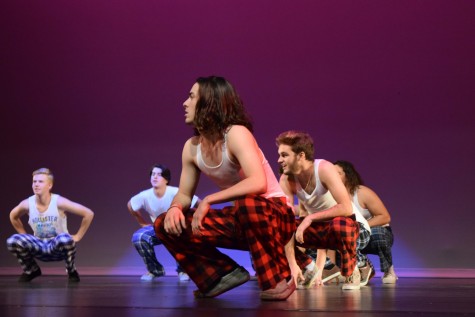 Every year, it seems the bar gets set higher and higher, and this year was no exception. Hosted at Dublin's Performing Arts Center, all 502 seats were completely sold out for the show. The opening number was a mashup of popular songs that was filled with energy and got everyone in a good mood, finishing off with "Gonna Be Me" by *NSYNC, which made the audience go crazy.The swimsuit portion started the competition with standouts like Kyle Reed (Mr. March) who used a hilarious palm tree prop that really got the crowd riled up, Bobby Kaehms (Mr. November) who strutted the catwalk in a wetsuit, and Conner Gibbons (Mr. July), who demonstrated extreme sass and charisma in his American flag swim trunks.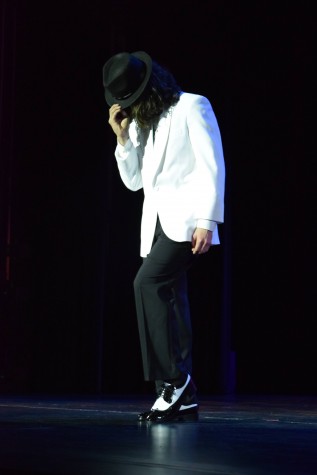 Formal wear was just as charming. Justin Davenport (Mr. December) charmed the audience with his smile and Kieran Nolan (Mr. September) gave us some serious MJ nostalgia in a "Smooth Criminal" inspired getup. When asked if there was one thing he could get rid of in the world, Christian Schwartz (Mr. August) replied "Donald Trump. That's it", causing much commotion throughout the audience. Davis Zamboanga (Mr. June) shared a comedic story about how his violin got run over, thus kickstarting his love for music with the trombone.
The talent portion of the competition is always a favorite, and all the acts this year were extremely impressive and original. Nick Padnos (Mr. January), Chris Daleiden (Mr. February) and Reed performed as the Blues Brothers with impressive harmonizing and harmonica playing from each of the boys as well as a guitar solo from Reed. Kaehms' rendition of "Say It Ain't So" by Weezer made everyone smile as well as Nikola Copic's (Mr. October) impressive roller blading act which showed off his skating skills from years of ice hockey. Ozzie Garcia (Mr. May) belted a mariachi tune with an even more impressive mariachi suit to match. Zach Promes (Mr. April), Gibbons and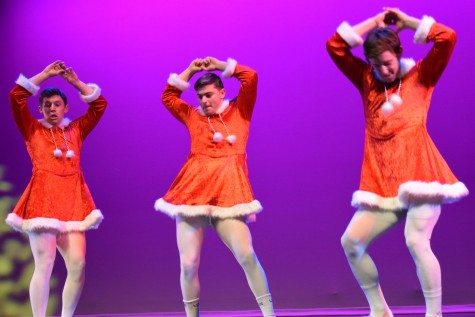 Schwartz got the crowd into the holiday spirit by re-creating a dance to "Jingle Bell Rock" made popular by the 2004
cult classic, Mean Girls. Davis Zamboanga stunned with a stellar performance using his drum major skills spinning mace in the dark with glow-in-the-dark duct tape, astonishing the audience. Nolan and Davenport closed with an interpretive ribbon dance to "Hello" by Adele that was complete with leaps, leotards, and man-buns.
The competition wrapped up with Pickup Lines, where Promes got hearty laughs with the line, "Unlike the other guys, I'm going to keep it short and sweet…like me." The boys ended with a final performance before announcing the sole title of Mr. Dublin. Christian Schwartz received Mr. Congeniality, Nick Padnos earned second runner-up, and Conner Gibbons grabbed first runner-up. Dublin High's very own Davis Zamboanga, Mr. June, took the coveted spot of Mr. Dublin 2016. "I am honored and humbled to be Mr. Dublin. I went out there and showed everyone who I am – from spinning mace in the dark to having a poetic pickup line." And his favorite moment of the night? "The best part was finishing the opening dance and hearing the crowd go wild!"
Mr. Dublin is such a tremendous way to accept and encourage individuality and showcasing talents of the students at Dublin High. Musicians, athletes, artists, technicians, and designers all came together for this student-run show. With the culture of the school growing every single day, expect to see more from the students of Dublin High for years to come.
* Mr. Dublin 2016 Calendars can be purchased soon.