Students work hard to play hard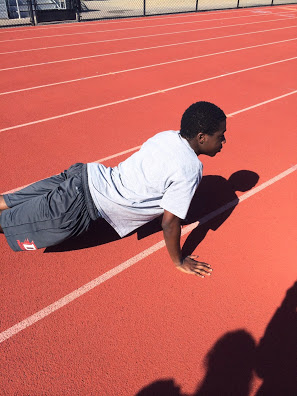 Athletes here at DHS are treated with high respect around campus but don't have much time to hang out with friends. For many students spring break is a joyful time but for the athletes some will have a busy schedule with training or practices.
"Every Day of Spring break I will be working out with the team which doesn't leave time for other activities," Maxwell Egbujor, football player Dublin High School states.
This can cause athletes to not spend that much time with their family, causing families to become upset with the scheduling of the season.
"We just have no time to go on vacation because we as a team have so much dedication and making sure we are ready for the season," Egbujor states.
For many athletes that go on break, some will have problem with their coaches and will miss out on working out with their team.
"Coach would be a little mad about us not being there especially since baseball has games during Spring break," Danny Terr, a baseball player here at Dublin High School states.
Athletes are considered a second family and as a family the coach wants his family to go far which is winning championships and games. Coaches will become aggravated when one player goes and misses practice because it is affecting the whole team.  That player will not be able to fill the position the coach needs him to be in.
But some families are very understanding of the coaches' demands with the teams here at Dublin.
"My parents didn't want to interrupt me not being in a game, so we decided to wait to go on vacation until the season is over," Terry says.
Athletes like to  "put in work" during the season by just focusing on school and sport. Players that don't want to go to practice will have trouble with being in top physical condition like the other players on the team. Then as the season comes to an end they will be given more free time to go on vacation.
Some do feel that sports can be too demanding with school work or projects that teacher might give during the break.
"It's hard to balance schoolwork and sports because as soon as I get home, I do my homework. Then, (I) have to get ready for practice," Egbujor states. "I really have no free time."
Athletes here at Dublin have to focus on hard work whether it be on or off the field. This can be rather challenging for those that want to go out and hang with friends or family especially when there is an upcoming game.