Dublin High's Got Talent
   Dublin High is full of very talented students. On May 18th at 7 o'clock pm, Dublin High had its annual talent show. There were ten contestants that competed against each other, most of whom sang. The panel of judges consisted of Mr. and Mrs. Rubio, Mr. MacDougall, and Mr. Oravetz, who were to make the decision on the top three talents.
  The hosts Ondre Rudolph and Mimi Maghrbi were hilariously entertaining. Ondre started off the show wearing a wig and dress lip singing Whitney Houston's "I Will Always Love You." Every time the hosts appeared, they were wearing a different outfit.
The acts at the 2013 Dublin High Talent Show were:
Alex Cappa, Nick Sinai and Mr. Taylor sang as a trio

Laura McClaren sang "What Makes You Beautiful" by One Direction and "Stay the Same" by Joey McIntyre

Ryan McRee performed an excerpt from The Laramie Project

Nick Sinai, again, but  beatboxing this time

Julia Coutant wrote and performed her song "Truth" on her acoustic guitar

Caitlin Carrion sang "Die in Your Arms" by Ariana Grande

Erica Lacsamana, Patricia Brewer and Angela Kang performed and sang Justin Timberlake's "Suit and Tie"

Karl Johansson, Garrett Alexander and Chris Brandt performed "I Don't Know Why"

Torron Shakir sang "Need You Know"

Alex Cappa and Ryan McRee sang "Wounded"

Victoria Datanagan and Gwynn Cristoballi sang a mashup of several songs

Victoria Oblina sang "Wings"
  Julia won first place and received sixty dollars on a Jamba Juice gift card, Ryan McRee and Alex Cappa won second place, and Nick Sinai won third.
  "I really enjoyed the talent show. It was surprising how many talented people we had at our school that I didn't know about," said a junior that attended.  "It was a close call between Julia and Nick's beatboxing for me, but Julia definitely deserved it with her own song."
  The talent show was a great showcase for all the students at Dublin High that wanted the school to know about their talents. The show had a great turnout and everyone enjoyed themselves.
About the Contributor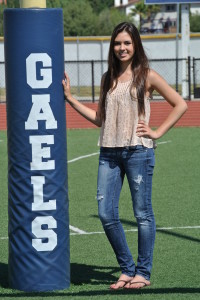 Danielle Boccio, Opinion Editor
I'm Danielle Boccio and I am a Junior at Dublin High. What I like most about journalism is that we get to choose what we get to write about, and a certain...