Girls Basketball NCS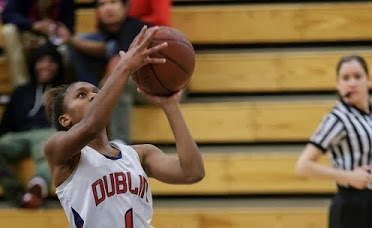 On February 25, 2014, the varsity girl's basketball team started a quest in hopes of winning the NCS title with a battle against Newark Memorial. The Dublin Lady Gaels pulled out with an amazing victory with the final score of Dublin 56, Newark Memorial 39. Their second NCS game was also held at Dublin High against American, while the Lady Gaels achieved another victory with a thirty point lead.
"American is a team we constantly underestimate but they always keep up a great competitive fight on the court," junior Julyana Amante says.
Obviously, due to both satisfying performances by the Lady Gaels, if they keep up this consistent effort, they have a great shot at winning the NCS title.
"I'm so proud of my team, we've come a long way into turning into a huge family," junior Milan Moses says. "Honestly, we have each others backs on and off the court and this is a great mindset in order to get our way into the NCS championship game."
Moses was the leading scorer with a wholesome nineteen points in the second NCS round. Huge morale boost, because Moses' revealing her love for her basketball family will definitely encourage a better performance and hopefully they'll come back as the NCS division 2 champions.
"It's my senior year! I need this championship title…it will be the icing on the cake to such a great high school basketball career," senior Kristjan Abury says.
Abury, the captain of the team, emphasizes the importance of the title because it's her last year as a high school basketball player.
"Next, we are on our way against Carondelet on Wednesday and the nerves are kicking in, since they're such a great team" junior Maia Peay says. "But I believe in my basketball family if we are consistent with Tuesday's and Friday's game performance we are set!"